As promised we're back this week in full swing with a fun promotion with
Lily Bee Design!
In fact...there's another company involved too...
Epiphany Crafts!
It's almost too good to be true when you combine Lily Bee, Epiphany Crafts and GlueArts!
What that means for you is a week, over flowing with endless ideas and ways to use all three products and even better...we're quite certain of a giveaway or two throughout the week as well!
Our talented
Audrey Pettit
has a bird house that's almost too cute to inhabit! (or least we think so!) She's covered it with the beautiful Lily Bee Victoria Park collection and affixed it with our Glue Glider PRO+!!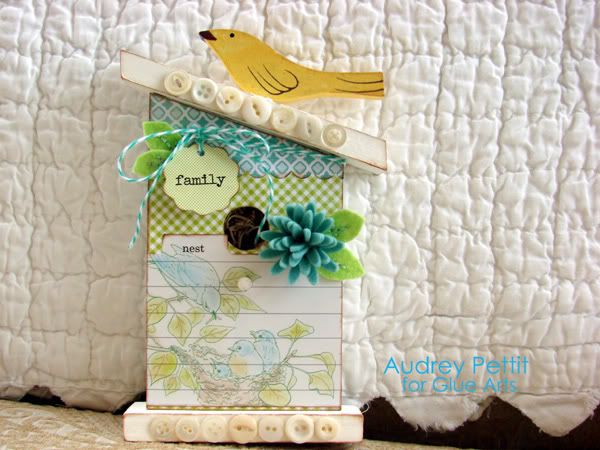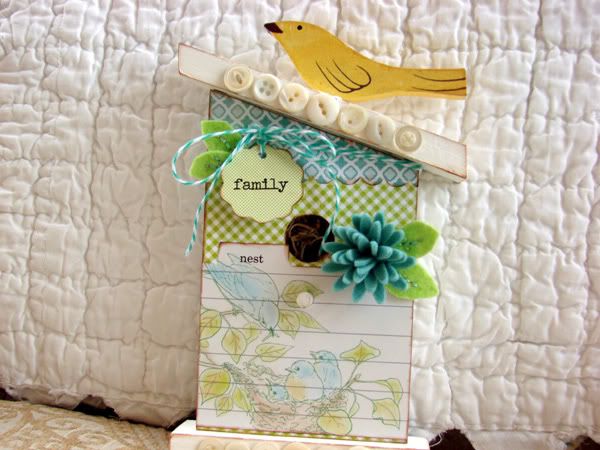 Family Nest Birdhouse

by Audrey Pettit
Supplies:
Glue Arts Glue Glider Pro+ and High Tac Adhesive
Glue Arts U Cut It Foam Adhesive
Glue Arts Micro Extreme Adhesive Squares
Glue Arts Glue Gun and Glue Sticks
Lily Bee Victoria Park Collection:
Patterned Papers, Index Journaling Card, and Bag of Bits Die Cut
Felt: Papertrey Ink and Craft Supply
Chalk Pastels: Stampin'Up
Upcycled Wooden Birdhouse
I love scouring second-hand stores and yard sales for fun pieces to alter, like this wooden birdhouse. I thought the bird on top was already cute, but the rest was in need of a little make-over.
Directions:
1. Start by painting the birdhouse white. I already liked the bird, so I left it as it was. Cut a piece of patterned paper to fit the front of the birdhouse. Add a second piece of contrasting paper across the top that has been punched with a scallop border punch. Adhere an Index Journaling Card to the bottom of the panel.
*Note: Edge all paper pieces with brown ink.
Using High Tac Adhesive, affix the panel to the front of the birdhouse.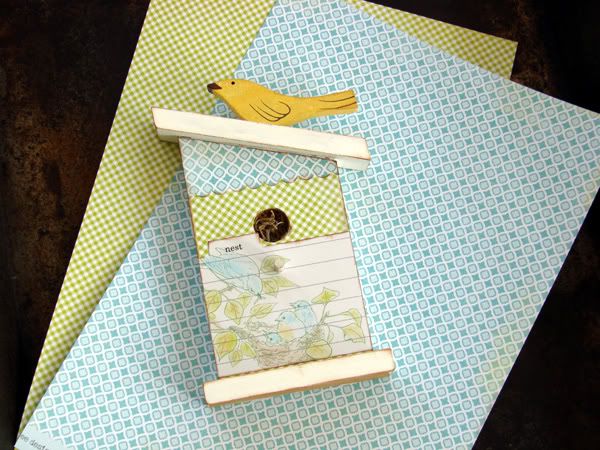 2. Add color to the images on the Index Journaling Card using chalk pastels.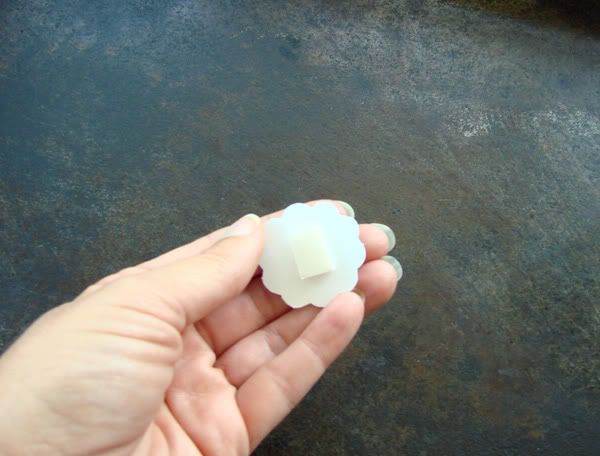 3. Add U Cut It Foam Adhesive to the back of the Family die cut from the Bag of Bits. Tie twine around the top of the birdhouse and through a hole punched into the die cut. Tie the die cut into the bow and adhere with the foam adhesive.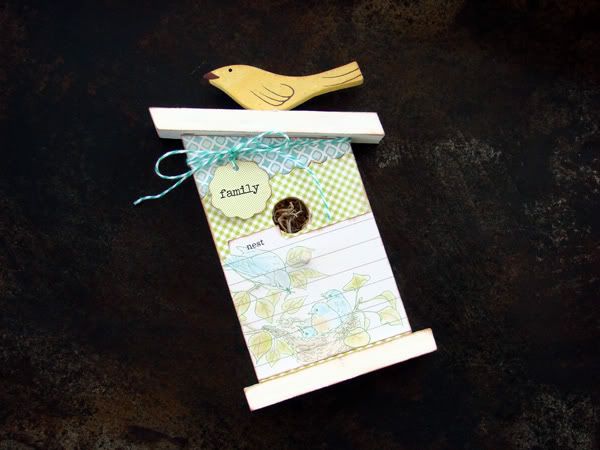 4. Using Micro Extreme Adhesive Squares, add buttons to the base and top of the birdhouse.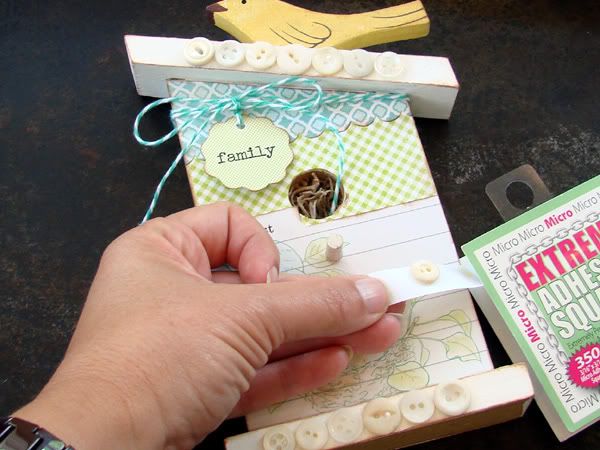 5. Die cut a spiral flower from blue felt. Roll the flower up and secure in the back using the Glue Arts Glue Gun. Adhere flower to the top of the Index Journaling Card using more hot glue. Freehand cut leaves from green felt. Stitch veins on the leaves with embroidery floss. Adhere leaves to the spiral flower and Family die cut using hot glue.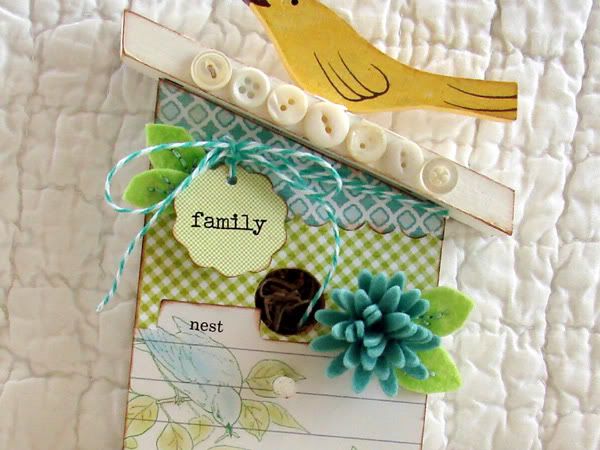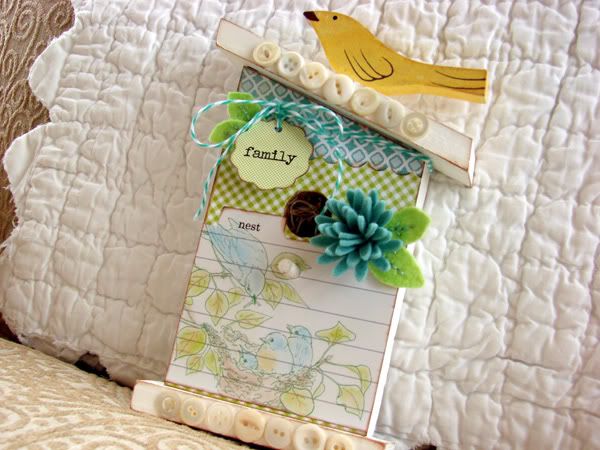 A big thank you to everyone who joined us for our NSD Card Challenge! We added a twist to it and our winner...is Michelle B and her too cute card!
http://wanderingscissors.blogspot.com/2012/05/pineapple-drink-card.html
Congrats to you Michelle! Please email me at Gluegirl@gluearts.com with your info. Be sure to visit the GlueArts blog all week long as we share more ideas and of course...giveaways!
Be sure to stop by the
Epiphany Crafts Blog
as well as the
Lily Bee blog
today for more ideas and ways to use all of our products! Have a great day!