Hello Hello!
Happy Thursday to you!
Today we bringing you not just ideas from the GlueArts blog but the Designers at Nikki Sivils have joined in too! It's one inspiring day!
Up first...
Designer Lesley Langon
has a unique layout...a little paint, some papers and adhesives and you have a masterpiece that could be hung on your wall! And
Ania Lexander
says congrats and more then one language with her fun cards! GlueArts U Cut It Foam give her cards just the right left to make them stand apart from all the others!
GlueArts Designer: Lesley Langdon
Supplies:
GlueArts Extreme Adhesive Squares
GlueArts Glue Glider Pro+ (Perma Tac Adhesive)
Nikki Sivils Patterned Paper and Die Cuts (Messages)
Spellbinders S5-035 Parisian Motifs
Spellbinders S4-351 Spiral Blossom One
Clearsnap Inc. ColorBox Queue (Wood Grain)
Making Memories Acrylic Paint (Acorn)
Pebbles Inc. Resin Flower Brad
Prima Marketing Inc. (flower)
Instructions:
1. Paint Nikki Sivils patterned paper, using something like a credit card to swipe it across the page. Let dry.
2. Die cut several Spellbinders shapes and flowers from the patterned papers to use as embellishments.
3. Cut a strip of brown patterned paper and cut a banner from one side.
4. Hand cut, ink edges of patterned paper elements (such as the library card) and adhere all paper elements with GlueArts Glue Glider Pro+ (Perma Tac Adhesive).
5. Adhere buttons and flowers with GlueArts Extreme Adhesive Squares.
6. Hand draw a string in the top left corner and adhere Nikki Sivils die cut paper banners to it.
7. Add journaling, brad and pearls.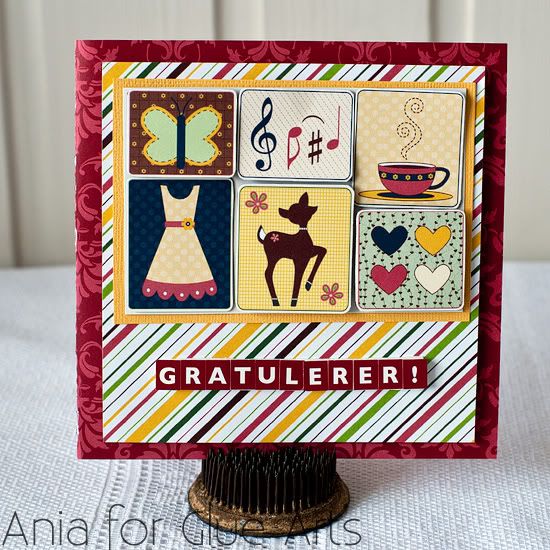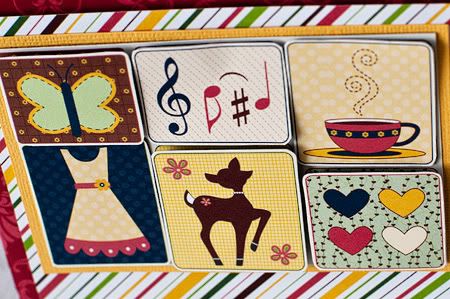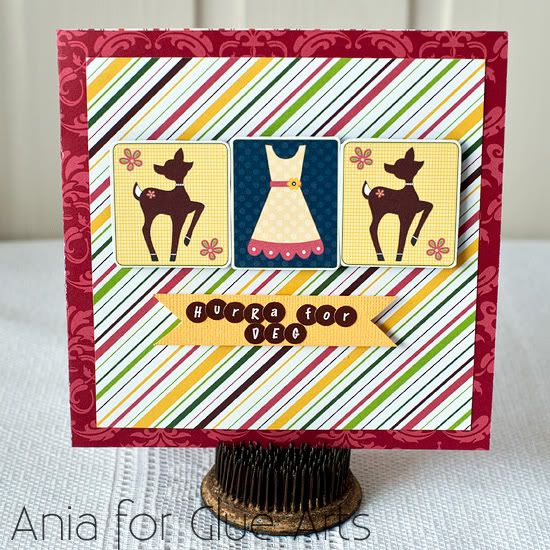 Quick and cute cards
GlueArts Designer: Ania Lexander



The Audrey collection makes quick and very cute cards for little girls methinks!




In the collection pack you'll have everything you need to whip up these two cards in no time...
GlueArts Supplies:
Raisen's
U Cut It Foam
Extreme Adhesive Squares - large
Glue Glider PRO+ - perma tac
Nikki Sivils: Audrey collection pack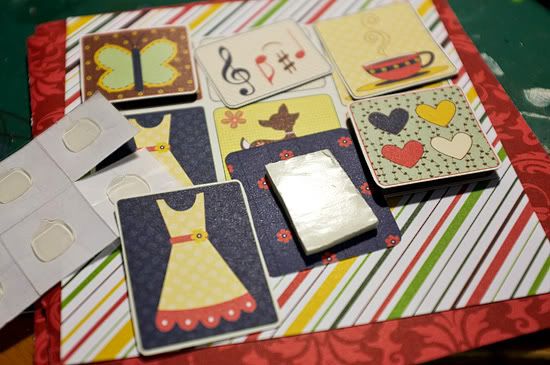 I can't resist sheets like this: Easy to cut out and easy to use as blocks for your card. For the first card I chose a cluster of blocks for my base, then found the same patterns on the sheet of paper and cut them out one by one. Mixing between GlueArts Raisen's and U Cut It Foam it gave the card variations on the dimension.
Usually I'd use the glue glider to adhere this block to the card, but because the dimensional front was already in place I opted for the extreme adhesive squares instead.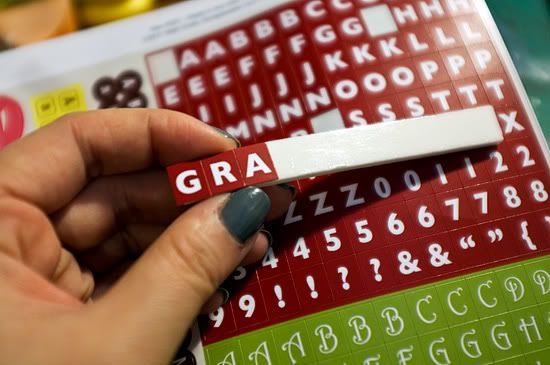 Finally - block letters allows this technique to be used - cut a long strip of U cut it foam, attach the letters to it then apply the whole title to the card.
Can you tell the gals have enjoyed working with Nikki Sivils product collections??!
We'd love for you to have a chance to work with the products too!
Simply post a comment and we'll enter you to win this fun collection kit filled with paper, stickers and much more! And to help you with your crafting, we're going to include our Glue Glider PRO Handle (already own one...no problem we'll offer you a second cartridge!) and our PRO+ Perma Tac Cartridge plus we'll tuck in our must have 3D Combo Pac. It's filled with our GlueArts U Cut It Foam (used here today!) along with our Raisen's! Now that's a giveaway!
We'll collect all the comments and pick one random winner next Monday! Please remember to visit the Nikki Sivlis Blog and her talented Doghouse Diva's to see what they've created this week with GlueArts products!