GlueArts Designer: Lesley Langdon
Supplies:
Spellbinders Grand Ovals Die Templates
Clearsnap Ink (ColorBox Queue)
Scraps of Patterned Papers (My Mind's Eye, Kaisercraft)
Stamp by Stamping Scrapping
Instructions:
1. Prepare card from Kraft cardstock, adhere patterned paper pieces and ribbon with Glue Arts Extreme Adhesive Squares.
2. Make egg by using scraps of patterned paper in strips, adhering to a base of cardstock, using Glue Arts Extreme Adhesive Squares.
3. Stitch a zig zag stitch using a sewing machine.
4. Die cut and emboss an oval from your stitched papers using a Spellbinders Grand Oval die template.
5. Stamp Happy Easter in brown ink, and adhere egg to card with Glue Arts U-Cut-It 3D Foam. Adhere pearls.
Easy Easter Basket Box
GlueArts Designer: Ania Lexander



The Internet is brimming with splendid Easter Basket templates - just do a pictural google search and pick the one to your liking! Mine comes from Martha Stewart, I just changed the top into circular ones instead of the bunny ones.





You can find the template I used here:

http://www.marthastewart.com/270638/easter...07&slide=270638



This is supposed to be a lunch box one, but you can hide lots of sweet things inside this box...



Glue Arts supplies: Hot glue gun



Other: Crate Paper patterned papers, Fancy Pants ribbon, bakers twine from the twinery, bunny stamp from Craft Origine
Assemble your template and trace it onto your patterned paper (on the BACKSIDE, the side you won't have facing outwards). Cut and fold as instructed.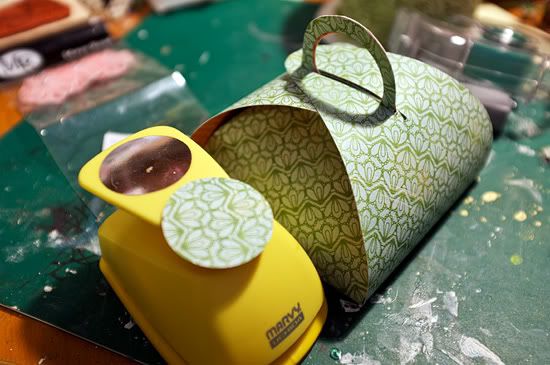 For the top I wanted hankers you could hold onto, so I changed it into the shape as pictured and used my circle punch to punch out handlers.
Use a fairly broad ribbon, and stitch onto the edge as pictured and tie the thread so you'll get a circular shape when finished.
Cut an egg shape from a scrap of patterned paper, stamp a cute bunny onto it and assemble the egg and the ribbon on a piece of tag with some hot glue.
Thank you all for your comments left last week. The winner of our Embellishment Kit is..
Well I don't normally make Easter decorations, but I think I'm going to have a go at making some of your fabulous eggs! Thanks for the instructions!
Congrats Lynne...please email me at Gluegirl@gluearts.com with your info! Be sure to stop by tomorrow for more Easter goodies and items that GlueArts can help come together beautifully!!
We're excited to kick off an Easter Egg Hunt for you this week!
Simply check in today through Friday. Find each of the five letters and then unscramble the letters to reveal the promotion code good for 20% off your online order good April 7 & 8th! And even better...we're offering FREE SHIPPING all month long! Stop by tomorrow for your next letter to savings!