We're wrapping up our highlight of GlueArts Raisen's Adhesives!
We hope you've enjoyed all the amazing projects we've shared with you over the past two weeks.
GlueArts Adhesives are not only perfect for scrapbook, paper crafts but well beyond with mixed media, home decor and yes...even home repair! Stop by the
GlueArts website
to learn more about our entire adhesive line up! There's truly something for everyone!!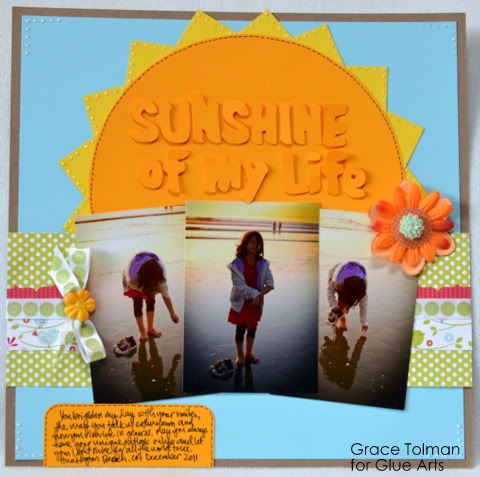 Sunshine of My Life Layout
GlueArts Designer: Grace Tolman
Supplies:
Glue Arts Raisen's
Cardstock- WorldWin
Pattern paper and brads- Happy Go Lucky, Pebbles
Ribbon- SEI
Flowers- Prima, Source Unknown
Glitter glue- Diamond, Stickles, Ranger Industries
Pen, Circle cutter, corner rounder and square punch- Creative Memories
Border punch- Fiskars
Die cut machine- Cricut, Provo Craft
Cartridge- CM Traveler
Glue Arts Raisen's adhesives are one of my favorite dimensional adhesives. That and Glue Arts U cut It foam are my go-to adhesives when I want to add dimension to my project. In this specific layout, I was able to use the same color cardstock I made the sun out of to cut my letters with. To make the letters stand out against the background, I added Raisen's. It gives it that "ghost" look and the words are still readable. Gotta love those Raisen's!
Leave us a comment today and let us know how you would use our GlueArts Raisen's for your next project! We'll enter you to win two pack of our Raisen's along with a pack of our U Cut It Foam! Both products are perfect for adding just a bit of dimension for your crafts and more! We'll pick one random winner next Monday!
Be sure to join us next week as we're excited to kick off a brand new week with a brand new partner!!
Here's a hint....she won a big award for her help with the victims of the Joplin, Missouri tornado!
And a BIG BIG thank you to those who helped us reach a new fan goal on Facebook!
Can you tell us how many fans we were aiming for??
Post a comment here letting us know you're part of the Facebook "Fan Fun" and we'll enter you to win this prize including:
A Glue Glider PRO Handle and new PRO+ Perma Tac Cartridge
a new pack of Core-dinatinons Jillian SPotted Cardstock Pack
2 packs of Kaiser Craft Paper Blooms
4 Pink Paislee Glitter Pixie Stixs
Small Maya Road Chipboard Album
2 Styles of NEW Inkadinkaclings Stamps
Inkadinkado Red and Purples Ink Stack
We'll select one winner on Monday so don't wait!!