There's something magical about spring and the flowers coming back to life.
Green everywhere, trees in bloom...today GlueArts has two beautiful ideas for how to put a little bloom into your life!
Designer Patti Milazzo has a sweet smelling cachet with our Adhesive Squares. The cachet is perfect for this time of the year...but think teacher gifts and yes...Mother's Day too!
Designer Andrea Budjack has made a beauty as well! A beautiful floral gift bag that you too could fill with all sorts of goodies for someone special! Consider making another flower for a pin, hair clip or several for a cardigan and more!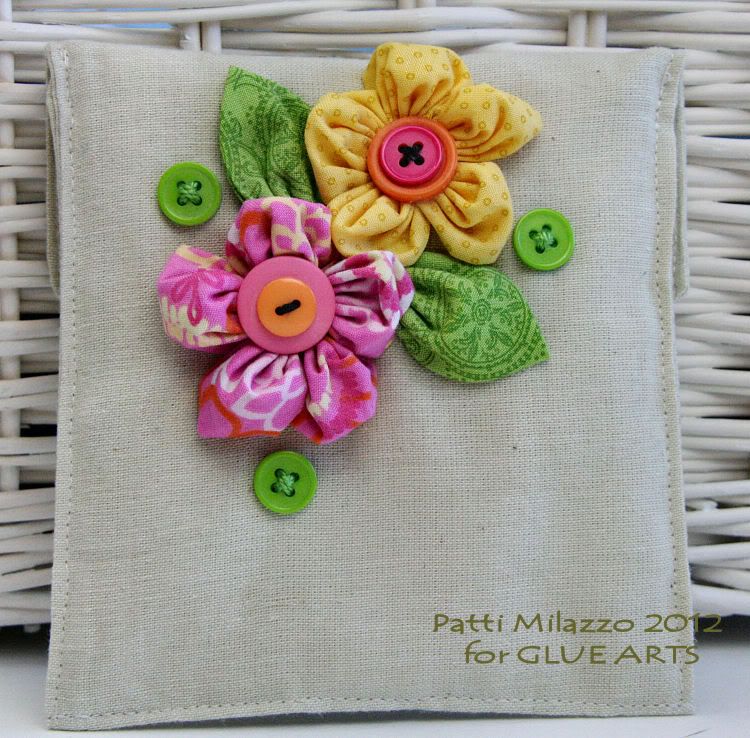 GlueArts Designer: Patti Milazzo
Supply List:
Glue Arts-
Extreme Adhesive Squares
Extreme Micro Adhesive Squares
Other: fabric scraps, buttons, thread
Instructions:
Quite awhile ago, I created this simple fabric button pouch for a project idea. I ended up going a different way with the design but decided to keep this little sachet pocket since it turned out well enough. As an afterthought I decided to dress it up with fabric flowers and leaves as well as a few buttons by simply using Extreme Adhesive Squares.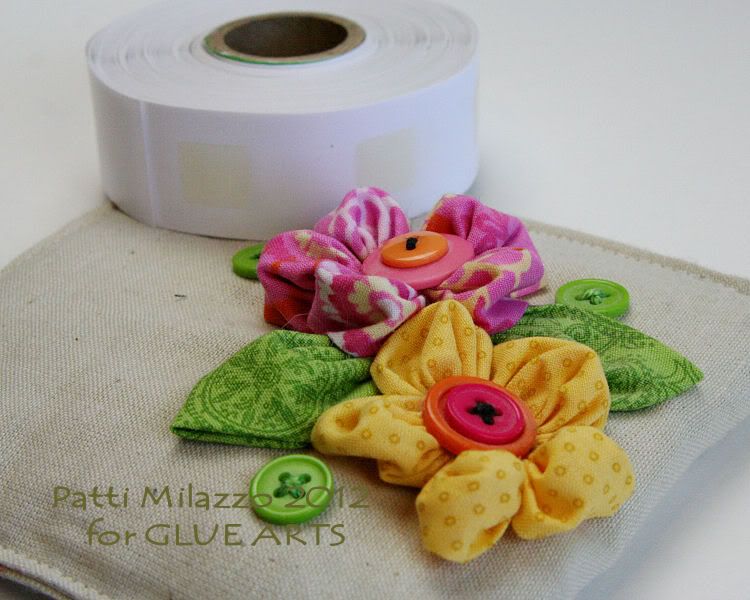 The flowers and leaves are circles and ovals that have a gathering stitch to create their shape. Each petal is done individually. Then I used both the regular sized Extreme Adhesive Squares and Extreme Micro Adhesive Squares to assemble them together. I also used them to adhere the buttons to the center of the flowers and around the arrangement.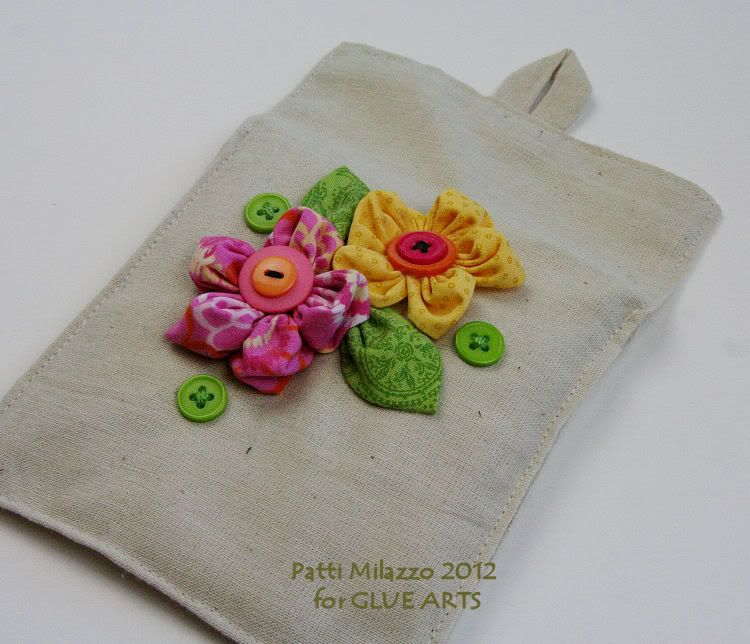 I'll fill the pocket with another lighter weight fabric filled with lavender and this sachet is ready to tuck into a drawer or closet.
Friendship Bloom Gift Bag
GlueArts Designer: Andrea Budjack
Glue Arts Supplies:
Glue Gun
Additional Supplies:
Stampington - fabric bag
Papertrey Ink - stamps, ink
Imaginisce I-Top - tool and badge
iron
fabric
flower petals
1. Add two layers of fabric onto fabric bag using Glue Arts Fabric Bond. (or Extreme Adhesive)
2. Stamp images onto top layer of fabric. Add glitter to butterflies.
3. Add layers of flower to bag using Glue Arts Glue Gun. Use something to press down on each level as it is added. This will give the flower more volume.
4. Create fabric badge, add hot glue to back side and press into center of flower.
4. Using a needle and thread, stitch along top portion of fabric strip. Add Fabric Bond (or Extreme Adhesive) to bottom of bag and iron fabric border in place.
5. Create a paper gift tag and fill with your favorite things.
Do you make any decorations for your home for spring or Easter? Have family over to celebrate and follow any special traditions? If so..we'd love to hear what you're up to! And for post a comment...we'll pick some of our favorite GlueArts products to send to you!
Don't forget to stop by our spring cleaning event! We have great deals on our Glue Rings...great for taking to crops, our Crop & Glueand if you've always wanted to try vinyl...now is the perfect time with our Accent It All!! Stop by to see the deals and pick up some of our new PRO+ Cartridges too!
Last our incredible

Designer Lesley Langdon

has a new adventure up her sleeve! Do stop by her new Facebook page and read about her Arts & Crafts House! And if you're headed to ScrapFest in Kitchner...look at what she's giving away!