Let's face it...when it comes to talking about adhesives...
...it "might" not always be the most exciting topic. However when you see how are Designers use our adhesives and
Tsukineko's
products...you're definitely going to have a new outlook!
Our
Glue GliderPRO+
runs so smoothly and now offers you the versatility to pull or with a flip of the cartridge...push your adhesive. And our
3DCombo Pac
has just what you need to give your cards and layout that perfect lift!
Our
GlueArts adhesives
are the key to making your creations...STICK!
GlueArts Designer: Linda Albrecht
Supplies:
Glue Arts Raisien's-3/8" Adhesive Squares
Tsukineko Goosebumps Clear Texture Spray
Tsukineko Ink pads- Memento Dew Drops (Pear Tart, Cantaloupe,
Rhubarb Stalk, Sweet Plum)
Other:
Acrylic Stamps- Lawn Fawn, Cherry Art & Hampton Arts
Patterned papers- BasicGrey & Melissa Frances
Decorative Pins- Maya Road
Buttons & rhinestones
Brads- BasicGrey
Old music paper
Ric rac trims and cotton string
Chipboard embellishments- BasicGrey & Melissa Frances
Title Die cut- My Minds Eye
Instructions:
1. On a small portion of patterned paper for tag, spray on Goosebumps Texture Spray holding bottle about 10" away from paper. Allow to dry.
2. Using foam applicator apply inks to dried texture spray then use a dry paper towel to remove ink from the texture spray.
3. Using the Pear Tart stamp pad, apply ink to large vine and flower acrylic stamp then apply image to another area of the tag.
4. Spray Goosebumps Texture Spray directly onto butterfly and flower acrylic stamps then stamp several near the large vine and flowers image. Allow to dry on paper and wash stamps with warm water right away.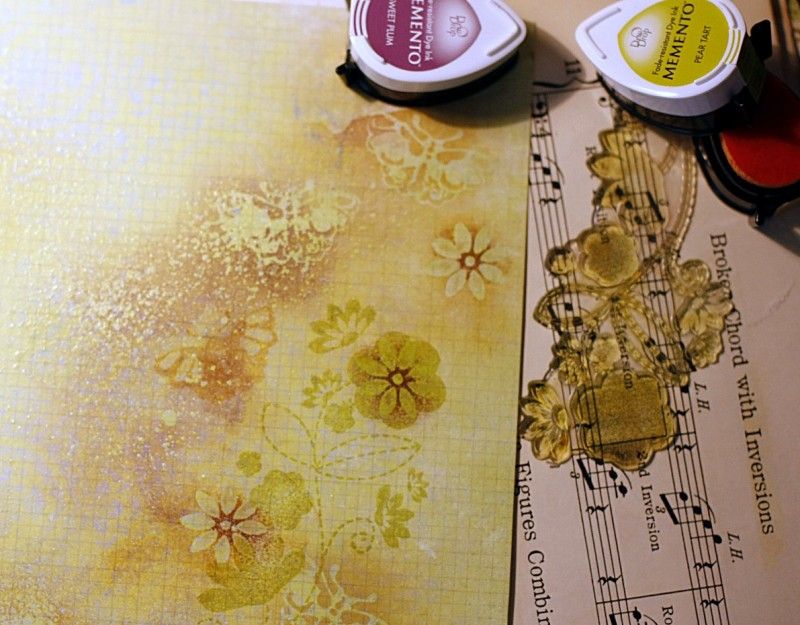 5. Apply inks to dried butterflies and flowers with a foam applicator then remove ink with a dry paper towel.
6. Use the Sweet Plum inkpad to apply ink to an open flower image and stamp directly onto paper and over some of the Goosebumps Texture Spray images. Use a dry paper towel to remove the ink on the images. The flowers will then look as if they are now behind the Texture Spray images.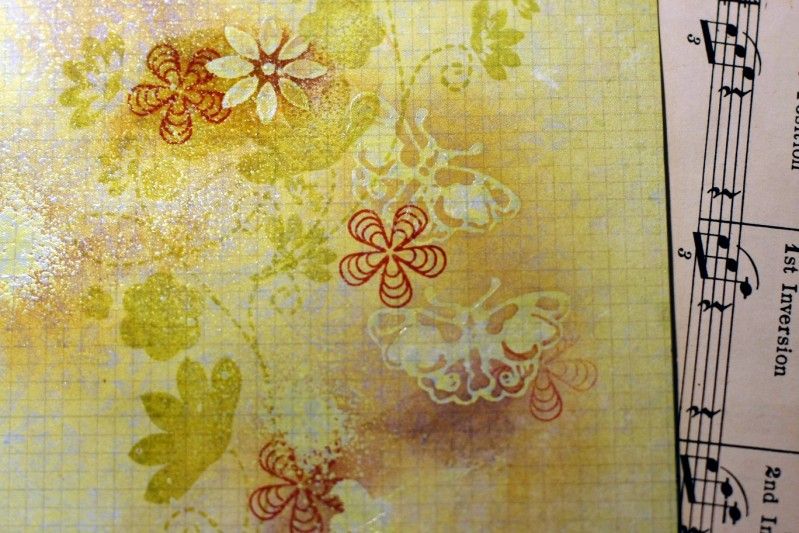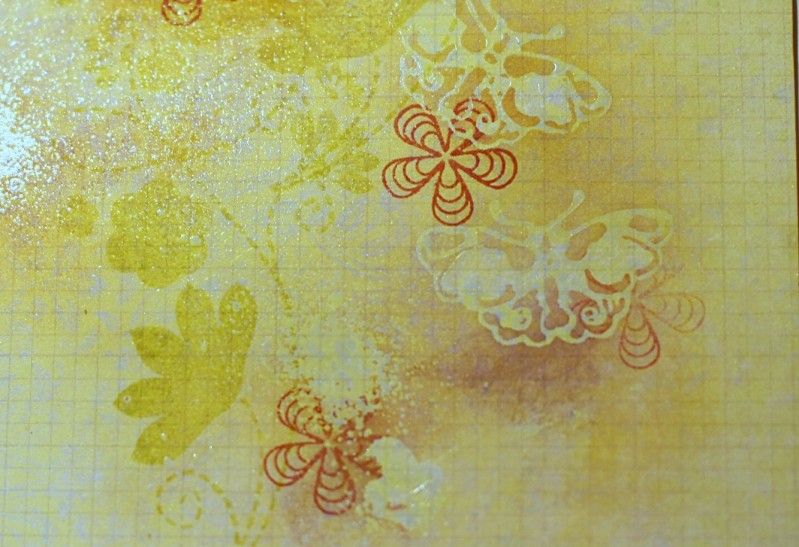 7. Stamp tiny flowers throughout the stamped images for more color and interest.
8. Punch a hole into the top of the tag and apply a colored reinforcement ring.
9. Layer several patterned papers onto the diecut patterned paper using Perma Tac Adhesive. Add paper trims along bottom.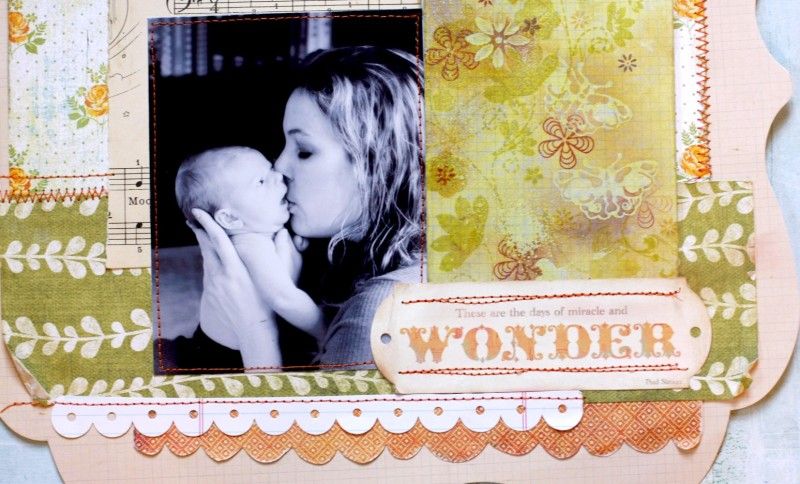 10. Adhere the tag to chipboard then Apply Raisen's 3/8" Adhesive Squares and add to the background papers. This will give the tag a little "lift" off of the background for added dimension. Adhere a photo next to the tag and machine stitch around the outside edges.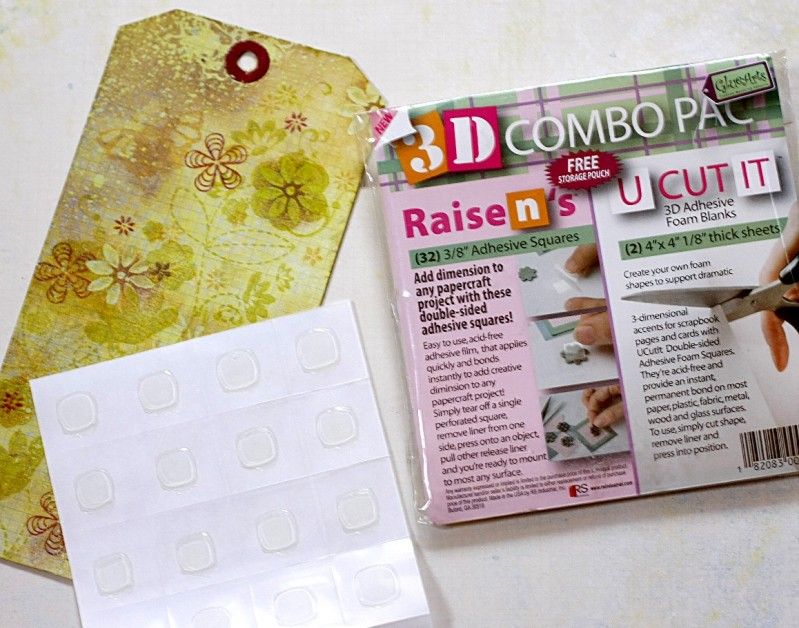 11. Add machine stitching as desired along edges of papers. Distress edges with ink and roll edges with your finger.
12. Sew on buttons and apply brads, chipboard embellishments and trinket pins as shown.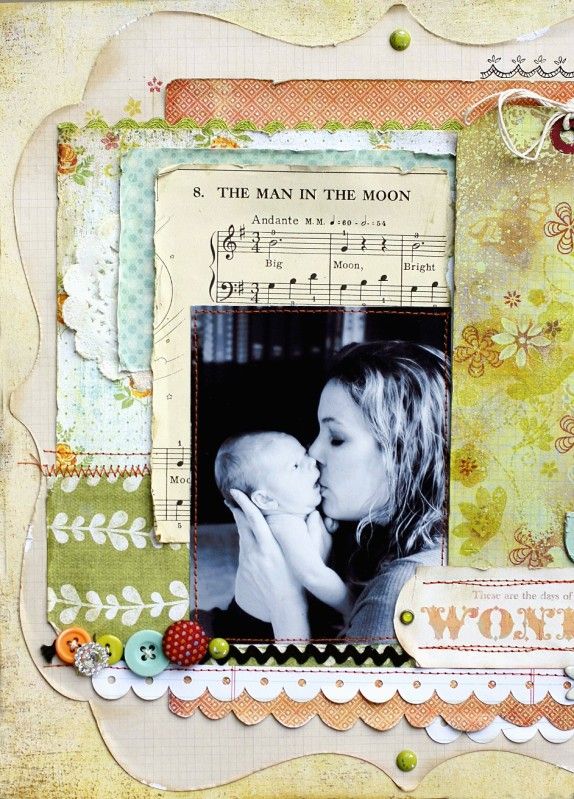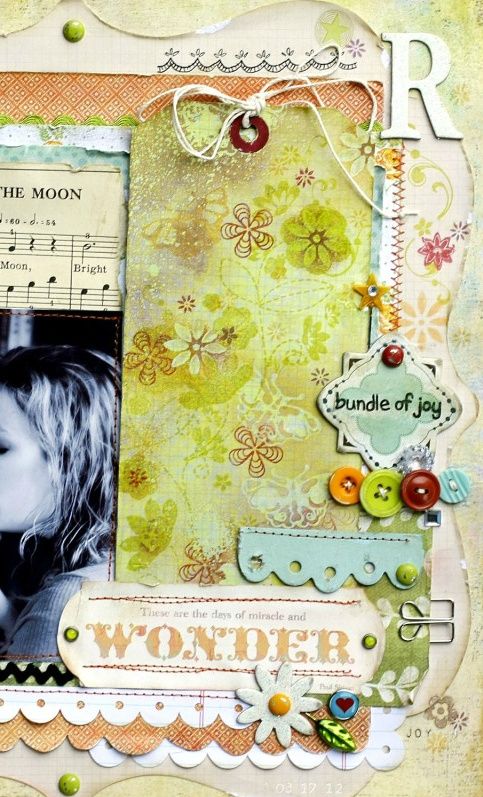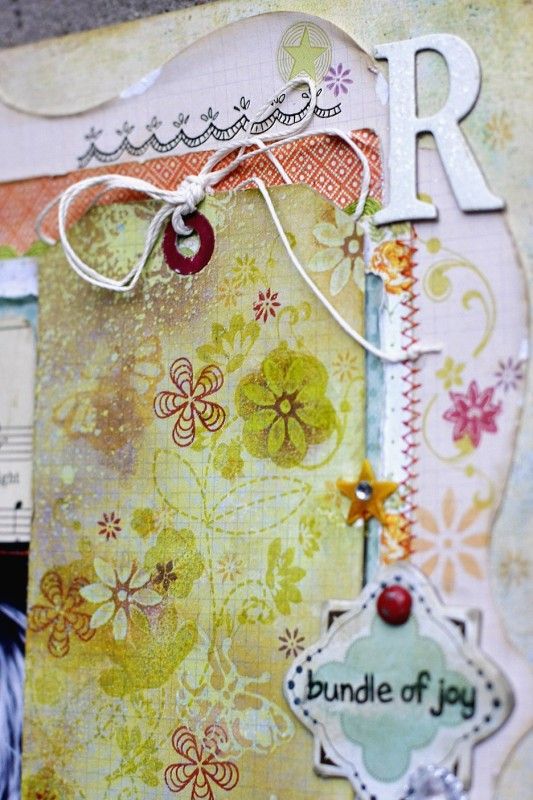 13. Use Perma Tac Adhesive to adhere the diecut background to the 12x12 patterned paper then add a few flowers and vines to the right of the tag a brad at the top and bottom of the diecut paper edge.
It's The Little Things Card...
GlueArts Designer: Patti Milazzo
Supply List:
Glue Arts- Glue Glider Pro 1/4 Perma Tac Cartridge Refill - Pro
U-Cut-It Adhesive Foam
Raise 'Ns
Tsukineko Products:
Staz-On Ink Pad and Re-Inker: Opaque Cotton White
Staz-On – Jet Black
Fireworks! Craft Ink Spray – Bamboo Leaves and Rhubarb Stalk
Goosebumps Clear Texture Spray
Other:
Fiskars Stamps
Bo Bunny pattern paper and embellishments
Sentiment: "It's the little things in life that make life beautiful."
Instructions:
1. Cut a 5 x 7 card front from gray cardstock. Use the Staz-On Opaque Cotton White to ink a large designed stamp - I used a floral pattern. Stamp the gray cardstock several times. Re-ink the stamp each time before stamping.
2. Once this is dry, spray the Bamboo Leaves Fireworks! Craft Ink over the surface – 2 or 3 sprays should do it and let dry.
3. To finish the background of the card, spray the Goosebumps Clear Texture.
Note: I found that adding the Fireworks! and Goosebumps sprays to the background made the Cotton White Opaque Ink images stand out even more.
4. Next, spray the green pattern paper with Bamboo and the type print pattern paper with Rhubarb then let dry.
5. Stamp butterfly images with Jet Black Staz-On Ink onto the type print pattern paper and cut out with a craft knife. Cut a large scalloped circle from the green pattern paper.
6. Cut a pattern paper strip a little wider than the card and use the Glue Glider Pro with Perma Tac Adhesive to apply it across the center of the card. Also apply the Perma Tac to a circle cut to fit inside the larger scalloped green circle.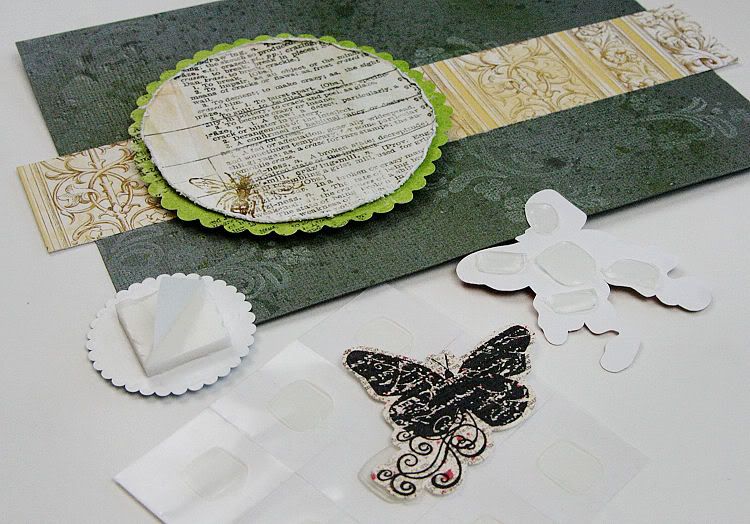 7. Use a large piece of U-Cut-It Adhesive Foam on the back of the scalloped circle and apply it near the left side of the card, as shown. I also applied a smaller piece of U-Cut-It Adhesive Foam to the back of a sticker (with the card sentiment) that I adhered near the bottom left of the circle.
8. Apply Raise 'Ns to the back of the cut out butterflies and adhere them near the top and bottom of the circle.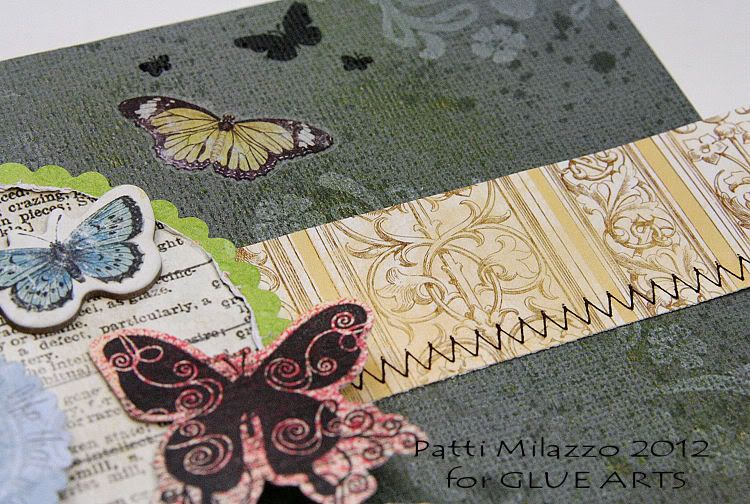 9. Add additional details to complete the card: rub-ons and more stamped butterfly images using Jet Black Staz-On Ink at a diagonal from the bottom left up towards the top right.
Absolutely beautiful don't you agree! Linda's layout celebrates a new grandchild and Patti's card would make for a perfect way to welcome that little one. Both used Tsukineko's new Goosebumps Texture sprays! Click
here
to see them online at Tsukineko's website! Don't forget to be a friend of
Tsukineko's on Facebook.
Let them know GlueArts sent you!!
So let's have some fun this week...we'd love to see your projects using Tsukineko Inks and products!

Link up your work from your blog, galleries (using our Inlinkz) and more and we'll enter you to win this spring prize filled with:

Tsukineko Memento Inks, Jolee's Boutique Dimensional Sticker, the new March Card Maker magazine, bag of springs pink buttons from Blumenthal Lansing's Favorite Findings collection and three brand new stamps! Two wood block and one large cling butterfly!
Plus that's not all...we'll also send to you a roll of our GlueArts Adhesive Squares and a pack of our Raisen's also perfect for cardmaking!

Don't forget...simply link to your project or post a comment to be entered to win! We'll select one random winner next Monday! And if you haven't already "liked" Tsukineko on Facebook...stop by and give them a warm hello from GlueArts!