Halloween Boo Boxes


Sorceress GlueArts Designer: Lesley Langdon

Designer Tip: I love little boxes, because they spice up your tables, and you can place many types of goodies and little presents inside. Good things come in small boxes! With these cute papers, and the fact that they are double sided, just adds to the character of these little gifts.

Supplies:
Glue Arts Glue Glider Pro (Pro+ Cartridge)
Glue Arts Hot Glue Gun
AUTHENTIQUE Glowing Collection (Patterned Paper, Stickers, and Die Cuts)
Spellbinders S4-352 Spiral Blossoms Two (Die Template)
Spellbinders LF-012 Square Petal Top Box (Die Template)
Spellbinders Grand Calibur Die Cut Machine
Shimmerz Coloringz (Mon Shari Spritz)
Buttons by Buttons Galore and More
Creative Impressions Ribbons
S
Instructions:

1. Die cut petal top boxes out of Authentique GLOWING patterned papers. Adhere together using Glue Arts Glue Glider Pro (Pro+ Cartridge).

2. Fill inside of boxes with candies, then tie shut with ribbons.

3. Make spiral blossom flowers for the tops of boxes by die cutting more Authentique patterned papers using a flower die template. Roll in from the outside and hold together with your Glue Arts Hot Glue Gun (if you would like a different color, use some of your mists to add colors to your patterned papers).
4. Add alpha stickers to die cuts, and glue on all your decorations using your Glue Arts Hot Glue Gun.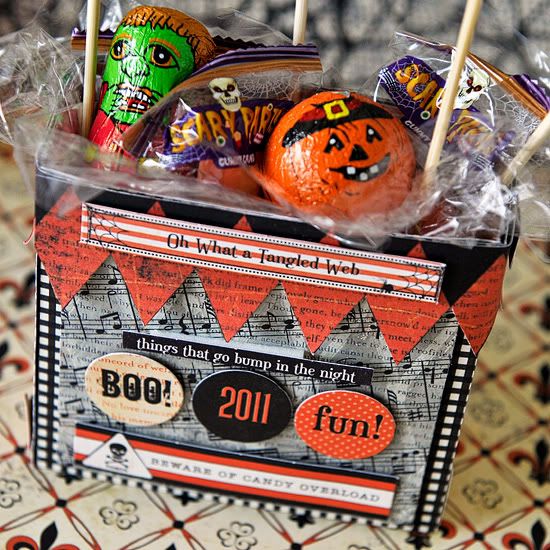 Ghostly GlueArts Designer: Ania Lexander
GlueArts supplies:
Glue Glider PRO+ - High Tac
U Cut it Foam
Raisens
Other: Antique Howling, empty box (mine was a perfume box =) ), wooden sticks
1. Measure your box and decide for a "background"-patterned paper. Cut out the needed squares and adhere with high tac adhesive.
2. For the back and front I decided to go with a "mat" where the tags and die cuts would be adhered to with a mix of raisens and U cut it foam.
3. The harlequin-pattern of the "enchanted" sheet makes such a nice border - just handcut it and adhere around the top of the box.
4. Take the remaining die cuts and adhere them two by two on a wooden stick with raisens in the middle.
5.- Fill with candy and stick the wooden sticks in between
Finally - I have to brag a bit.
Comment from my daughters 5 yr old friend: Wow, that's so pretty and frightening at the same time!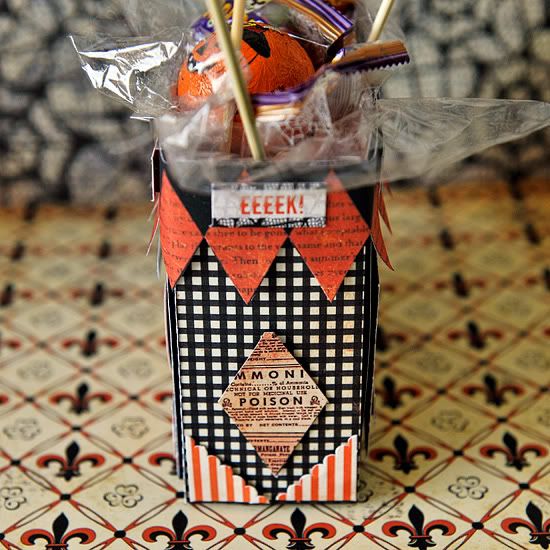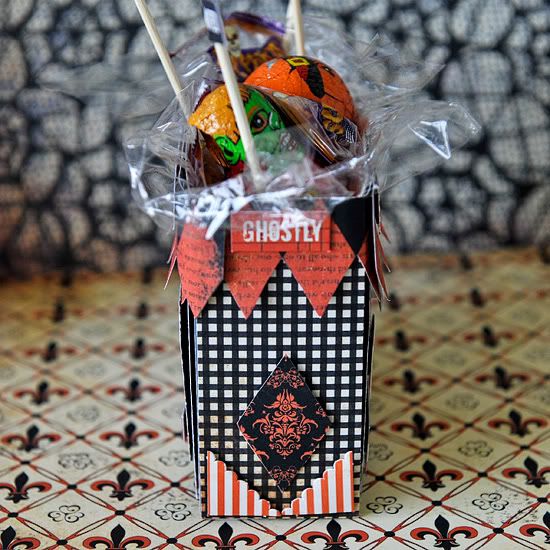 So tell us...do you make homemade Halloween treats? Have family over to celebrate? Get together with a big group to walk the kids around? Attend a school parties and trunk or treating?
Leave us a comment today and share with us your traditions! We'll enter you to win our NEW PRO+ Cartridge plus a PRO handle, our 3D Combo Pac and yes...the Authentique Glowing collection that our talented team of designers has worked with all week!
Just leave a comment on today's post and next Monday's we'll scare up a random new winner! It's that easy!
Would you like another chance to win? Then here's a challenge to you...visit the Authentique Facebook wall and post a big GlueArts hello and let them know we sent you over!