That's right!
It's Monday! Hey it's even October!
And that means we're kicking off a filled to the brim month of amazing sponsors, projects, giveaways, contests and more!
We hope you'll sign up to receive our emails, or follow the blog through your blog readers and come be our friend on Facebook! (and Twitter too!)
All this week we've paired up with one of our long time favorites...
Core-dinations ColorCore Cardstock!
Designers Jenny Chesnick
and
Patti Milazzo
have two projects
(that are so stinkin' cute! says so right on Jenny's project!)
you'll want to sit right down and create these yourself!
The Great Outdoors Album
GlueArts Designer: Jenny Chesnick

Supplies Used:

Glue Glider Pro- Perma Tac
U-Cut 3D Foam
Core-dinations Cardstock
Embellishments & Pattern Paper by American Crafts
Twine by the Twinery
Silhouette SD
The wood grain card stock by Core-dinations was one of my favorite patterns. It suited itself well with my favorite camping line! Using my Silhouette SD I cut out library pockets with matching tags to create a mini album.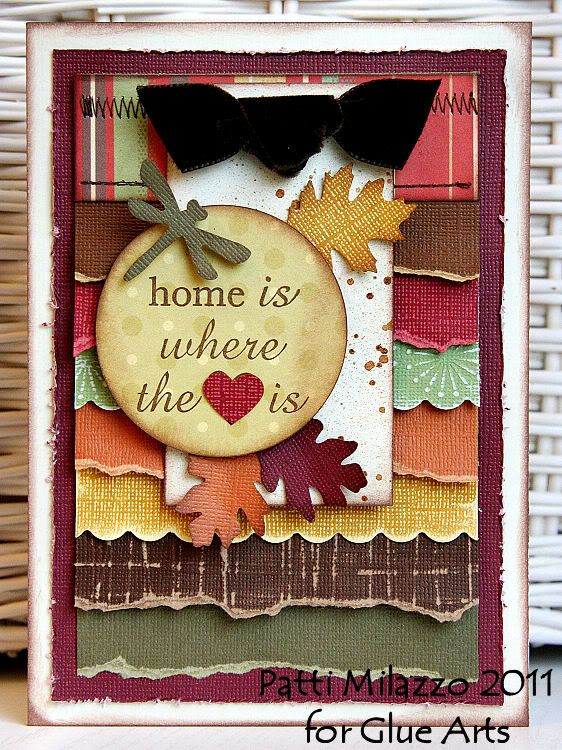 "Home Is Where the Heart Is" CARD
GlueArts Designer: Patti Milazzo
Supplies:
Glue Arts:
Glue Glider Pro with
1/4 High Tac PRO+ Cartridge Refill - Pro
U-Cut-It Adhesive Foam
Extreme Adhesive Squares
Extreme Micro Adhesive Squares

Core'dinations Cardstock:
Sand It Gadget
Dust Buddy
Core Impressions – Cosmo Cricket Classics
Vintage Collection – Retro Mod Squad
Tim Holtz – Distressed Collection
Black Magic

Other:
Cosmo Cricket Mr. Campy pattern paper
Fiskars – Leaf and Dragonfly Squeeze Punches; Border Punch; "The Simple Things" stamps

Instructions:
1. Cut a 4" x 6" piece of Core'dinations Cardstock (green) and tear across the bottom. This will be the foundation of the layers and the bottom layer shown.
2. Next, cut 6 – 2" x 4" pieces of Core'dinations Cardstock. I used a mix from different collections to create my fall palette. Tear and border punch along the length of each piece. Use the Sand It Gadget to sand the already embossed (love that!) patterns as well as the border punched edges to continue the distressed look. Use the handy Dust Buddy to gather up any debris from sanding.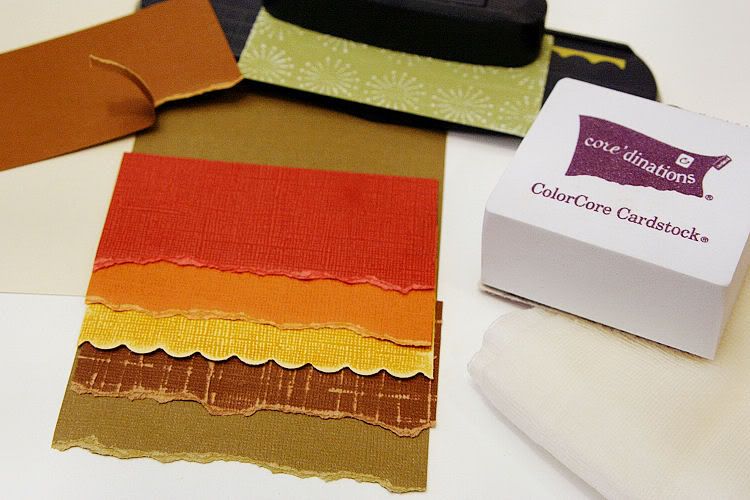 3. Cut a 4.5" x 6.5" piece of cardstock (plum colored), distress the edges with a craft knife or other sharp blade and adhere it to the front of a 5" x 7" card.
4. With the Glue Glider Pro and High Tac Pro+ Cartridge, apply adhesive to the back (top) of each layer. Begin layering from the bottom up, keeping layers about .5" apart. Cut 1" strip of coordinating pattern paper to adhere at the top.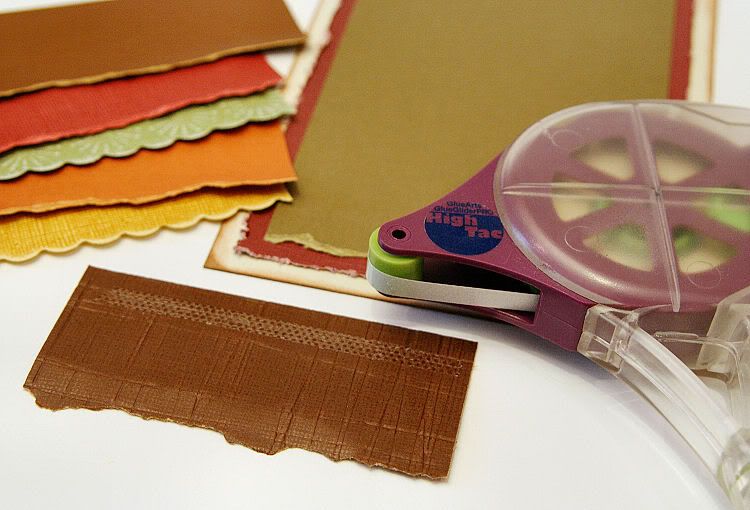 5. Cut a 2.5" x 4.5" tag from light cardstock. Ink and adhere near the top of the pattern paper strip.
6. Stamp the greeting/sentiment in a 2.5" circle. Punch a heart from red cardstock and adhere to the greeting with an Extreme Micro Square.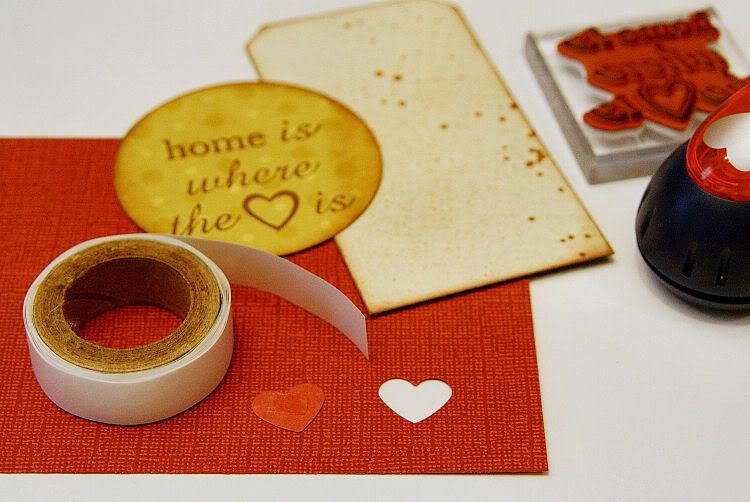 7. Attach a piece of tied ribbon to the top of the tag with an Extreme Adhesive Square. Apply a piece of U-Cut-It Adhesive Foam to the back of the circle and adhere that near the left side of the tag.
8. Punch leaves and a dragonfly from cardstock and adhere as shown with Extreme Micro Adhesive Squares and a tiny piece of U-Cut-It Adhesive Foam.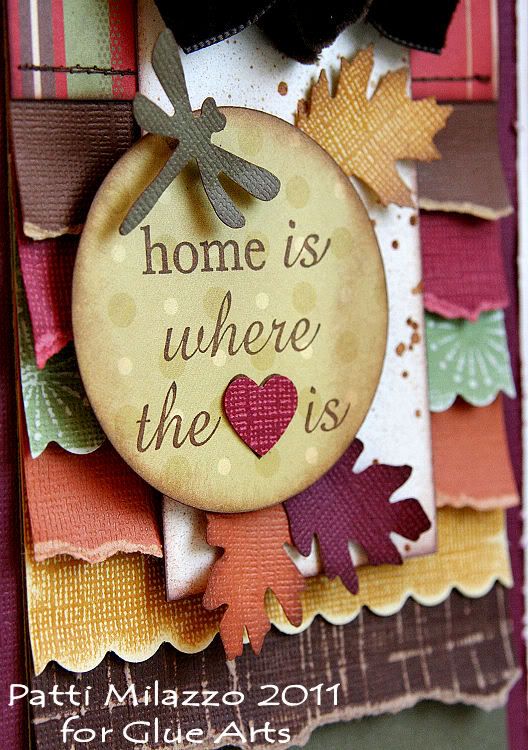 Have you tried

Core-dinations Cardstock?

They have endless color and cores! You can sand and distress to your heart's desire!! We'd like to give you a chance to try out their amazing cardstocks along with GlueArts adhesives! The two together are what really makes together projects come together!
Simply post a comment here and we'll enter you to win the Core Impressions Jillibean pack along with the Core Impressions Basic Grey pack! (that 40 sheets of cardstock!!) Plus we're also including a Glue Glider Pro with our Perma Squares Cartridge and our Adhesive Squares!

We'll select one random winner next Monday!
And speaking of winners we have a few to announce this morning! Up first our winner of our Accent It All Vinyl assortment! And that is:
Amy E said...
I can't wait to get my hands on some of this stuff!! The ghosts are adorable, and I LOVE the gift set! How cool is that?!?!
Congrats to you Amy! Please email me at GlueGirl@gluearts.com with your info!
In case you missed our big announcement this weekend...we're giving away 10 of our new Glue Glider Pro + Cartridges and Handles for 10 days! We kicked this off on Saturday and you still have 8 days left to enter! Just click here to go to our Pro Plus page and click on the left side where it says "Enter Here". Just one entry is all you need to be entered to win! And here are the winners from yesterday!!
Janet Sisk
Lorrin Moss
Cindy Brock
Dawn Gaines
Angie Blom
Kim Boken
Laurie Mince
Terri Scott
Congrats! Remember just one entry is all you need to enter to win! Be sure to stop by the Core-dinations blog for more ideas and way to win all week long! We'll see you right back here tomorrow!