It's never too soon to start thinking about the holidays.
In our house once Halloween is over...it's practically Christmas. Or at least it feels like Christmas given the month of November tends to just be a blur!
Designer Lesley Langdon
is helping you get a jump start with a trio of tags that are perfect for the holidays or really anytime as they're easily adaptable to most occasions!
Designer Ania Lexander
has the perfect card for someone special's birthday!!
GlueArts Designer: Lesley Langdon

Intro:
Even though it may seem far from Christmas, I always like to get into the spirit ahead of time and make tags and cards in advance. These tags are very simple to make, with the Core'dinations cardstock flowers being the focal point. Picture these tags on your wrapped gifts, in kraft paper, green paper, gift bags, etc. These tags are easy to assemble with the help of Glue Arts Glue Gun and the new Pro Plus cartridge!

Supplies:
Glue Arts Pro Plus (Perma Tac)
Glue Arts Glue Gun
Cardstock: Core'dinations ColorCore Cardstock (Core Impressions: My Mind's Eye Lost and Found Collection)
Sand It Gadget: Core'dinations
Dust Buddy: Core'dinations
Die Templates: Grand Scalloped Circles Nestabilities® by Spellbinders
Die Cut Machine: The Grand Calibur by Spellbinders
Mists: Shimmerz Paints (Mama Sings the Blues, Licorice)
Stamps: Unity Stamp Co (25 Days of Christmas)
Ink: Memories Ink
Ribbon: May Arts (Leaves), American Crafts (Red Roses)
Tags: Office Depot
Other: String, Buttons

Instructions:
1. Using Core'dinations cardstock, sand the embossed Color Core cardstock with the Sand It Gadget, exposing the color underneath. Use your Core'dinations Dust Buddy to clean up all the cardstock dust! Run through die cut machine and cut different sizes of the Grand Scalloped Circles, or similar. You can even hand cut circles.
2. Starting from the outside, cut a swirl pattern into the circle and roll from the outside.
3. Using you Glue Arts Glue Gun, place a good amount of glue onto the base of the flower and stick together. Press the flower between two plates with all your weight.
4. Spritz with blue and black Shimmerz spritz. Let dry. Use your Glue Arts Glue Gun to adhere button to center.
5. Assemble tag by stamping sentiment at top, placing some sanded Core'dinations cardstock onto the tag with your Glue Glider Pro Plus. Use your Glue Gun to adhere 2 different ribbons, and then your homemade flower.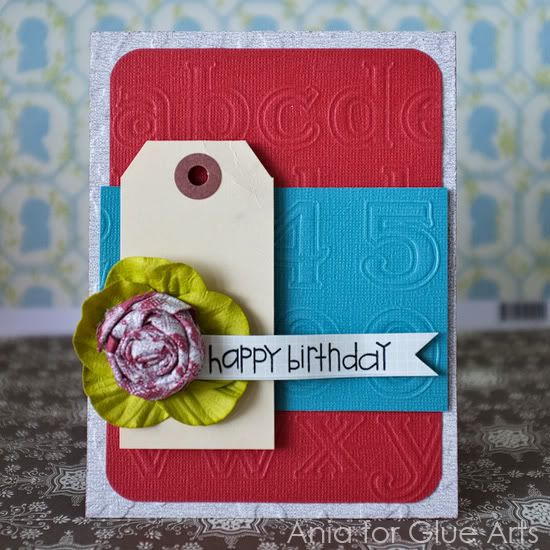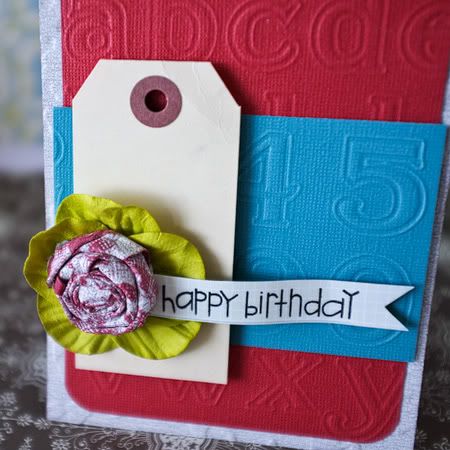 Twisted Flower Happy Birthday Card
GlueArts Designer: Ania Lexander
Supplies:
Glue Arts Glue Glider Pro - Extreme Tac
GlueArts Raisens
GlueArts U Cut It Foam
Hot glue

Other: Coredinators JBS / Whitewash collection, paper smooches sentiments stamp, glimmer mist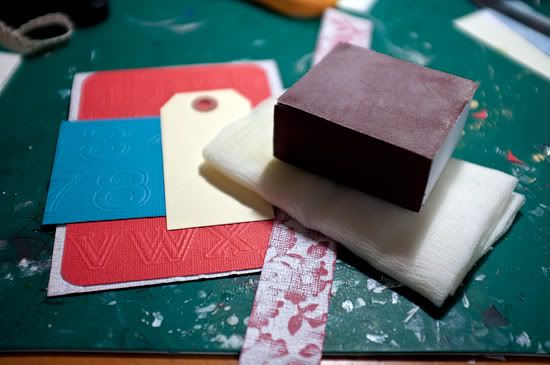 Start with preparing your cardbase. Take a 1"x12" piece of scrap cardstock, and sand it to reveal the color behind the surface.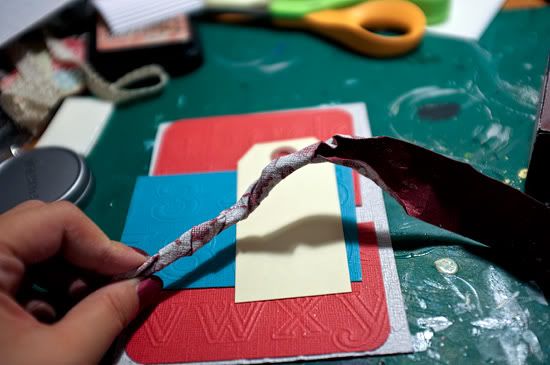 Spray the strip with mist to wet it & to add shimmer (mine's iridescent gold, which makes it shimmer only, no added color), twist and wrap the strip around itself like shown on the image.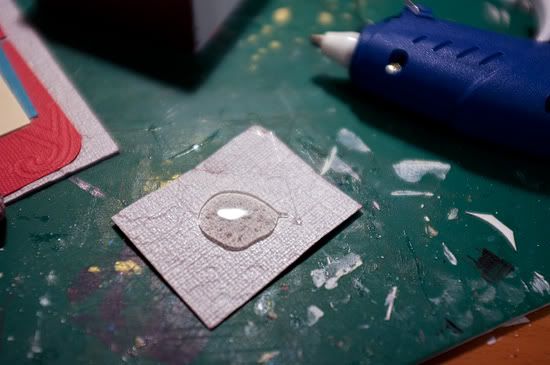 Grab another piece of scrap paper, and generously add a glob of hot glue onto it.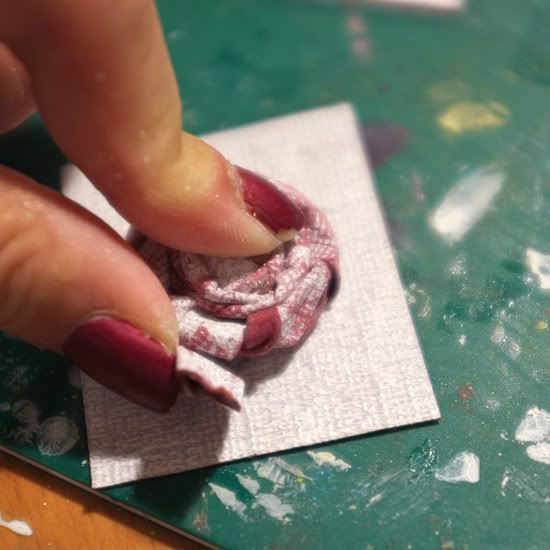 Coil and wrap the twisted strip of cardstock around itself and place it upon the glob of hot glue. Add more hot glue if needed. Trim off the excess when the glue is cooled down, and you have a flower decoration you can use anywhere on your projects.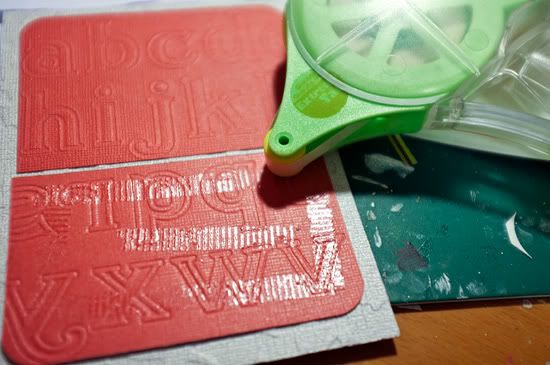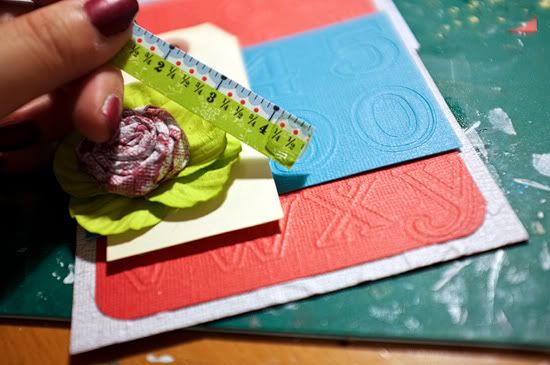 Assemble your card! (and yes, I love the look of the cardstock unsanded...love the subtle embossed letters/alphabets! Just because you can doesn't mean you should!)
Many of you have commented how much you like Core-dinations cardstock and GlueArts adhesives. We agree with you that it's the perfect combination! We'd like for you to be able to create and share projects with us using our two companies products! So we'd like to invite you to enter to win
Simply post a comment here and we'll enter you to win the Core Impressions Jillibean pack along with the Core Impressions Basic Grey pack! (that 40 sheets of cardstock!!) Plus we're also including a Glue Glider Pro with our Perma Squares Cartridge and our Adhesive Squares!

We'll select one random winner next Monday!
We also have another way for you to win!
We'd like to invite you to go Like Core-dinations on their Facebook wall and leave them a big friendly hello on their wall.
Then post on ourGlueArts Facebook wall you've gone and liked them.
We'll enter you to win this fantastic Core-dinations Tim Holtz Distress paper pack!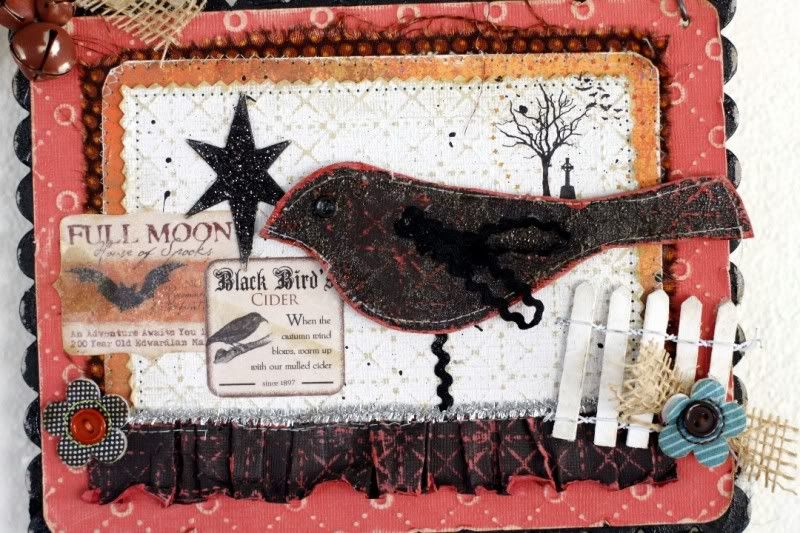 We have one final day tomorrow and we invite you to stop by to see

Designer Linda Albrecht's

incredible project!
Here's a peek of her fun project!
We hope you have stopped by the Core-dinations blog as well this week for more fun and ways to win!
Speaking of ways to win...have you heard about our new
PRO+ Cartridges?
They work right in your existing Glue Glider PRO Handle and give you the freedom to flip the cartridge to push you adhesive versus pull. Either direction you go...you'll find increased glideability and smoothness! We hope you'll
stop by our website to enter to win one for yourself!
We're giving away

10 PRO+ cartridges a day

plus a PRO Handle today through October 10th! And best of all...it just takes one entry to win! So what are you waiting for??!!