Give me something good to eat!
Do you ever wonder where such a phrase that involves the smelling of feet came from?!(or is it just me who questions these things!)
Designer Andrea Budjack
agreed that the smelling of feet.. may not be the most fun thing about Halloween, however the treats most definitely are! And
Designer Linda Albrecht
has a great way for you to countdown to the most frightful of holidays!!
Spooky Little Treat Tags and Bucket
GlueArts Witchy Designer: Andrea Budjack
Supplies:
Glue Arts NEW PRO+ High Tac Cartridge
Glue Arts UCut-It Foam
Glue Arts Ribbon Adhesive
Authentique - Howling
Sizzix - circle die cut
Bazzill Basics Paper - cardstock
Pink Persimmon - stamp
Prairie Bird Boutque - ribbon
Remember Me Emily - vintage button
Summertown Sun Publishing - images
KaiserCraft - adhesive pearls
Papertrey Ink - ticket die and stamp
Provo Craft - bat die
Crate Paper (bat)
craft supply - yellow trim, wood bucket

Instructions:
1. Cover bucket in paper using Authentique - Howling and Glue Arts High Tac Adhesive.
2. Embellish the front of the bucket with Authentique - Howling embellishments, button, bats, stamped images and trim. Use Glue Arts UCut-It 3d Foam to give dimension to each piece.
3. Create tags to place inside the bucket, beginning with strips of cardstock.
4. Die cut tickets, stamp and adhere to tag using Glue Arts High Tac Adhesive.
5. Cut small strips of paper into a pennant and adhere to bottom of tag.
6. Print, trim and mount image onto tag using Glue Arts UCut- It Foam.
7. Add lace and adhesive pearl above image.
8. Punch hole in tag and add ribbon.
"Trick or Treat Countdown Chalkboard"
GlueArts Spooktacular Designer: Linda Albrecht

Other:
Miscellaneous Chipboard pieces by Maya Road
Glitter glue, brads, wire & staples
Brown Inkpad
Black Chalkboard Paint
7x12" Clipboard by Creative Imaginations
Clear Stamp by Tattered Angels (spider web)
Crackle paint by Ranger

Instructions:
1. Paint clipboard with chalkboard paint and allow to dry.
2. Adhere papers to chipboard pieces with Extreme Tac adhesive, lightly sand edges and ink with brown inkpad
3. Cut select pattern with spider web from patterned paper then adhere to the left top edge of the clipboard.
4. Stamp spider webs using embossing inkpad then apply glitter powder and heat to adhere.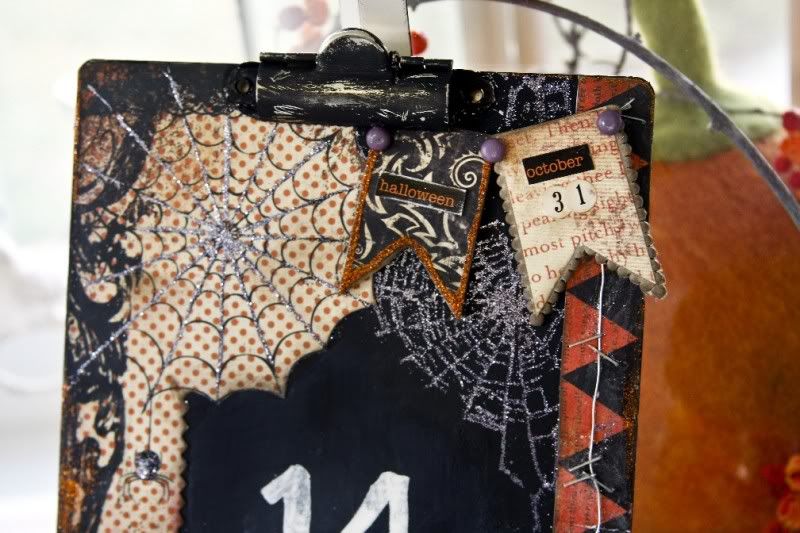 5. Apply Petite Type Circles to tags and chalkboard to complete "days until" words.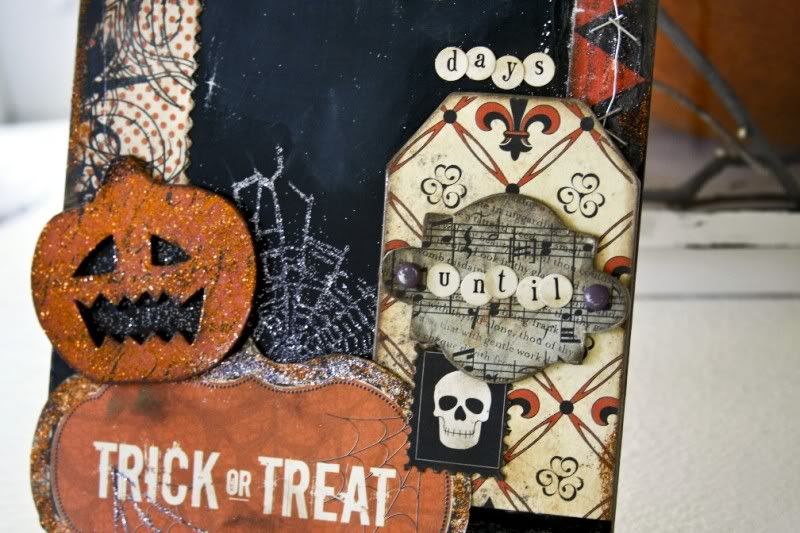 6. Apply clear crackle paint to edge with wire and staples.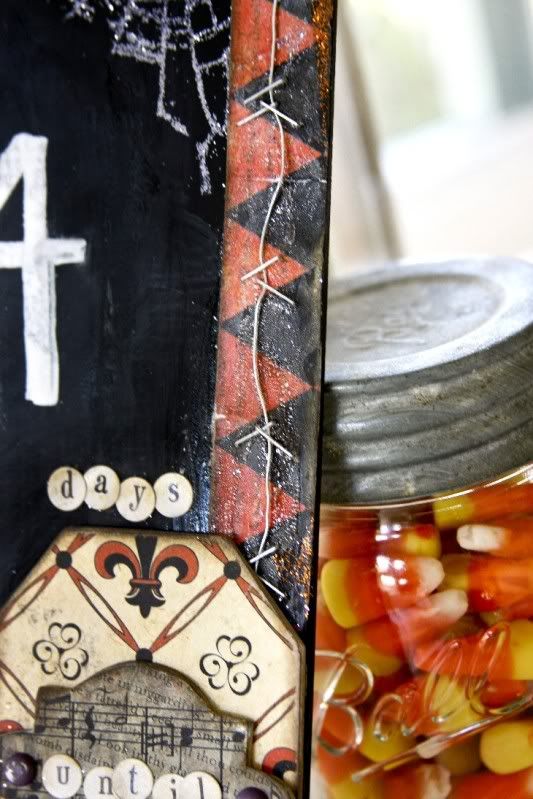 7. Apply glitter glues to pumpkin and Trick or Treat Headline.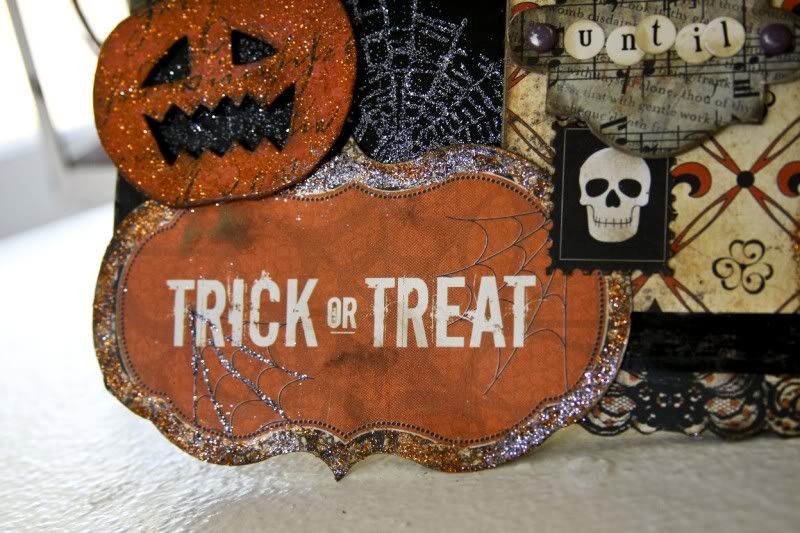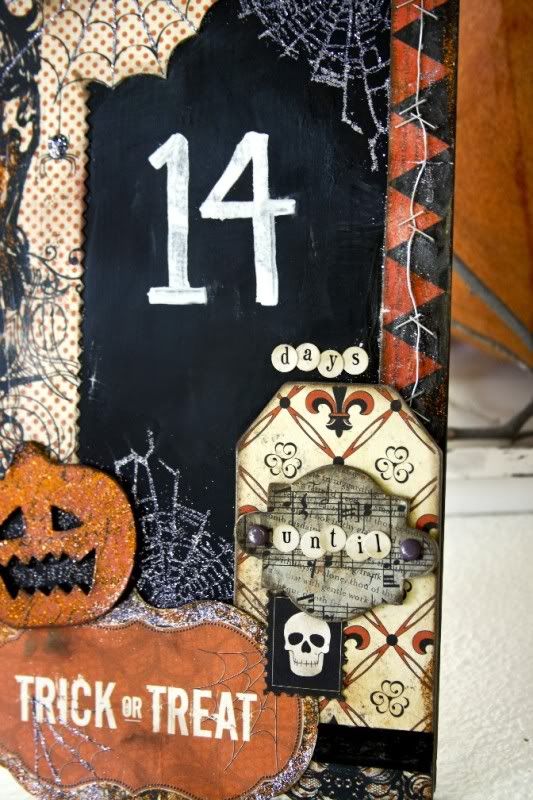 So tell me....are you now going to want to make a countdown calendar too? How do you celebrate the Halloween holiday? Family? Friends? School parties and trunk or treating?
Leave us a comment today and share with us your traditions! We'll enter you to win our NEW PRO+ Cartridge plus a PRO handle, our 3D Combo Pac and yes...the Authentique Glowing collection that our talented team of designers has worked with all week!
Just leave a comment on today's post and next Monday's we'll scare up a random new winner! It's that easy!
Would you like another chance to win? Then here's a challenge to you...visit the Authentique Facebook wall and post a big GlueArts hello and let them know we sent you over!