It's all about the treats today as we pair up with
Authentique's new Glowing
collection!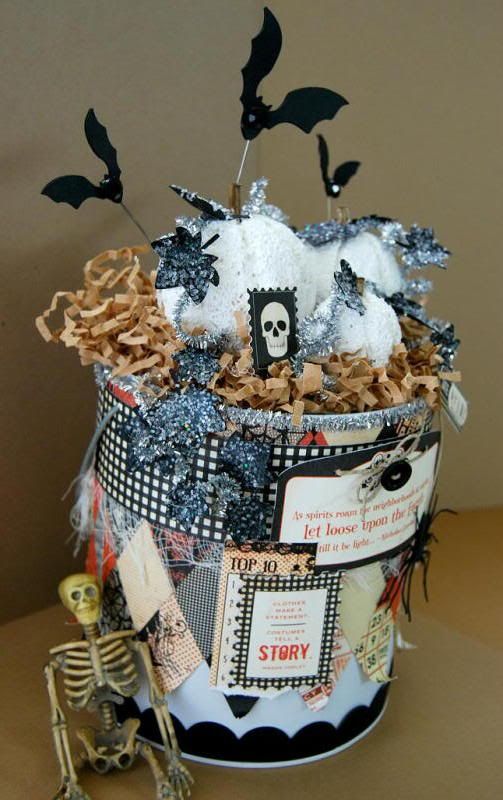 Designer Kristen Swain
has tricked out a tin and turned it into quite a fright!
Our Adhesive Squares ensure bats stay in the belfry if you know what we mean!!lol
And
Designer Lisa Day
has a Trick or Treat card sure to bring out the goblins
(or hungry kiddos looking for candy!)
Our GlueArts U Cut It Foam gives added dimension without too much bulk!
GlueArts Goblin: Lisa Day
Glue Arts High Tac Pro Cartridge and Handle
Glue Arts Raisens
Glue Arts U-Cut It Foam
Glue Arts Extreme Adhesive Squares
Authentique Glowing

Step 1: Cut a diagonal strip of the Howling paper and score it every inch and then fold back and forth to pleat.
Step 2: Add a die-cut sentiment to the top of your card and layer on some ribbon.

Step 3: Cut out the spider web and the spider and adhere it to the left side of the card and layer on your pleated paper.
Step 4: Punch out two postage stamps out of patterned paper and two from the diecuts and layer them together using Glue Arts Raisens. Adhere them to your card.

Step 5: Add the Smell my Feet sentiment to the card using the High Tac adhesive and then layer on the Shakespeare quote with some U-Cut It Foam.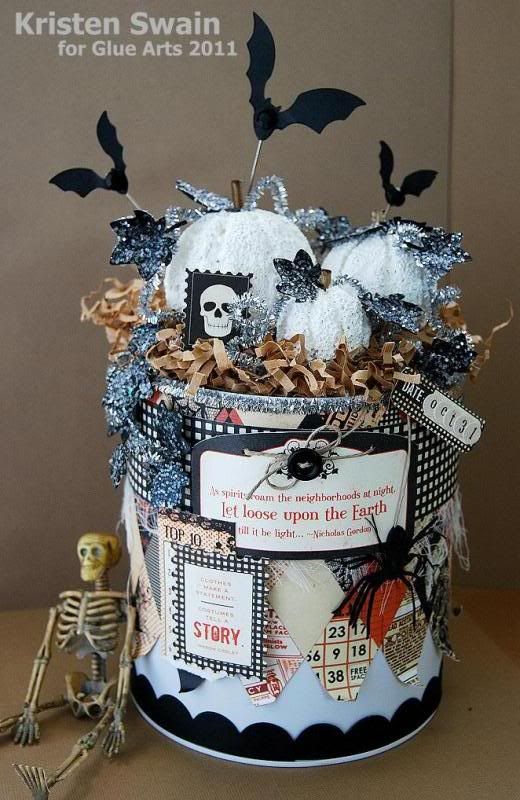 GlueArts Designer:- Kristen "Spooky" Swain
Materials:

Authentique Glowing collection
Glue Arts Hot Glue Gun and Glue Sticks, Perma Tac adhesive, UCUTIT foam
styrofoam balls
bamboo skewers
brown ink
silver pipe cleaners
Cricut Machine
October 31st (spider), Create a Critter ( leaf), Happy Hauntings ( bats), Plantin Schoolbook ( border)
Black Cardstock
buttons/twine/kraft shred/glitter
paint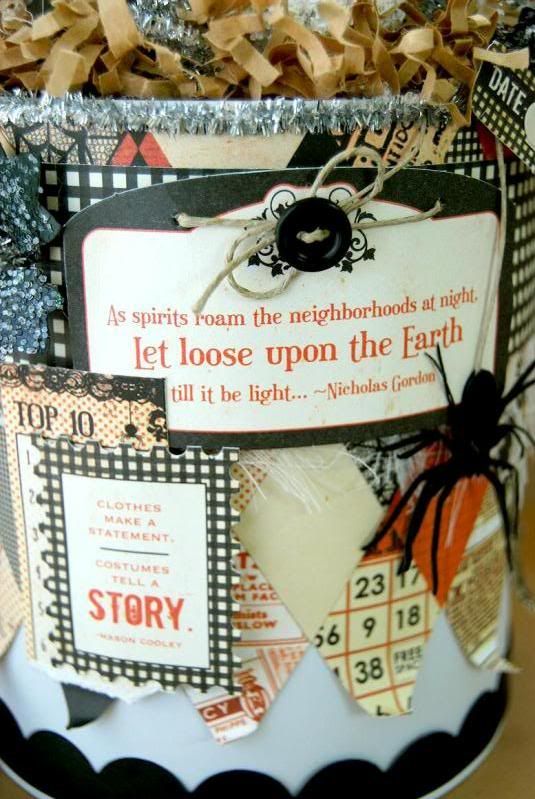 Instructions:
1. Cut diamond shapes in patterned paper, using design as guide. Wrap around tin and adhere to tin with Perma Tac.
2. Cut 1.25 inch border and wrap around paint can towards top, adhere with Perma Tac.
3. Hot Glue silver pipe cleaner around top edge of paint can. Then use Cricut machine and cut out black border, adhere to can around bottom.
4. Usee punch out diecut and adhere to paint can with UCutIt foam, then adhere to front of can.
5. Cut out spider using Cricut Machine, then attach to can with twine, adhere other diecuts to can with UCutIt foam. Add button and twine to diecut.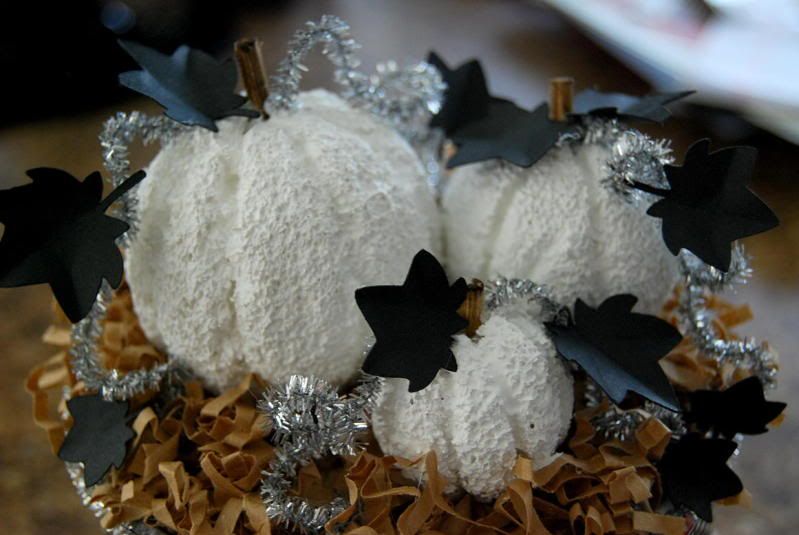 6. Form pumpkins by sculpting round balls, paint with white paint.
7. Adhere kraft shred to top of can using Hot glue.
8. Hot Glue pumpkins to top of can, then adhere pipe cleaners to pumpkins, twisting them around a pencil for curls.
9. Ink bamboo skewer then insert in top of pumpkin, hot glue in place. Cut out leaves using Cricut Machine and hot glue into place, use a liquid glue and clear glitter to glitter leaves.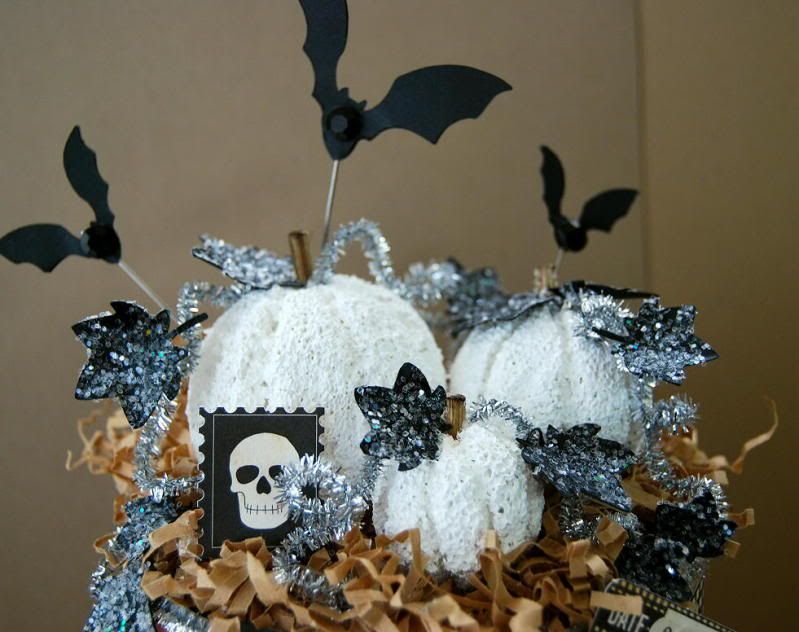 10. Cut out two each of bats using Cricut Machine then adhere them together with Hot Glue onto wires, stick wires into pumpkins and hot glue into place. Add black gems in center of bats.
11. Finish pumpkin can with more curled wires and black glittered leaves.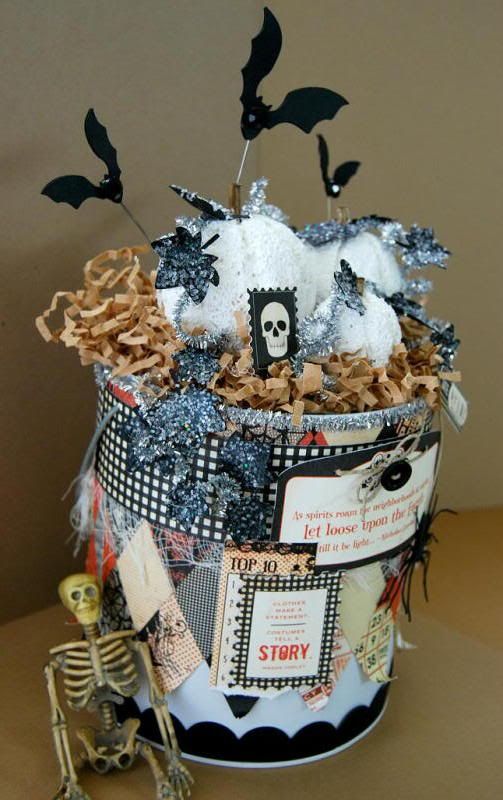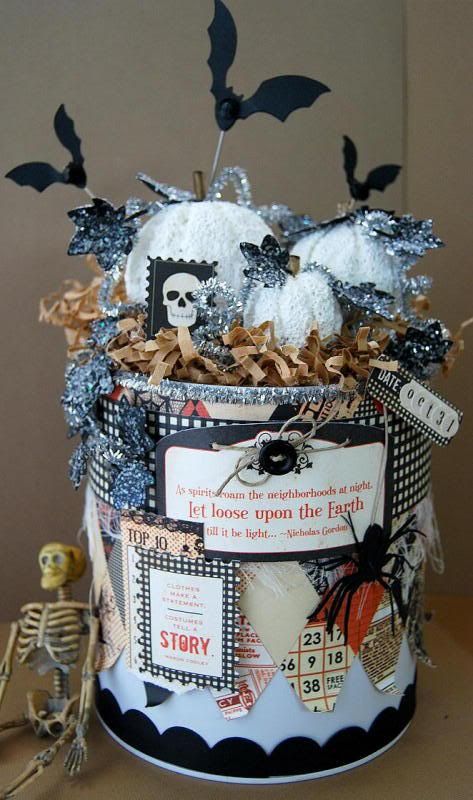 So what gives you a fright on Halloween night? It is bumps in the night??
We have a feeling you'll be happy to have a bit of a fright when we let you know we're giving away a set of the

Authentique Glowing collection.

..that includes one of each paper and stickers to match!
And to help all those pretty little things stick to your frightful project, we're going to include our

NEW PRO+ multi-directional cartridge, our PRO handle

and our 3D Combo Pac!
Just leave a comment on today's post and next Monday's we'll scare up a random new winner! It's that easy!