We're back with Day Two of our promotion with
Core-dinations Color Core Carstock!
Core-dinations
is known for their color-core cardstock which gives you the freedom to sand off edges and designs to reveal a color core! You can sand it, tear it and emboss it! There are endless possibilities for creating with their unique products!
Core-dinations cardstock is not only beautiful but ever so fun to work with!
And fun (and beautiful) is the name of the fame today with
Designers Grace Tolman
and
Kristen Swain's
projects! Our
GlueArts Ribbon Adhesive and U Cut It Foam
are key to helping them create!
GlueArts Designer: Kristen Swain
Supplies:

Cardstock/Sanding Block- Coredinations
Glue Arts- UCutIt foam, Perma Tac, High Tac, Adhesive Squares
Pinking Scissors
Ink- Ranger- Van Dyke Brown
cheese cloth
Die cuts- Cricut Expression
Cartridges- Designers Calendar ( maple leaf) Damask Decor (pumpkin)
sewing machine
ribbon- www.scrapinkris.etsy.com
letter stickers- Nikki Sivils
button/twine
corner rounder
compass
Instructions:
1. Adhere yellow cardstock to card base, then round corners and sand cardstock.

2. Ink edges of card with brown ink, then ink cheesecloth. Use High Tac to adhere cheese cloth to card front, then sew around edges of card.

3. Use compass to make circle, cut out with pinking scissors, ink edges and sew around edge. Adhere more cheese cloth across circle, adhere to card with UCutIt foam.

4. Cut out maple leaf from yellow, green and brown cardstock using die cut machine, sand pattern on cardstock and adhere to card with Perma Tac.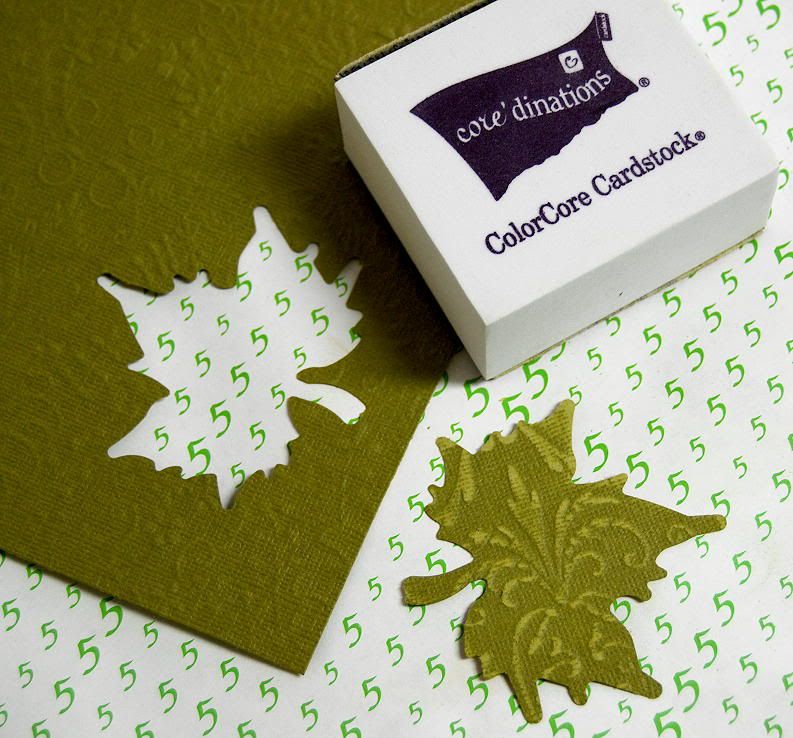 5. Tie bow with crinkled ribbon, adhere button and twine on top of bow with Adhesive Squares.

6. Layer pumpkin cut using die cut machine, sand and adhere to circle with UCutIt foam.

7. Handcut tag with green cardstock, tie onto pumpkin and adhere letters.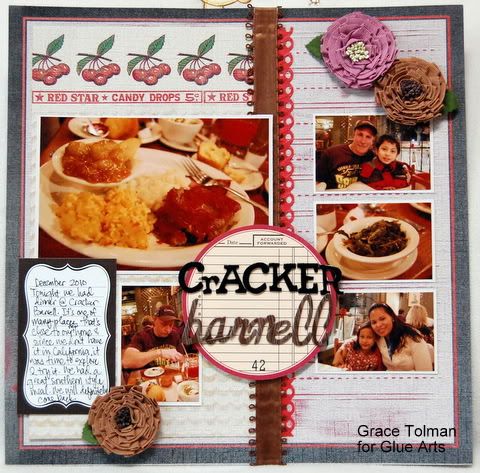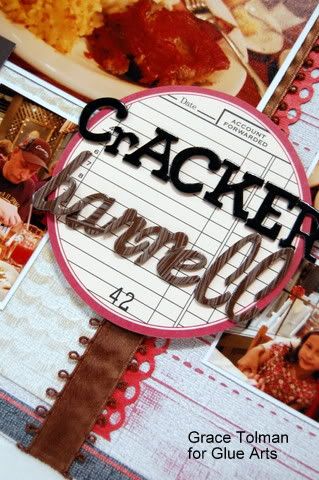 GlueArts Designer:
Grace Tolman
I love how Core'dinations had teamed up with Jenni Bowlin to give us some of the textured we're used to with Core'dinations cardstock along with the great vintage designs we associate so much with Jenni Bowlin Studio products. The Glue Arts adhesives made this layout come together so smoothly. Read on to learn how I made this layout.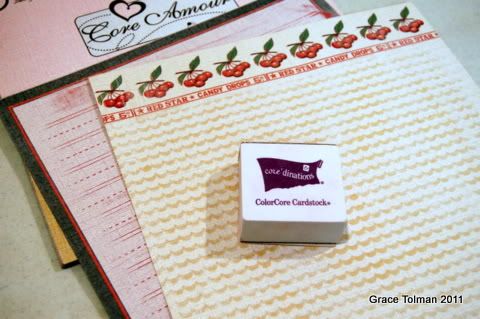 2. Sand down the textures from the patterned cardstock of your choice.
3. Mat photos with white cardstock.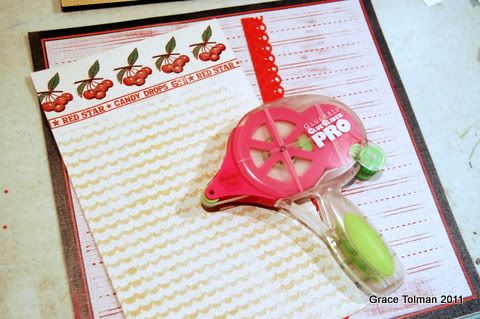 4. I added a punched border to one side of a red strip of textured cardstock and adhered the papers onto my background with perma tac.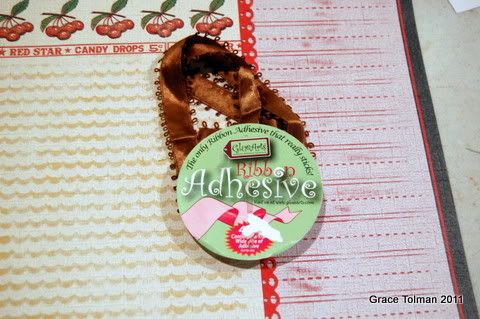 5. I added a strip of silk brown ribbon to the center of my layout using some Glue Arts ribbon adhesive.
6. I then added my photos to the layout using more perma tac.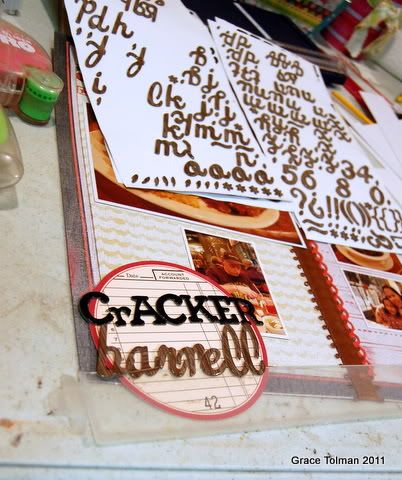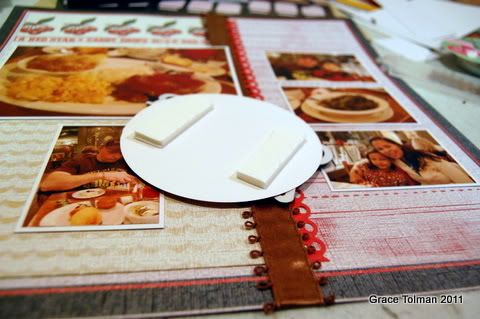 7. Then, I added my layout title to a JBS journaling block and adhered that to the layout with some U Cut if foam.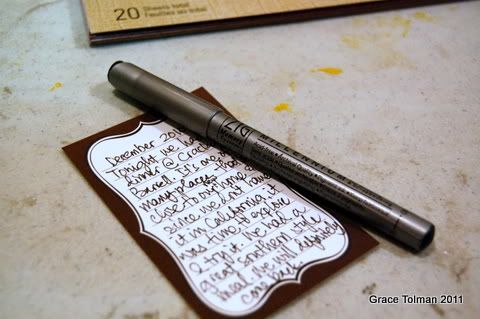 8. Next, I picked up another JBS journaling block and this time wrote my notes about our trip to this specific restaurant and added that to my layout.
9. I finished off the layout by adding some fun and bulky flowers from Maya road to the page using Extreme Squares.
So have you heard the news about our new
Glue Glider Pro Plus Cartridges
? What's makes them different you ask? With a simple flip of the cartridge you now have the freedom to push your adhesive versus pull. The choice is YOURS! The new Pro + has a gliding action that is like none you've tried! It's glides on so smooth you'll be amazed!! We're giving YOU our fans a chance to win these new Pro + cartridges before you can buy them!
Simply click this link
and follow the cues to enter to win! We're giving away 10 prizes a day through October 10th! It just takes one entry to win!! So don't miss out!
We'd also like to take this opportunity to announce two New Designers to our Glue Girls Team!!
Please welcome Designer....
and
Tamara
and
Jaime
both have diverse styles that will fit right in and we know you're just going to love them! They're going to be joining us officially in November when we bid adieu to Leslie Ashe and Jenny Chesnick!
We hope you'll give them a warm welcome to our amazing team!!
Last for today, be sure to
post a comment here and we'll enter you to win the Core Impressions Jillibean pack along with the Core Impressions Basic Grey pack! (that 40 sheets of cardstock!!) Plus we're also including a Glue Glider Pro with our Perma Squares Cartridge and our Adhesive Squares!

We'll select one random winner next Monday!