Every day...we fill our lives with family, friends, life, work, stress crafting and more!
Today we're filling your mind and hopefully brightening your day with beautiful projects from our talented team of Designers using
Webster's Pages
products and GlueArts impeccable line up of adhesives!
Today
Designers Jenny Chesnick and Patti Milazzo
have created beautiful layouts and cards brimming full of good things!
GlueArts Designer: Jenny Chesnick
Supplies:
GlueArts U Cut It Foam
GlueArts Adhesive Squares
Webster's Pages All About Me Kit
Webster's Pages All About Me Bloomer Trim
Webster's Pages All About Me Fabric Tickets
GlueArts Designer: Patti Milazzo
Supply List:
Glue Arts-
Glue Glider Pro
1/4 High Tac PRO+ Cartridge Refill - Pro
U-Cut-It Adhesive Foam
Extreme Adhesive Squares
Extreme Micro Adhesive Squares

Websters Pages:
All About Me pattern papers – Love the Journey, You're Timeless, Looking Ahead, My Story, Look Within, and Die Cut
All About Me Bloomer Trim
All About Me Fabric Tickets

Other: Stamp – Hero Arts
decorative pins (Maya Road & Heidi Grace), beads, pearl and clear gem accents, hemp, glitter glue

Instructions:
1. Create a 5" x 7" card background from the All.About.Me. pattern paper. Use the Glue Glider Pro with High Tac PRO+ Adhesive to adhere strips to the background as shown.


2. Cut 2 circles (3" and 3 ½") from pattern paper. Ink and distress as needed. I also stitched around the inner circle with black thread.
3. Attach the circles to the card front with U-Cut-It Adhesive Foam. Cut 2 butterflies and layer them and adhere them to the circle using Extreme Micro Adhesive Squares. Stamp greeting on cream pattern paper, trim and adhere under the circle with U-Cut-It Adhesive Foam. Apply the U-Cut-It Adhesive Foam also to the back of the Fabric Ticket and press it to the center of the butterfly.




4. Embellish the bottom of the ticket with small pearls. Tie a bow with hemp and apply an Extreme Micro Adhesive Square to the back. Place this on the center of the ticket.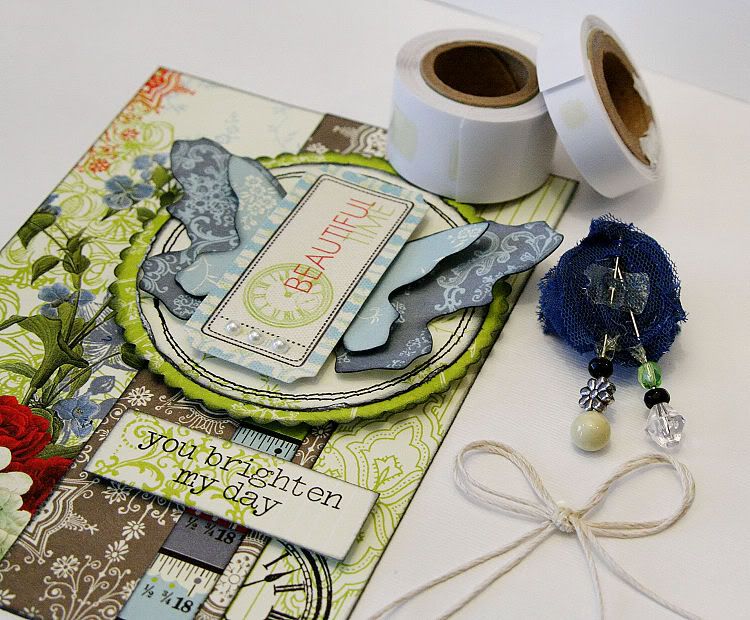 5. Cut out one of the blue roses from the Bloomer Trim. Add beads to the decorative pins and position them into the back of the bloom. Apply Extreme Micro Adhesive Squares just under the pin to keep the beads from sliding down. Add an Extreme Micro Square to the back of the bloom and press this onto the Fabric Ticket.
6. Add a gem and glitter glue to the center of the bloom to complete the card.


To help you get started on beautiful cards and layouts like you see here today, we would like to invite you to post a comment today! We'll not only enter you to win this beautiful Western Romance kit collection..but we're also including our PRO Handle and our NEW PRO+ PermaTac cartridge!
And to help make those projects look just like our talented team of designers..we're including our 3D Combo Pac and our Ribbon Adhesive!! Simply post a comment and we'll select one random winner next Monday! Who knows...it may be YOU!
Be sure all week long to take plenty of time to visit the beautiful Webster's Pages blog

and

website!
Their talented team of gals is working with our outstanding lineup of adhesives! We're positive you'll find more inspiring ideas and chances to win too!
Would you like another chance to win? Then here's a challenge to you...visit the Webster's Pages Facebook wall and post a big GlueArts hello and let them know we sent you over! Then visit our GlueArts Facebook wall and post on our wall letting us know you've done so. We'll enter you to win their beautiful All About Me Collection Kit along with YES...our Glue Glider Pro and our new PRO+ Perma Tac Cartridge.
Last for the day...a special note of thanks to Designer Jenny Chesnick. This was her final assignment with us as a Glue Girl and she'll truly be missed from our team! We wish you all the best Jenny!
And if you've been wanting to try out our new PRO+ Cartridges...they're officially available for sale today! You can order directly from our GlueArts website or tell your favorite Retailer you'd like them to place an order!!