It's a brand new week and we're excited to introduce you to a brand new product partner!
Scor-Pal
is well known for their unique product that comes in two sizes. The large 12 by 12 and the Scor-Buddy!
Scor-Pal
creates accurate and precise scores giving you professional looking folds, no more crooked cards. Multiple scores are done in seconds without moving the paper. Perfect for accordion folds, boxes, fancy fold cards and other interesting projects!
All this week our talented team of Designers will be showcasing ways for you to use the Scor-Pal and Scor-Buddy to create a variety of projects!! We hope you'll stop by each day!
Up first we have two beautiful cards from

Designers Kristen Swain and Patti Milazzo.

Funny as both designers used the tool to make scored medallions, rosettes and more! Our Glue Glider Pro and Adhesive Squares ensure these unique embellishments stay put!
GlueArts Designer: Kristen Swain
Supplies:
Paper-/Sticker letters Websters Pages
Adhesive- Glue Arts Hot Glue Gun, Glue Sticks, Perma Tac adhesive, Adhesive Squares, UCutIt foam
Sewing machine
Ribbon- www.scrapinkris.etsy.com
mini scallop scissors
adhesive mesh
ink- Nick Barton
adhesive gems
button/twine
1. Use Scor-Pal to score every 1/4 inch on a strip of 2x12 paper. Accordion fold then adhere to strips together with hot glue, make into circle medallion.
2. Cut block of cream paper, ink edges and sew to larger block of blue/green paper, then trim edges with deco scissors.
3. Adhere to card with Perma Tac, then add strip of adhesive mesh across card.
4. Tie ribbon across card, then adhere medallion.
5. Add UCutIt foam to boots cut from paper, then adhere to top of medallion.
6. Add gems to boots, cut two small strips for greeting and add letters, then finish with button/twine.
And here is Designer Patti Milazzo's project!
GlueArts Designer: Patti Milazzo
Supplies:
Glue Arts:
Glue Glider Pro with 1/4 Perma Tac Cartridge Refill - Pro
Adhesive Squares
Extreme Micro Squares

12" Scor-Pal

Other:
Webster's Pages All About Me pattern papers


Instructions:
1. Create a 5"x7" card from pattern paper/cardstock
2. Cut a 2"x12" strip of brown pattern paper and score on the ¼" marks across the Scor-Pal Tool. Then accordion fold across the strip.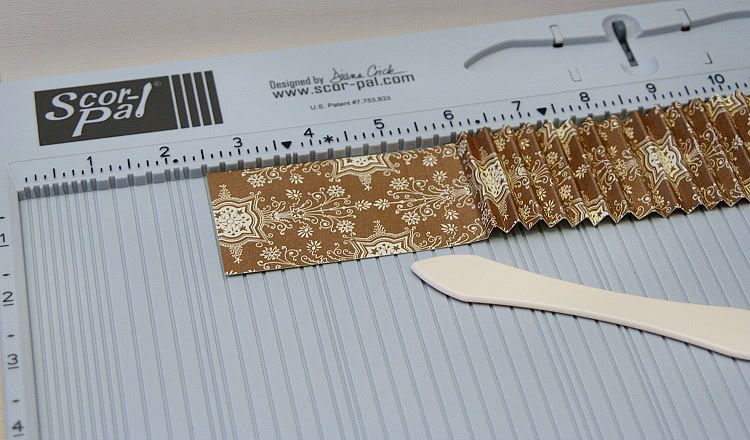 3. Apply Adhesive Squares across the middle of the card front and gently press the accordion folded strip on top to secure.
4. Cut a journal shape from pattern paper and apply Adhesive Squares to the back of this as well, then gently press this on top of the folded strip to secure.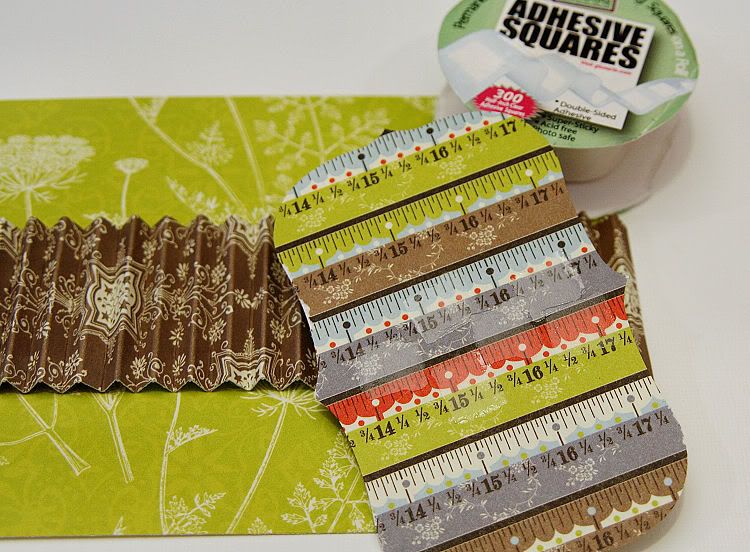 5. Cut another strip of pattern paper – 1 ½" x 12" and again, score and accordion fold across the entire length.
6. This time to create the rosette, apply Extreme Adhesive Squares at one end to attach the other end of the strip.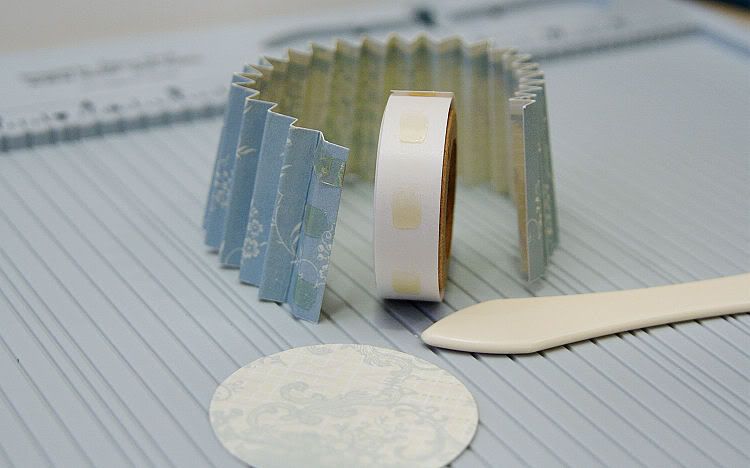 7. Punch a 2" circle from the same pattern paper and apply Adhesive Squares to one side. Push down the accordion folded strip circle to create the rosette shape and then apply the circle to the center. Repeat this with another circle on the other side to secure the rosette's shape.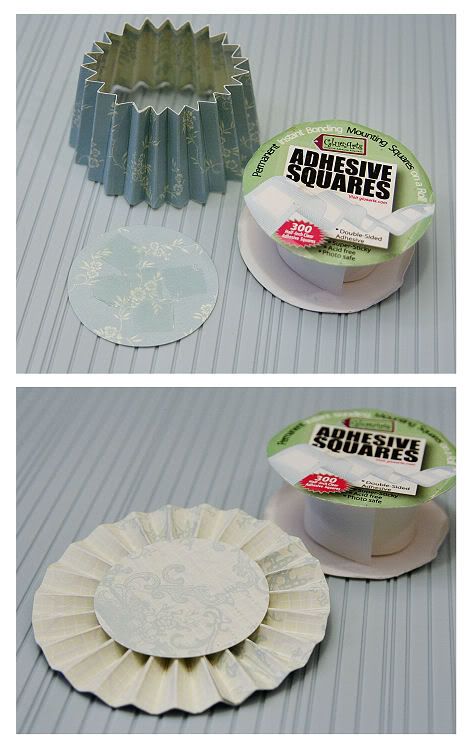 8. Adhere the rosette near the center of the card, as shown. Stamp a greeting and adhere that in the middle of the rosette.
9. To create the flower, punch several shapes and use the Scor-Pal to score lines in each petal.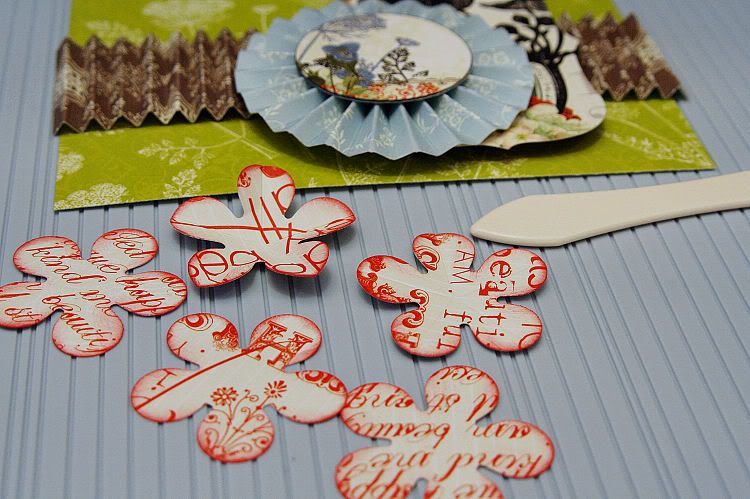 10. Fold the petals and stack the flowers using Adhesive Squares. Punch leaves and adhere the flowers and leaves near the top left of the rosette.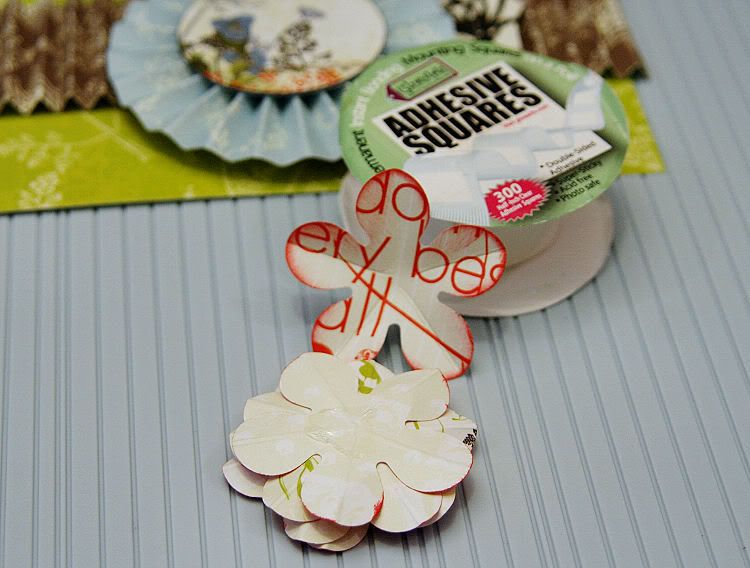 11. To complete the flower and card, use Adhesive Squares to secure a hemp bow and black button in the center of the flower.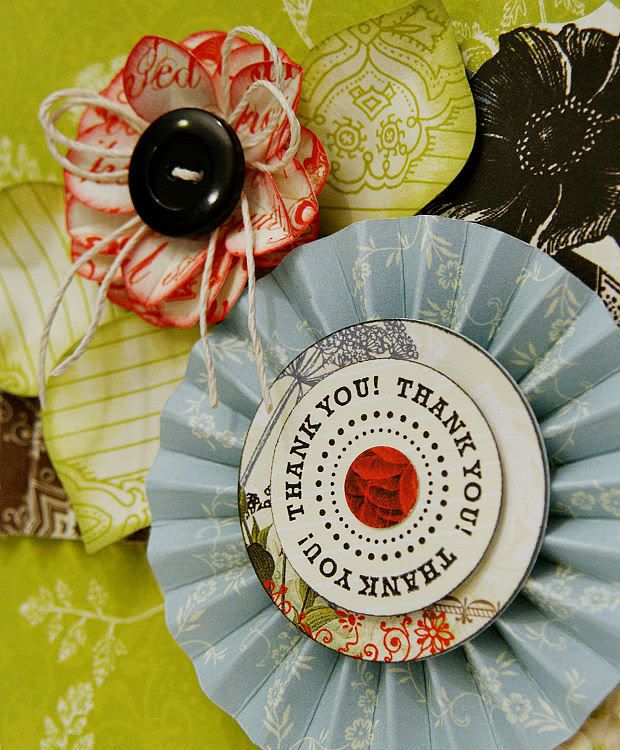 How would you like a chance to win a Scor-Pal? We're giving away one this week and all you have to do is leave us a comment! And to help you complete all those projects your dreaming up in your head...we're going to include our
3D Combo Pac, our Ribbon Adhesive AND our Adhesive Squares!
We'll pick one random winner next Monday who will win this prize assortment!
It's time though to announce last week's winner of the DCWV Lemon Fresh Stack and GlueArts products and that winner is:
CheckerBeads said...