Combine a fun stamp company with our outstanding line up of adhesives and yes..it's
DOES
rock!
Proof in the pudding...today's projects!
Designer Ania Lexander
has the perfect idea. While making one card...why not replicate it and make several more out. Supplies are out, your feeling creative...so make a few more to keep on hand for future birthday's, thank you notes and more! Ania chose the
Paper Smooches Sentiment Sampler
along with our
GlueArts U Cut It Foam
.
Designer Leslie Ashe
has a beautiful card that comes to life with embossed stamping!
Our Glue Glider Pro with High Tac
assures Leslie her elements will stay where she wants them to!
Celebrate
GlueArts Designer: Leslie Ashe
Glue Arts Supplies
Glue Glider Pro with High Tac cartridge, 3D U Cut It Foam

Other:
stamp: Paper Smooches
cardstock: Core'dinations (Jenni Bowlin)
patterned paper: Teresa Collins, October Afternoon
ribbon: Offray
paint: Adirondack
ink: VersaMark (resist)
embossing powder: American Crafts
crystals: Queen & CO.
border punch: Martha Stewart

Directions:
-trim cardstock 6" x 10", fold and score
-sand cardstock to get desired undertones visible.
-paint lightly over entire front of card, let dry
-while that's drying, stamp a strip of patterned paper with your stamp, then sprinkle embossing powder & using a heating gun, let the embossed image emerge.


-cut banner flag from patterned paper then use that flag to trace on other patterned paper, so you can have 3 flags.
-cut strip of patterned paper 2" x 6" and adhere to bottom of card, leaving a 1" gap
-tie ribbon around strip
-adhere 2 polka dotted flags under ribbons
-adhere 'happy birthday' flag in center, using GlueArts 3D U Cut It Foam.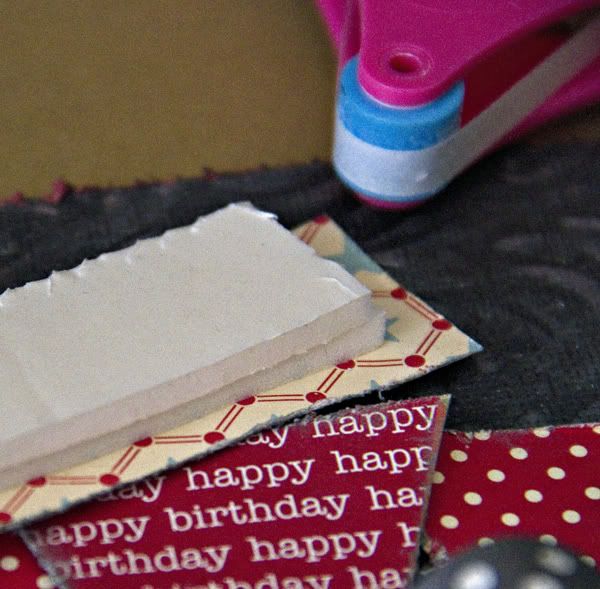 -add stamp embossed sentiment just above using 2 strips of 3D U Cut It Foam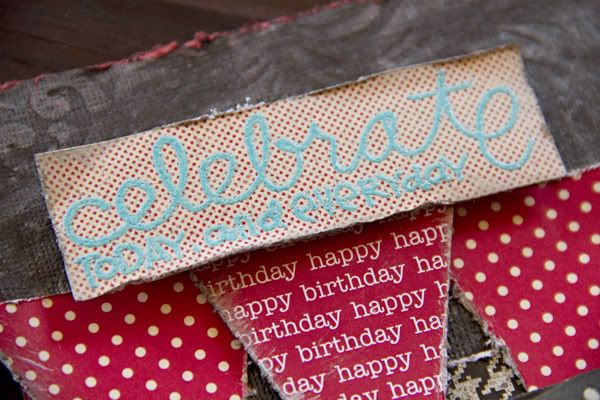 -punch a 12 inch strip of border on the opposite side of Core'dinations cardstock,cut in half and punch a decorative border.
-cut strip in half and tuck one UNDER the card cover, tuck the other under patterned paper strip.
-add rhinestones on banner flags
-distress edge of card all the way around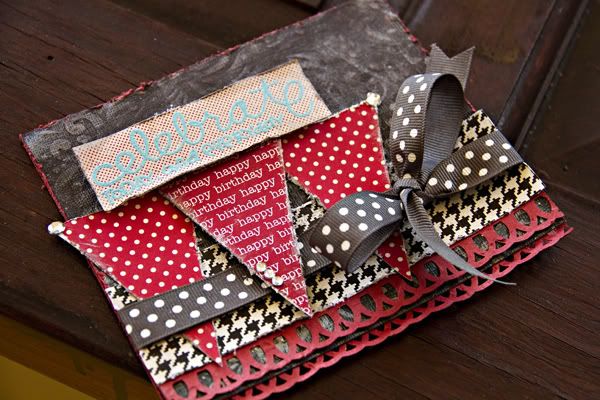 Quick bday-cards for the kids!


GlueArts Designer: Ania Lexander


My kid is a true son of mine; he can forget that he's gotten a birthday invitation and walk up to me and, hand me an invitation and say "oh by the way, I'm attending XX's birthday in 30 minutes". I've often hurried fixing a quick card & racing to the toy store to find a proper gift before the start of the party...so while I prefer to create each card with a recipient in mind, I realize I need to prepare a few backup-cards for these cases. These stamp-sentiments from Paper Smooches are perfect for such generic cards!

Glue Art Supplies:
Glue Glider Pro - Permatac, U Cut It Foam

Other:
Paper Smooches - Sentiment Sampler
Pink Paislee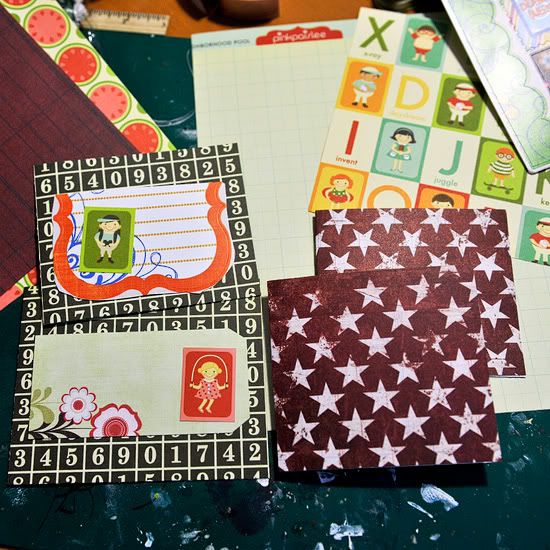 Gather some smaller and larger scraps. For such cards, it's not important that they're huge (my kid normally only writes the short sentiment "happy birthday, love XX" in his cards), so it's a great way to use them in my opinion.



Cut all the pieces and adhere with permatac.



I like to add stitches to the pieces, but it's a personal choice.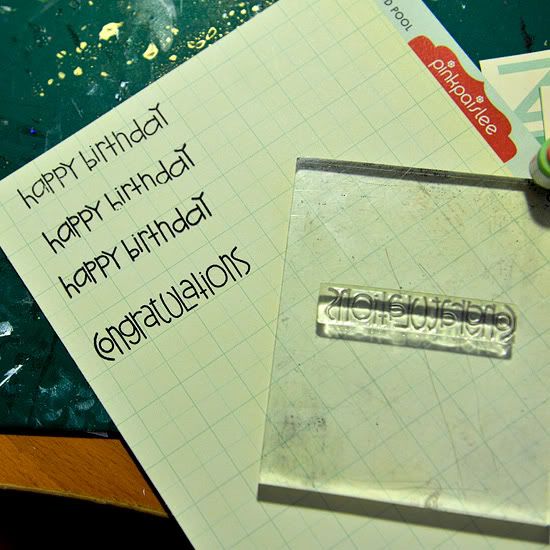 I'm no stamper, so I needed a few tries to get it right. Once I did, I daresay I rocked these stamps! You can see how stamp #3 finally came out all crisp and bold and great! (I made sure to give several extra pushes to the whole sentiment with my fingers/thumb. I have no idea if this is the right or wrong way to do this - I just know it worked for me
)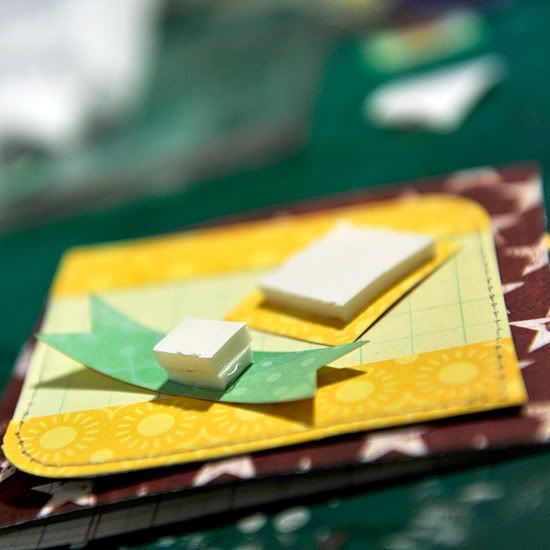 Use U Cut It Foam to make these simple, small cards more fun


Voila - four new and pretty quick bday-cards for these occasions when you need one real quick!
We'd love for you to post a comment and let us know are you a stamper? What kinds of stamps are your favorites? Holiday, sentiment...acrylic, wood? For posting a comment today we'll enter you to win our Glue Glider Pro and our must have Extreme Adhesive Squares. PLUS!!

Paper Smooches
is offering a stamp set of the winners choice as well! Simply post a comment and we'll select a random winner on Monday!
And how about an extra entry into the drawing? Simply post the Paper Smooches logo and our GlueArts logo on your blog or website or link us to where you share the logos and post a second comment here letting us know you've done so!
Last for today, we'd like invite you to stop by the
Paper Smooches Facebook page
and let them know GlueArts has sent you. Be sure to "Like" them since we do and you post a comment on their wall for a chance to win! Don't wait too long as they're going to pick a winner today!. So do stop by and say a
big GlueArts Hello!
Tomorrow is our final day with
P

aper

S

mooches
and here's a sneak peek of what we have in store!
We'll see you right back here tomorrow! Have a great day!