Paradise!
For some of us...Paradise is defined as a beautiful day, on the beach, ocean in front and yes a drink in the hand.
For others it's a trip to the water park, or canoeing on a favorite lake, hiking in a park, going camping with friends and family or even just a day off of work.
Paradise has many meanings!
Today
Designer Ania Lexander
celebrates Paradise with a handmade mini book of her family at a water park. Notice how she used her park ticket for her cover. What a great way to utilize a memento and make it apart of your keepsake!
Designer Lesley Langdon
captures our eye with a bright, colorful, fun summer layout. Our
Glue Arts
Glue Glider Pro makes it a breeze to put together this page!
And our
Guest Designer Mandy Starner
has a fun pool party invite that would be welcomed by everyone who received it. We just want to know...where's the party?!!
GlueArts Designer: Lesley Langdon
Supplies:
Glue Arts Glue Glider Pro Perma Tac Adhesive
Glue Arts U-Cut-It Foam
Echo Park Splash Collection (patterned paper, letters, stickers)
Bazzill White Textured Cardstock
Black Sharpie Pen

Instructions:
1. Cut different sizes of squares and rectangles of Echo Park's SPLASH papers.
2. Mat onto darker paper and layer onto layout using Glue Arts Glue Glider Pro Perma Tac Adhesive.
3. Use Glue Arts U-Cut-It Foam to add dimension to certain blocks.
4. Once you have achieved the look you want by BLOCKING with different papers, adhere photo, journaling, sticker embellishments, and title.
Summer Memories Mini Book
GlueArts Designer: Ania Lexander

We haven't been able to do much this Summer as a family but this one trip to a water park - so when I got the Splash-papers I knew it would be oh so perfect for a mini documenting some of the highlights from this trip!

GlueArts Supplies:
Glue Glider Pro - Extreme Tac
Glue Arts UCutit-foam

Other:
Echo Park Splash
Bazzill cardstock
7gypsies gaffertape
Niki Sivils brads
Bakers twine
Ephemera
Instructions:
Gather your papers..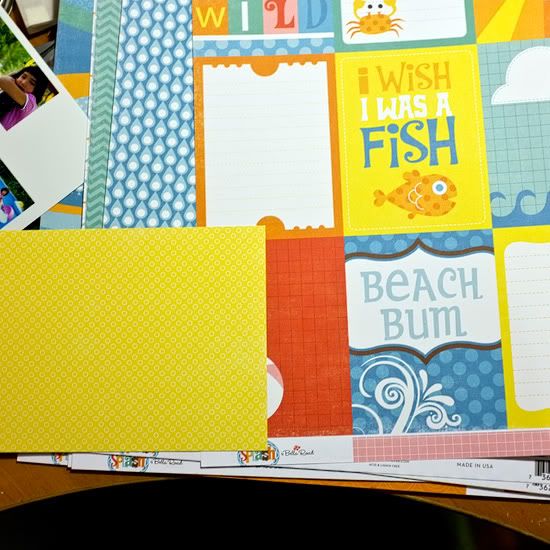 I'm a wing it kinda gal, so I just decided my mini would be slightly larger than the minicards seen here (plus, I can't find my metal ruler, hrmf!).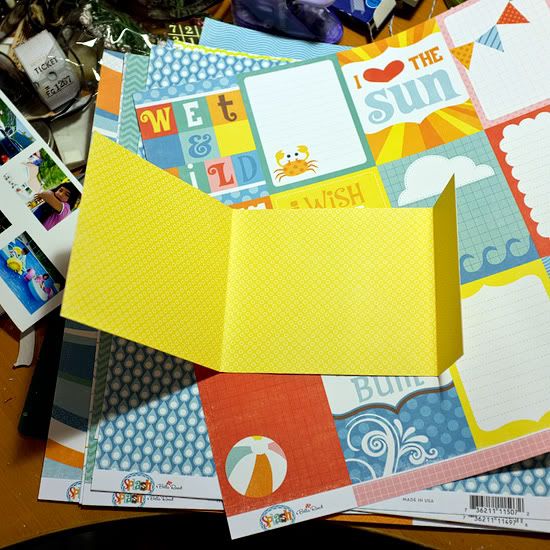 Cut a 12" long strip of paper and score it approx like this. Again. Wing it.
I decided to use cardstock as base for my inner pages. Just make sure they're slightly smaller than the cover, as seen here.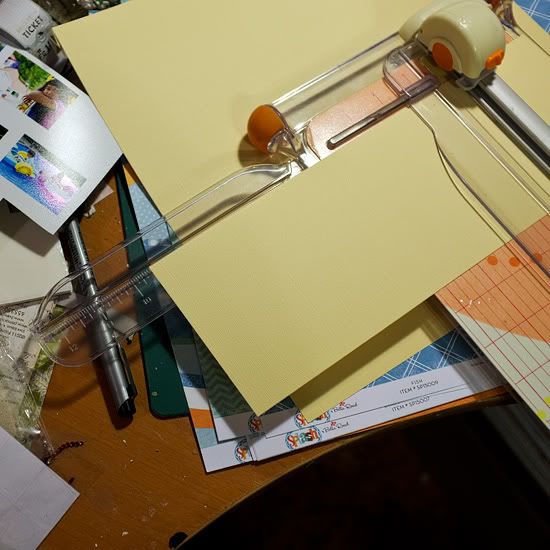 According to my papercutter, the inner pages are 9.5" long (non-folded) =)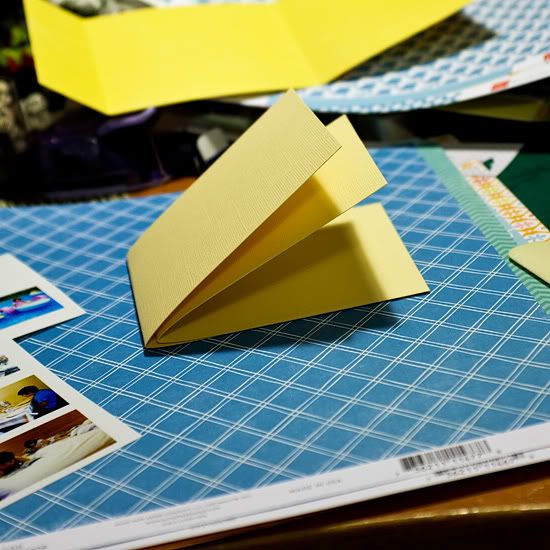 Fold..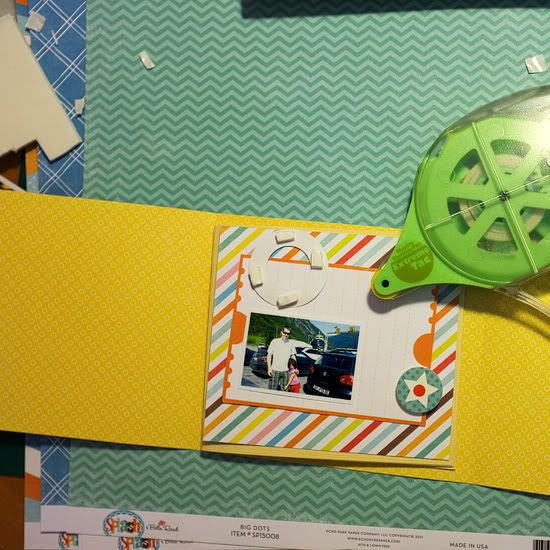 I used a mix of 3d foam (UCutitfoam) and extreme tac adhesive for the inner pages.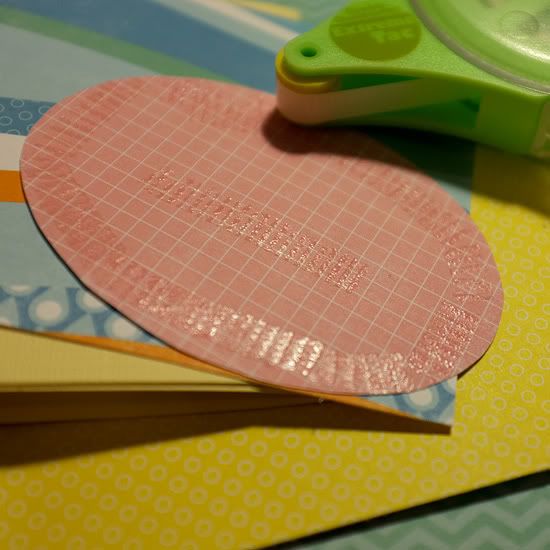 What I like with the glue glider pro is that you can "shape" the adhesive and follow round edges..
The base of the inner pages were sewn onto the cover.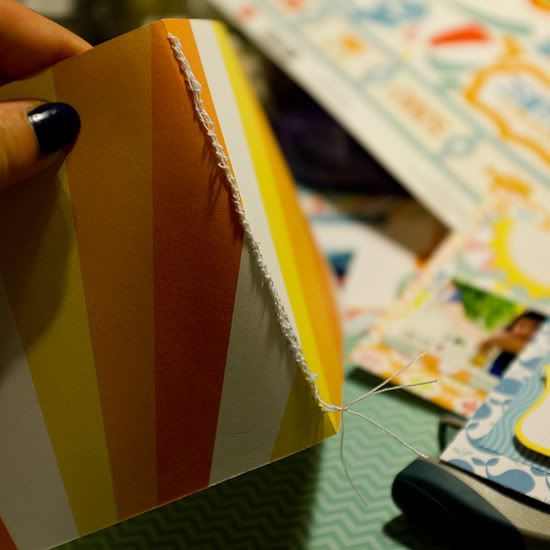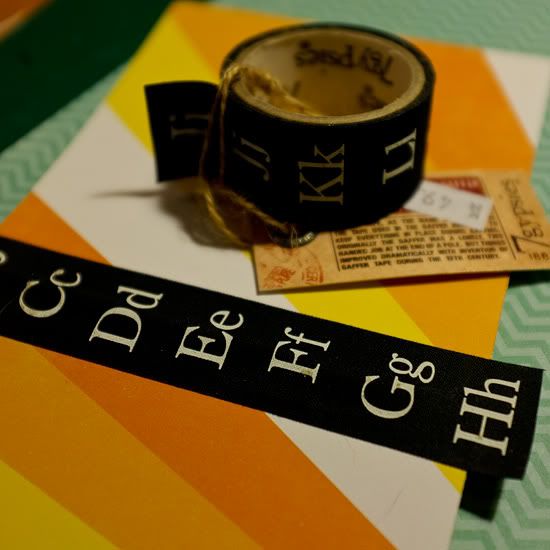 And the stitches on the spine were covered with gaffer tape.
As for closure I decided to use two brads side by side on each flap.
The pages were premade before adhering them onto the mini itself.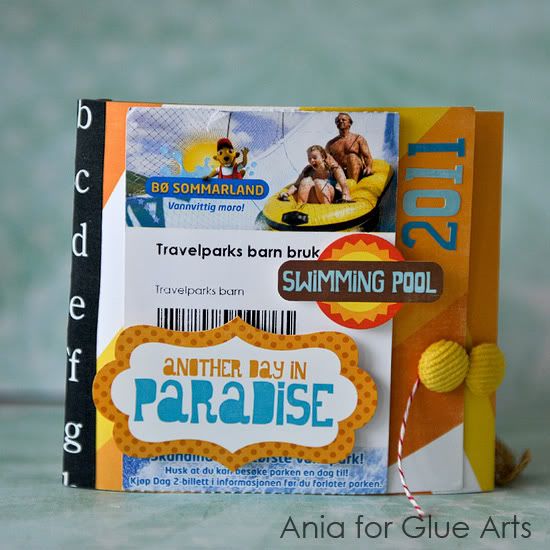 As for the cover I chose to use the ticket for the waterpark.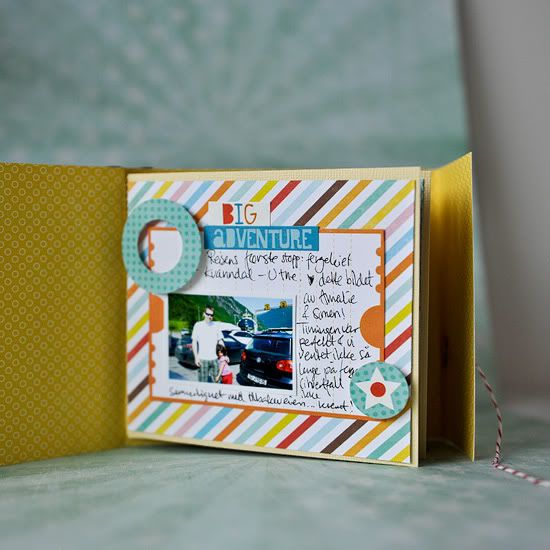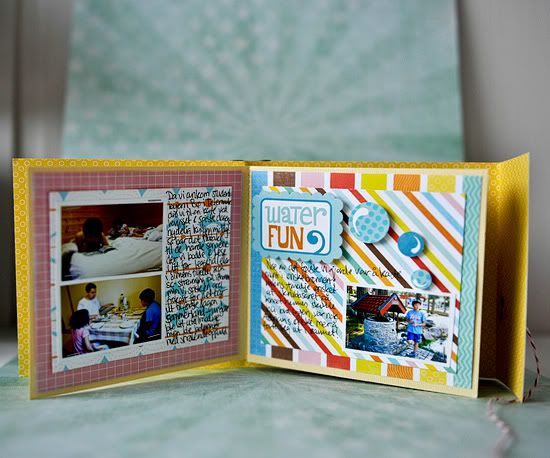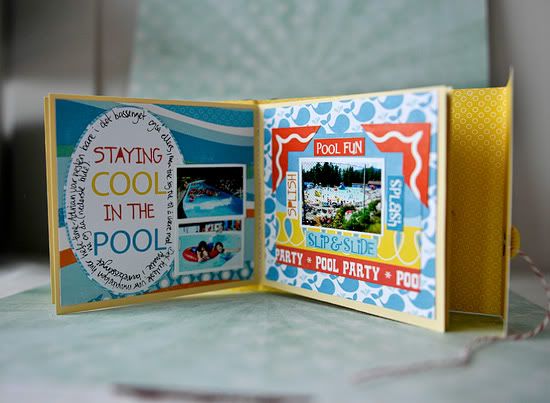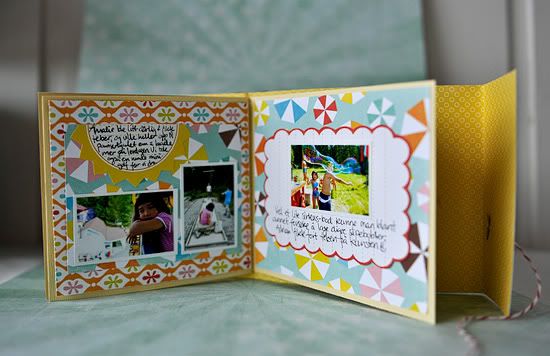 Pool Party Card
GlueArts Guest Designer: Mandy Starner
Supplies:
Glue Arts- Raise n's
U Cut It foam
Glue Glider Pro with Perma Tac cartridge

Echo Park Splash Paper-
Fish
Big Waves
Diagonal Stripes
Borders
Mini Stripes
Journaling

Stickers-
Element Stickers
Alpha Stickers

Instructions:
1. Cut: mini stripes paper to 8.5"x 6.25" and set aside, pink paper(Journaling) to 4"x6", water paper(Diagonal Stripes) to 4"x6", Pool Party border from Border paper, and the banner from the Journaling sheet. Adhere all the layers together using your Glue Glider Pro with the Perma Tac cartridge.
2. A little tip: If you need just a little dimension and the U Cut It foam is a bit too thick, and the Raise n's are just a bit too large, try stacking several of the Extreme Tac Minis together, like I did for the banner.
3. Use your Raise n's on the back of the "SWIM" sticker to make it pop off the card.
4. Another little tip: Use the plastic sheets from your Raise n's to keep them from sticking where you don't want them too. I like to move my embellishments around before making a commitment.
5. Cut some U Cut It foam to fit under your cardstock sticker and adhere it to the border, above your sentiment.
7. Finish your card off with a couple cardstock stickers and you're' done!
So tell us...what is YOUR idea of Paradise? We'd love to hear and for leaving us a comment today we'll enter you to win the
Echo Park Paper Splash Collection Kit!
Along with our must have Glue Arts Glue Glider Pro and our Extreme Adhesive Squares! We know you'll love them!

We'll pick one random winner next Monday so be sure to comment!!