Hard to believe that many of us are sending our kids
back to school!
Summer is winding down and homework is soon to be the flavor of the day!
Now we know many of you are jumping for joy...but others, (like myself) are not so happy at the thought of endless homework and running kids here and there. The quiet pace of summer will definitely be missed!
To get you in the spirit...
Designer Audrey Pettit
has made the perfect Back To School Tag using Paper Smooches Stamps and GlueArts adhesives. Send this tag in with something special for your child's teacher!
Designer Kristen Swain
celebrates today and everyday with her special wall decor project that comes together with our
GlueArts Extreme Adhesive Squares!
Celebrate Life Wall Decor
GlueArts Designer: Kristen Swain

Supplies:
Paper Smooches Stamps- Pretty Phrases
Glue Arts- Extreme Adhesive Squares, U Cut It Foam
Ribbon- www.scrapinkris.etsy.com
Paper- The Girl's Paperie/Cricut Imagine Vintage Papers cart
Butterfly stamp- Tattered Angels
Vellum
Glitter
Flower- Petaloo
Accordion Stickers- American Crafts
buttons
twine
Paint Dauber- Andirondack
ink- Stazon
deco scissors

Instructions:
1. Cut corrugated cardboard to about 6x6 square, use ink dauber and paint over top and sides of cardboard. Cut out semi circles from each edge of cardboard




2. Mat cardboard with patterned paper, by adhering with Extreme Adhesive Squares, then trim edges with deco scissors.

3. Mat smaller square of music note paper on pink paper, cutting corners with round punch or scissors. Mount to board with UCutIt foam




4. Punch holes at top of cardboard, then tie on crinkled ribbon for hanger.

5. Add white flower, several accordion stickers and bow with crinkled ribbon, then top ribbon with twine and button, using Extreme Adhesive Squares.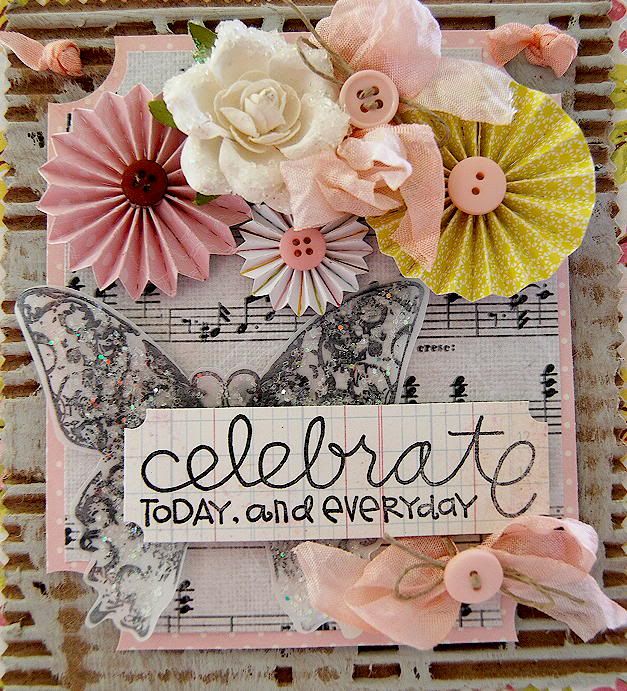 6. Stamp , cut out, and glitter butterfly, adhere to cardboard piece, then stamp Pretty Phrase on ledger paper, cut into rectangle and trim corners with mini scallop deco scissors, mount on board using U Cut It foam.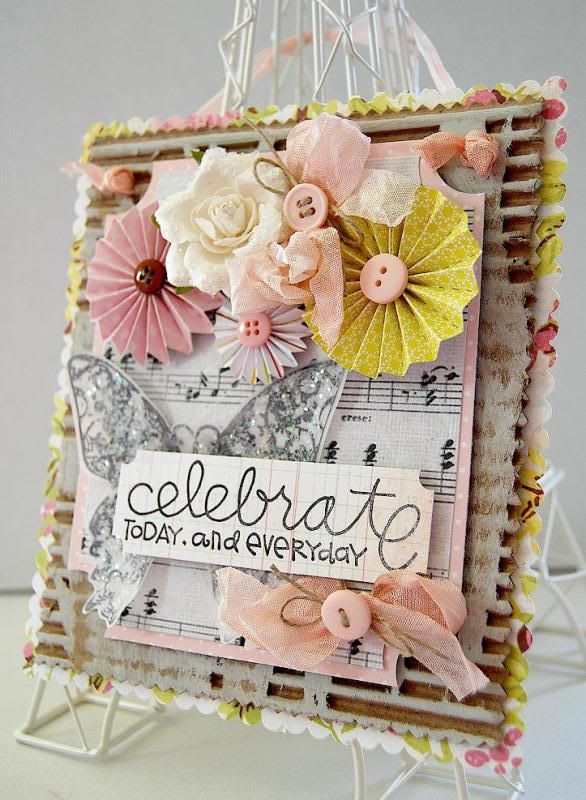 7. Tie and adhere crinkled ribbon with button, attach to board with Extreme Adhesive Squares.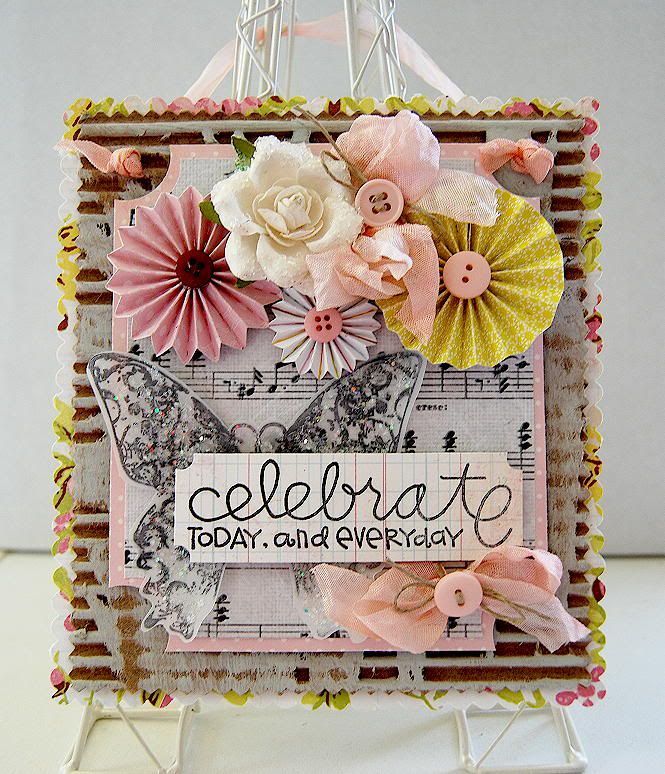 Back to School Teacher's Gift Tag
GlueArts Designer: Audrey Pettit
Supplies:
Glue Arts Glue Glider Pro with High Tac Adhesive
Glue Arts Ribbon Adhesive
Glue Arts Extreme Adhesive Squares
Glue Arts Micro Extreme Adhesive Squares

Paper Smooches Pretty Phrases Stamp Set
October Afternoon Patterned Paper, Journaling Card, and Cardstock Stickers
Bazzill Chipboard Star
Delta Paint
Clearsnap Ink
Tim Holtz Mini Paper Clip
vintage trims and buttons
Instructions:

1. Cut strips of patterned papers in different widths and contrasting designs to cover a large shipping tag. This is a great use for all those scraps you may have laying around. Gather trims to layer in with the papers.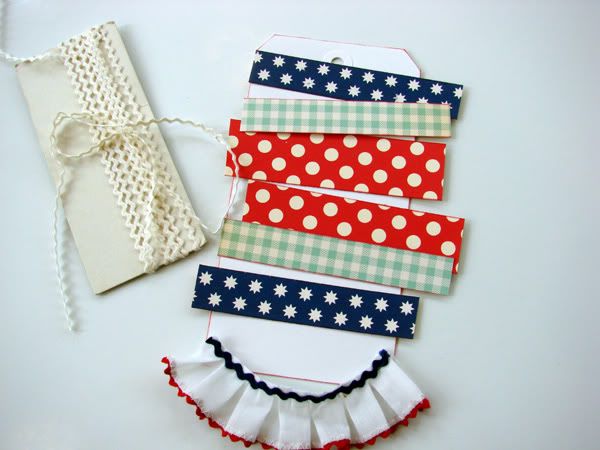 2. Edge the strips of paper with red ink. This will help define each individual strip on the finished design. Cover the back of each strip with High Tac adhesive, and starting at the top of the tag and working your way down, cover the entire tag with patterned papers.

Add pretty ruffled trim at the bottom of the tag using Glue Arts Ribbon Adhesive. You can also add more trims to some of the seams across the tags.




3. Stamp sentiment in red ink onto a printed journaling card. Edge the card with ink.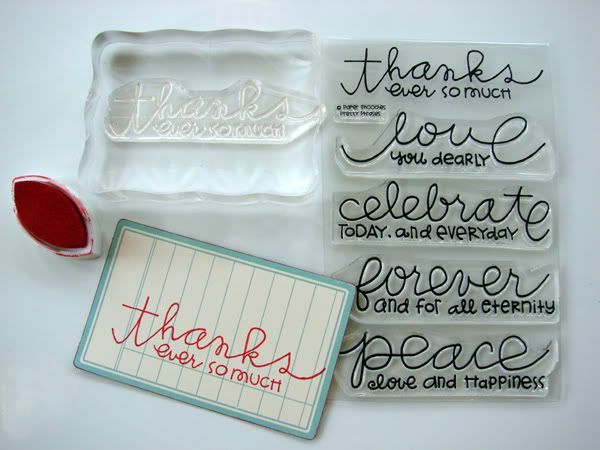 4. Adhere the stamped journaling card to the center of the tag using High Tac adhesive. Add a round cardstock sticker to the top of the tag, and embellish with a button, layered trims, a mini paper clip, and more themed stickers.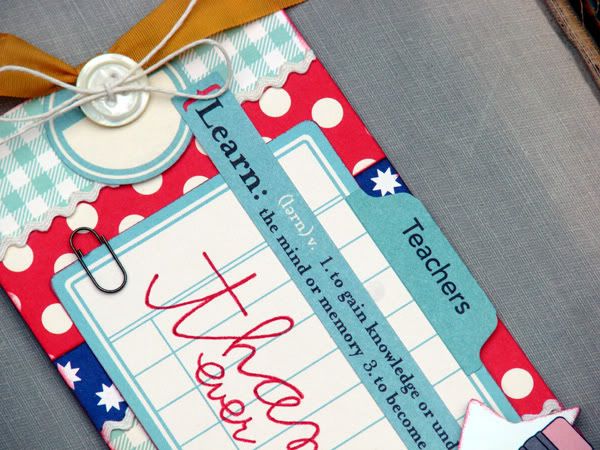 5. Paint a chipboard star white and edge with red ink. Adhere to the bottom right corner of the journaling card using Extreme Adhesive Squares. Top with a paper pencil cut out and another button. The Micro Extreme Adhesive Squares are the perfect size for adhering smaller embellishments like these.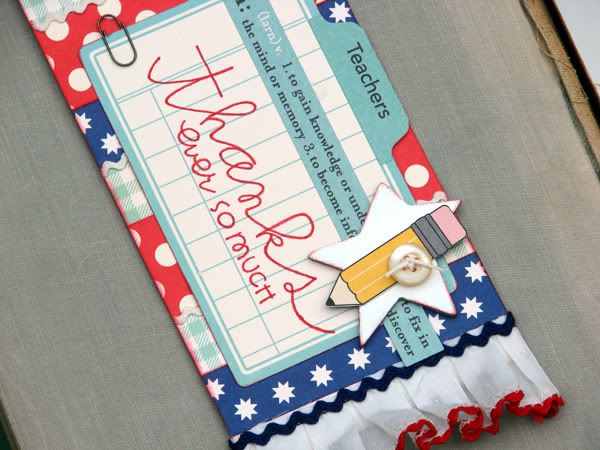 Give to your child's teacher on the first day of school this year to tell them how much you appreciate everything they do to make this school year the best ever!
So tell us...would you like to win a set of Paper Smooches Stamps? Which one would you pick?
Go visit the Paper Smooches store and "shop" around then let us know which you would like if you're the winner! Post a comment here with your selection for a chance to win.
We'll select one random winner next Monday to enjoy the Paper Smooches Stamp set of their choice along with our Glue Glider Pro and our Extreme Adhesive Squares!
Be sure to check in tomorrow for another way to win and to see more of our Glue Girls projects! Please do also stop in and visit the Paper Smooches blog for more ideas and inspiration using our GlueArts line up of adhesives and Paper Smooches fun stamps!
You definitely don't want to miss a day!! Here's a sneak peek of one of tomorrow's projects. See you then!