Summertime!
Time for outdooor parties, family reunions, day camps and vacation bible school.
All week long we have shared fun ideas for how to use our
GlueArts Accent It All
for your summer fun!
Today the fun continues!!!
Designer Audrey Pettit
has a way for you to dress up those bubble containers. Consider an entire matched party theme from the plates, to cups (or water bottles), tags, bubbles, treat containers and more! With GlueArts Accent It All vinyl it's a snap to make everything coordinate!
And
Designer Lisa Day
had to laugh as she and Patti had a similar idea, definitely showing brilliant minds CAN think alike! Lisa shows how your kids can help decorate their bottles, make them match a theme or favorite color! Continue the theme to the party ware, invites, picture frames and more!! Kids too can help make their own!
GlueArts Designer: Audrey Pettit
Designer Note: Have fun at your next summer party with these dressed-up bubbles containers. They'll add a festive touch to any gathering and they make great party-favors, too. And the best part is, the Accent It All Vinyl clings easily to plastic surfaces, making this project an absolute breeze to create.
Glue Arts Supplies:
Accent It All Vinyl
Extreme Adhesive Squares
Micro Extreme Adhesive Squares
U Cut It Foam
Other Supplies:
Fancy Pants Chipboard and Buttons
Fiskars, Stampin'Up, and Hero Arts Stamps
Stampin'Up Ink
May Arts Ribbon
McGill Tag Punch
American Crafts Chipboard Tag
Martha Stewart Baker's Twine
Instructions:
1. Measure the height of your bubble container and cut a piece of Accent It All vinyl to fit, approximately half the height of your container. Peel and stick the vinyl to the center of your container.
Cut a second piece of vinyl in a contrasting color that is half an inch smaller than your first measurement. Cut a decorative border on both edges of the second piece using a border punch of your choice. Peel and stick to the center of the first strip. Cut a third strip of vinyl half an inch smaller than the second piece, and cut using another decorative border punch. Peel and stick to the center of the second piece.





2. Tie a ribbon around the center of your bubble container with a double knot. Cut the ends at a diagonal.

3. Stamp a frame stamp onto white cardstock and trim out. Stamp a summer greeting in the bottom right corner of the frame. Adhere frame to the center of the container using U Cut It Foam adhesive, just to the right of the knotted ribbon.




4. Have fun embellishing your frames using die-cuts, stickers, or themed chipboard pieces, like I did here.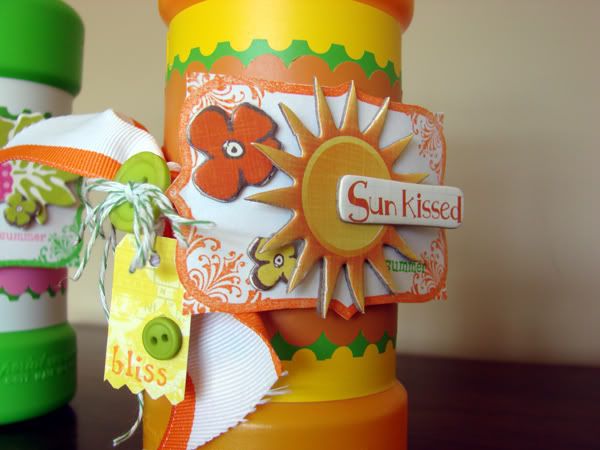 5. Stamp sentiments onto tags and tie onto ribbon using baker's twine. Embellish with buttons using Extreme Adhesive Squares and Micro Extreme Adhesive Squares.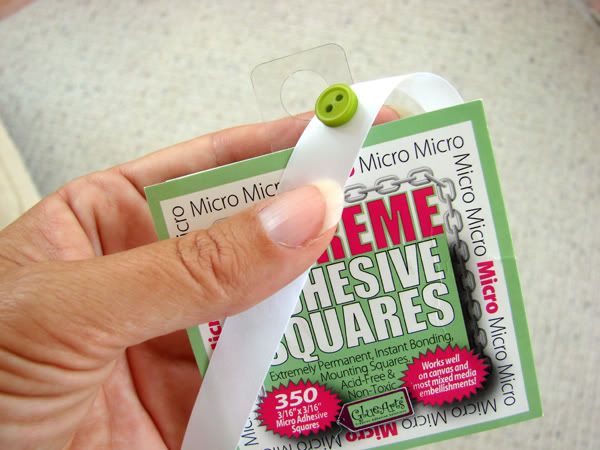 6. Put out at your next summer gathering, and watch all the smiles come out!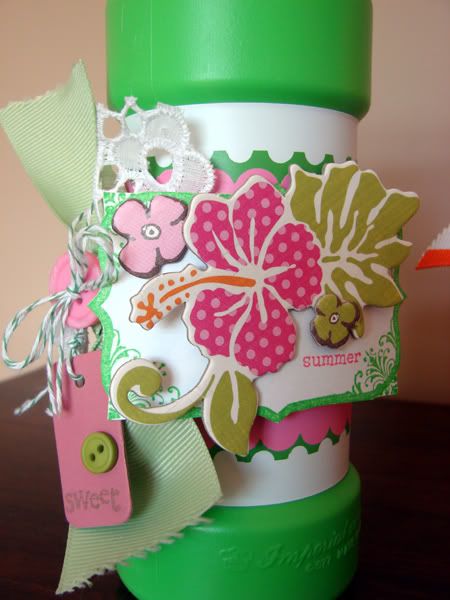 GlueArts Designer: Lisa Day
Supplies:
Glue Arts Accent It All
Cuttlebug and Embossing Folder
Slice Machine and Sports Card
Martha Stewart Border Punch

Instructions:
Step 1: Cut a strip of vinyl to wrap around the water bottle to cover the existing label. Run it through the Cuttlebug and emboss!




Step 2: Wrap around the bottle over the existing label.




Step 3: Punch out a border to wrap around the middle of the wrapper.




Step 4: Punch out a bunch of little butterflies.




Step 5: Apply to the bottle in a fluttering pattern wrapping from the bottom to the top.




Step 6: Get the whole family involved and have them each make their own bottle! Then send the kids outside to play with a cold bottle of water!


So how would you like to win your own collection of GlueArts Accent It All?
Simply post a comment and we'll enter you to win our Accent It All combo pack!
We'll pick one random winner to win this collection and announce it here on Monday! Check back in tomorrow for one more day of Accent It All inspiration!!