And join us this week as we highlight their two fun summer lines!
Beach Bum and Beach Babe
How fun are these collections!!! Our Glue Girls have layouts, cards, gifts bags and more to share with you this week!
Up first...
Designer Jenny Chesnick
has a sweet, soft layout with a 3D sun element that uses our U Cut It Foam!
Designer Patti Milazzo
has a fun, fishy card that comes to life with our U Cut It Foam giving added height to the fun fish!!
GlueArts Designer: Jenny Chesnick
Supplies:
Glue Glider Pro Perma Tac
Mini Extreme Squares
Extreme Squares
U-Cut 3D Foam
Fancy Pants Paper, Die Cuts, Buttons
Alphabets by American Crafts & DoodleBug
Distressing tool by We R Memory Keepers
White Pen by Uniball
Silhouette SD
I've had these photos of my friends daughter Ava for awhile now and with the bright blue backdrop of the water it they were hard to coordinate! With Fancy Pants new summer line Beach Babe the bright pinks and oranges where perfect!
Instructions:


1. To start trim down your base paper to 12x12, layer a second sheet of pattern paper at 10x10, using your distressing tool to rough up the edges.




2. Your next piece of paper is 6" wide and I staggered the lengths on either side of the page for some contrast.




3. Dump out your buttons and stare (giggle) aren't they pretty?! Attach your buttons in a random pattern using Extreme Squares and Mini Extreme Squares up either side of your layout.




4. For the sun I cut out my image using my Silhouette and with my white pen I traced around the edges for an added little detail. Using U-cut foam layer your die cuts with your sun to finish it off.




5. Using the die-cuts I layered a large one to create my border and attached my photos using U-Cut foam for one and Perma tac for the other. I finished up with my title using 3 different sets of alphabet stickers.


GlueArts Designer: Patti Milazzo
Supplies:
Glue Arts:
Glue Glider Pro with 1/4 Perma Tac Cartridge Refill - Pro
Mini Adhesive Squares
Adhesive Squares
U-Cut-It Adhesive Foam Spooled Ribbon Adhesive

Fancy Pants:
Beach Babe Pattern Paper – Fish Farm, Jumping Fish, High Tide, Beach Bound and Tropical
Beach Babe Trim
Beach Babe Alpha Stickers
Beach Babe Embellishments (die cut shapes)

Other: kraft cardstock; crimping tool (Fiskars); tag punch (Fiskars); brown ink


Instructions:
1. Create 5" x 7 ½" card from kraft cardstock and set aside. Cut a 5" x 7 ¾" piece of kraft cardstock and run it though a crimping tool. Since the length of the cardstock will shrink a bit with crimping, the extra ¼ inch will keep it just the right fit for the front of the card.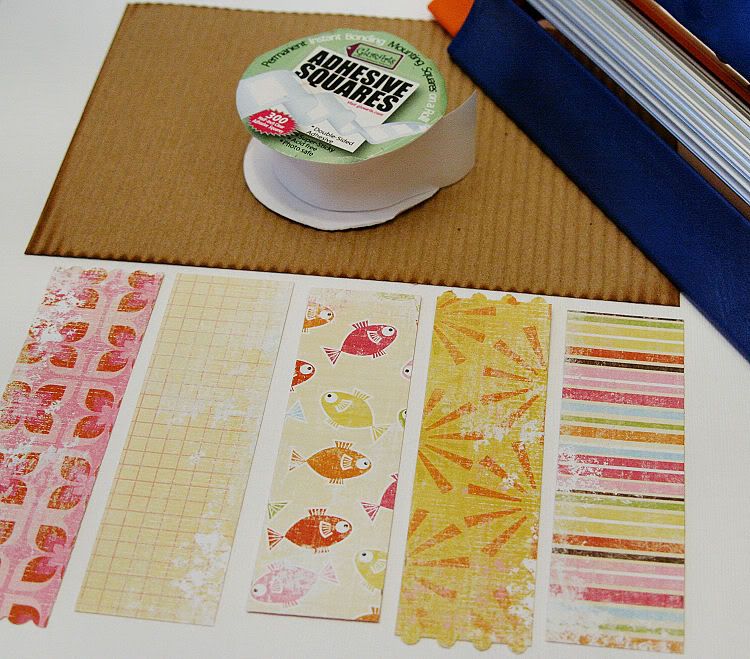 2. Cut 5 – 1 ¼ " strips of pattern paper from Fancy Pants' Beach Babe collection. Ink, distress and trim some of them with decorative edges as you wish.
3. Apply Adhesive Squares to the back of the paper strips and adhere them to the crimped card front.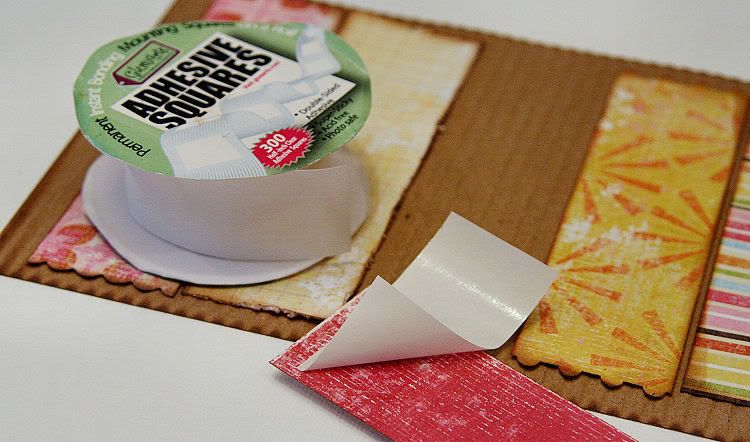 Tip: The Adhesive Squares make it a cinch to apply adhesive to the back of this textured surface without losing the crimping.
4. Cut a 9" – 10" piece of Beach Babe Trim. Use the Mini Adhesive dots to help secure a few pleats on the right half of the ribbon length. Then apply a strip of Ribbon Adhesive to the back of the ribbon and affix it across the paper strips.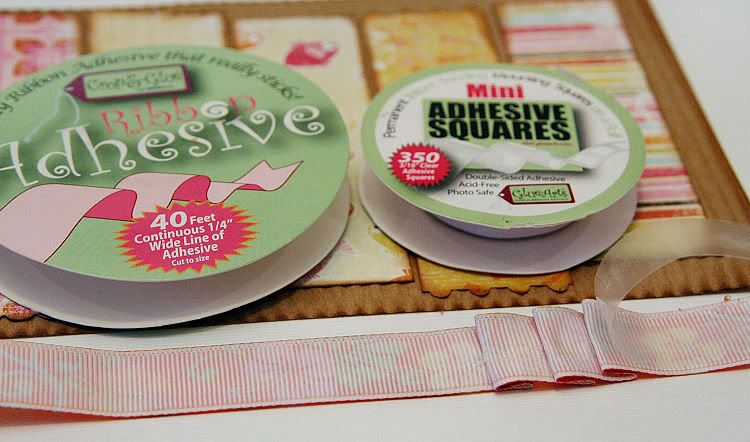 5. Next apply several Adhesive Squares to the back of the crimped card front and adhere it to the card that was created in Step 1.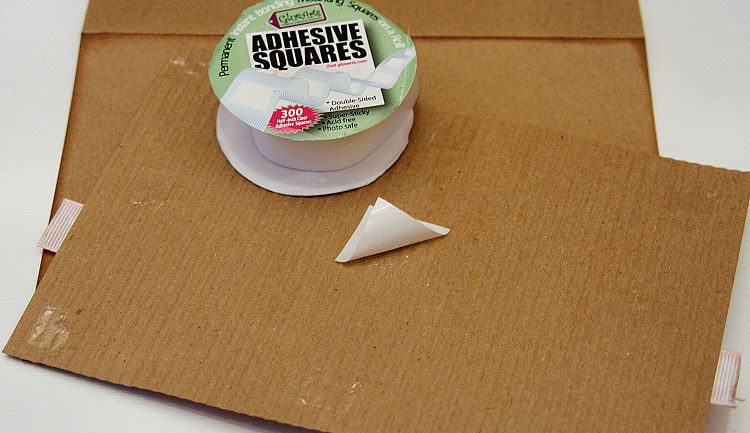 6. For the circle accent, cut 3 circles: 1 green cardstock circle – 3 ½"; 1 kraft cardstock circle – 3" and 1 blue circle (Beach Babe pattern paper) – 2 ½". Distress and ink as you wish. Machine stitch around the the kraft cardstock circle twice and adhere it onto the green cardstock circle using the Glue Glider Pro with Perma Tac Adhesive. Apply a large piece of U-Cut-It Adhesive Foam to the back of the green circle and apply it to the left side of the card over the ribbon, as shown.




7. Embellish the accent circle by applying U-Cut-It Adhesive Foam to the back of the die cut fish. Adhere a punched tag with an Adhesive Square just below the fish. Add a sentiment using stamped words and Beach Babe Alpha Stickers. Tie a double bow with hemp and adhere it to the tag using a Mini Adhesive Square.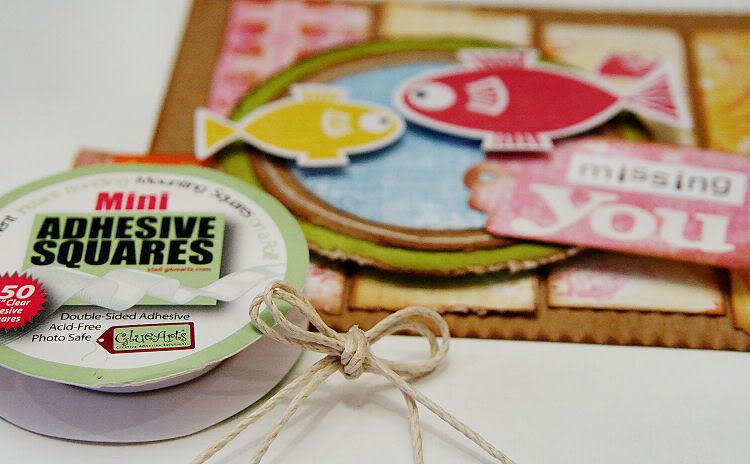 8. Finish the card by adding a bit of glitter glue to the fish fins and a few clear bubble embellishments just above the fish.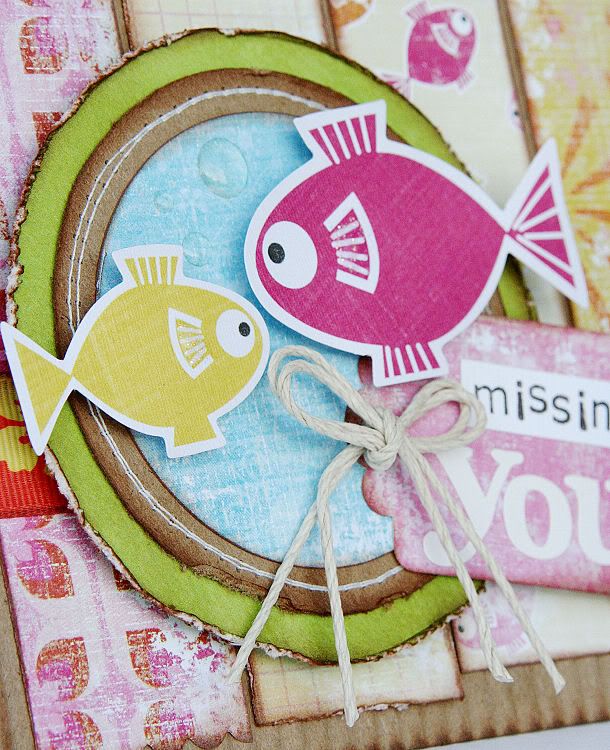 So do you have any Beach Babe's or Beach Bum's around your house? Been on a recent trip to the beach, or local pool? Well post a comment here for a chance to win their Beach Bum collection...
Thank you to everyone who stopped by the GlueArts blog last week! We hope we inspired you with new ideas and inspiration for our GlueArts Accent It All vinyl!
We're giving a big shout out to:
Khristen said...
Gorgeous projects, one and all! Love the surfboard project :) Thanks for the chance to win!