Summer IS fun and the living IS easy. Or maybe easier during summer!
No homework, no carpools, no lunches to pack and socks to wash.
(One of my personal favorite parts!)
No bedtimes to enforce...well maybe...and lots of ice cream and Popsicles to eat!
You know what....that might just be my own personal list about what I like about summer...what's yours??
Summer makes the perfect time to capture outdoor photos and memories! That's just what designers
Lesley Langon
and
Ania Lexander
did! They used Fancy Pants Beach Bum and Beach Babe lines along with our Glue Glider Pro and more!
GlueArts Designer: Lesley Langdon
Supplies:
Glue Arts Glue Glider Pro (Perma Tac Adhesive)
Glue Arts Extreme Adhesive Squares
Glue Arts U-Cut-It 3D Foam
Fancy Pants (Beach Bum Collection: Buttons, Die Cuts, Stickers, Papers)
Dies by Spellbinders (S5-028 Nested Pennants and S5-029 Lacey Nested Pennants)
Stamps: Ticket to Life (Unity Stamp Co.)
Ink: Mustard Seed Distress Ink (Ranger)
Cardstock: Bazzill White Textured
Tools: Die Cut Machine (Grand Calibur by Spellbinders)
Instructions:
1. Using Fancy Pants Beach Bum papers, die cut and emboss 3 nested Spellbinders pennants, adhere together with Glue Arts U-Cut-It 3D foam. Adhere to white cardstock with Glue Arts Extreme Adhesive Squares.
2. Adhere photo to layout and apply stickers and die cuts all around it using Glue Arts Extreme Adhesive Squares (for the Buttons), and Perma Tac Adhesive (for the die cuts).
3. Stamp tickets with yellow ink onto Fancy Pants papers, trim and adhere to layout.
4. Stamp No. onto the cloud.
5. Write journaling onto Fancy Pants sticker label and adhere to layout.
GlueArts Designer: Ania Lexander
Glue Art supplies:
Glue Glider Pro - permaTac
Extreme Adhesive Squares, large
Ribbon Adhesive
Mini Adhesive Squares
UCutIt foam Raisen's

Others:
Fancy Pants Beach Babe
Fancy Pants ribbon
Rangers Crystal Stickles
Glimmermist - Pearl
KaiserCraft - bling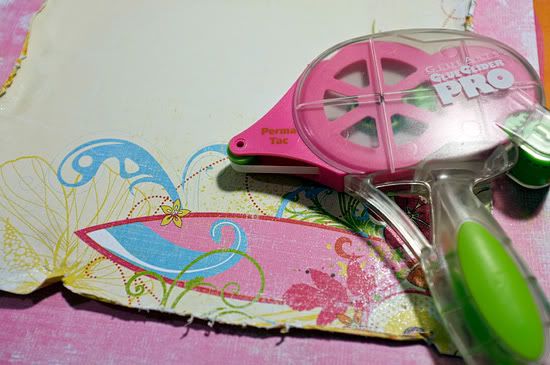 For the papers - adhere with PermaTac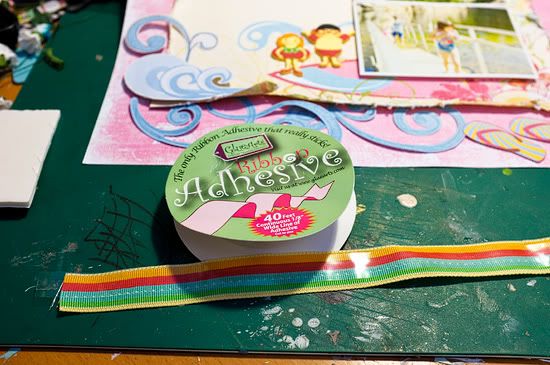 Ribbon - adhere with ribbon adhesive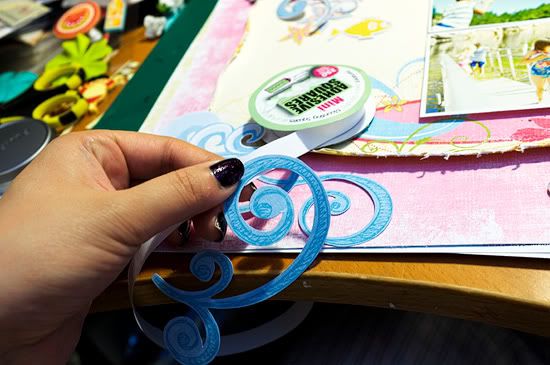 The intricate die cuts were adhered with the mini adhesive squares at approiate places. I used this adhesive for the journaling strips as well.



The pictures themselves were adhered with UCutIt-foam, as I wanted them to stand out some.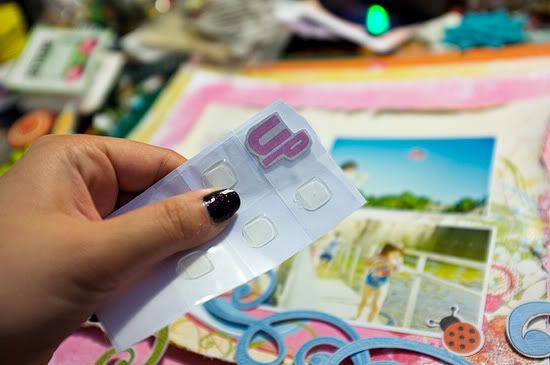 Raisen's for the UP sentiment, for a slight dimension. The same adhesive was used by some of the other die cuts on this page.

When done with the layout I went over some of the lines w/the stickles for an extra sparkly layout.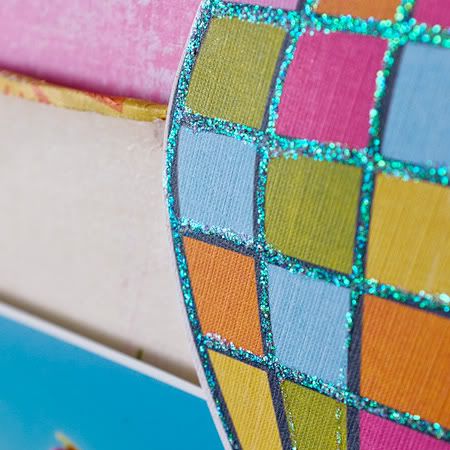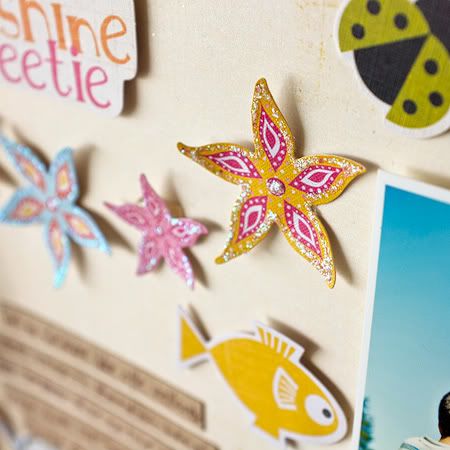 We'd like to make your summer easier by giving you a chance to win our outstanding GlueArts adhesives!! Simply post a comment and we'll enter you to win our Glue Glider Pro, 3D Combo Pac AND our Extreme Adhesive Squares!!
And that's not all...we have the Fancy Pants Beach Bum collection too!! Sounds good doesn't it!
Post a comment and we'll pick a random winner next Monday to enjoy these goodies that will definitely make your day a bit sweeter!!