Care for a cup of tea?
Shall we sit and chat a while?
Designer Audrey Pettit has the perfect gift set for that tea lover in your life!
The Pink Paislee Soiree collection makes the perfect cup! And
GlueArts Ribbon Adhesive
makes adhering ribbon a snap!
GlueArts Designer: Audrey Pettit
Glue Arts Supplies:
Glue Glider Pro with High Tac Adhesive
Extreme Adhesive Squares
Micro Extreme Adhesive Squares
Ribbon Adhesive
Pink Paislee Supplies:
Soiree Collection
Patterned Papers, Flags Cardstock Stickers, Wood Shapes, and Rhinestone Chain
Other Supplies:
Chipboard Box
American Crafts Ribbon
Hero Arts Stamps
Avery Tags
Stampin'Up Ink
Plaid Paint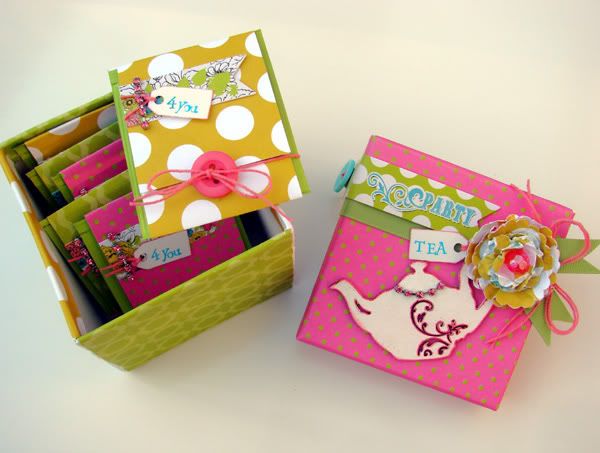 1. Measure the sides of your chipboard box and cut pieces of patterned paper to size. Cover box with High Tac adhesive and adhere patterned paper pieces to the sides. Dab white paint onto all 4 corners to hide imperfections in the seams.
2. Cut another piece of patterned paper to size for the lid, allowing enough overhang to fold over the sides. Apply more High Tac adhesive to the lid and adhere paper. Cut slits from each outside corner of the overhanging paper to the inside corner of the box, and wrap paper to the inside. Paint corners.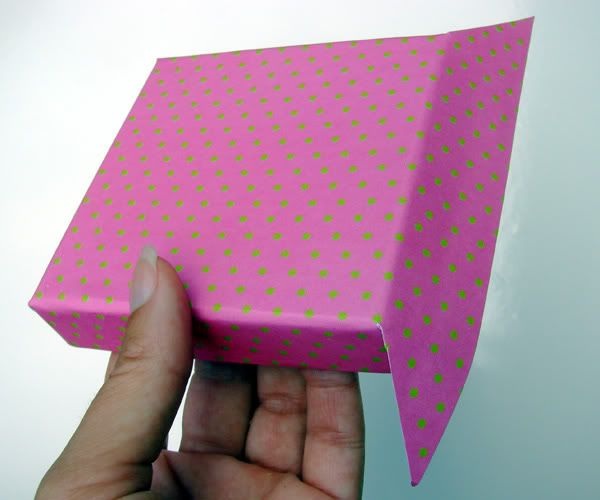 3. Measure a strip of ribbon to fit across the box lid, allowing enough ribbon to go over the sides. Adhere ribbon using Ribbon Adhesive to the lid.
Tip: A good tip when using the Ribbon Adhesive is to burnish the adhesive while the plastic covering is still on with a tool like a Popsicle stick. This will really allow the adhesive to adhere to the ribbon.
4. Create a flower by punching or die cutting 2 large shapes and 4 smaller shapes from patterned paper. Soak pieces briefly in water, scrunch into a tight ball, and smooth back out. Allow pieces to dry completely. In this photo, I've shown with the 4 smaller flowers how they will look once they've been through this process. Once they are dry, adhere the layers together using Extreme Adhesive Squares and Micro Extreme Adhesive Squares. Top flower with a bead from the designer pins.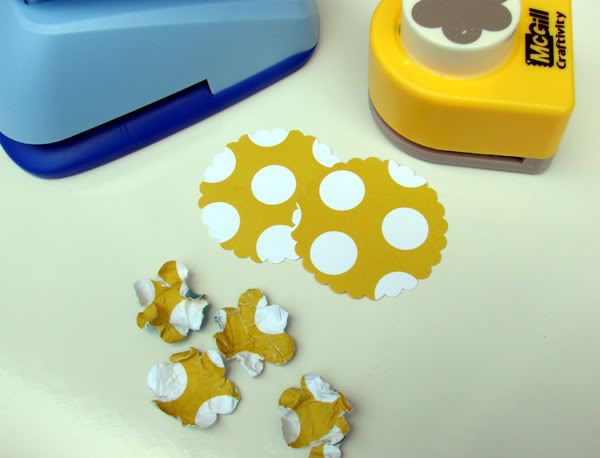 5. Paint the teapot from the Wooden Shapes white and edge with pink ink. Using a pink gel pen, highlight the laser cut detailing and the edge. Add decorative rhinestones to the teapot's lid.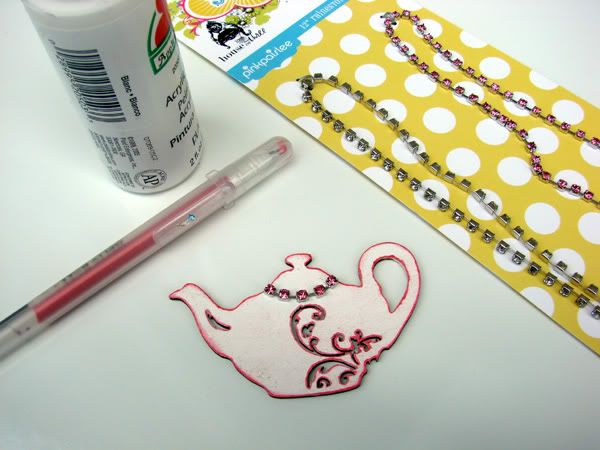 6. Decorate box lid with the handmade flower, the wooden teapot, a stamped tag, and a cardstock sticker flag. Adhere everything with Extreme Adhesive Squares.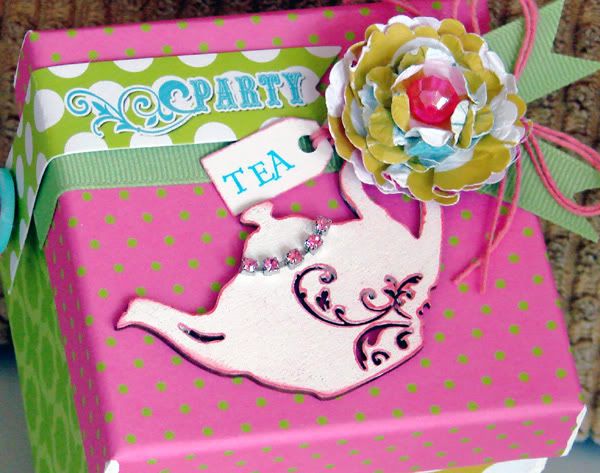 7. Measure the width and height of your gift teabags. Cut strips of patterned paper 1/4" narrower that the width of the teabag, and 2x's the height of the teabag plus 1/2" extra. My teabags are 2.5" x 3", so I cut my strips to 2.25" x 6.5". Fold bottom up at 1". Then place teabag inside with the bottom of the bag against the fold, and measure where to fold the top down. For my bag of 3", I have one fold mark at 1" and the second at 4".
8. Using a slot punch, cut a notch on the bottom fold. If you don't have a slot punch, don't worry. You can tape the fold, or staple it, or simply hold it closed with our Extreme Adhesive Squares.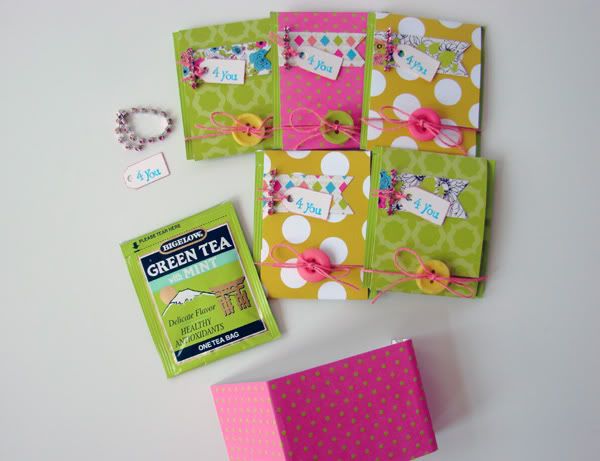 9. Decorate teabags with twine, buttons, cardstock sticker flags, stamped tags, and more rhinestones.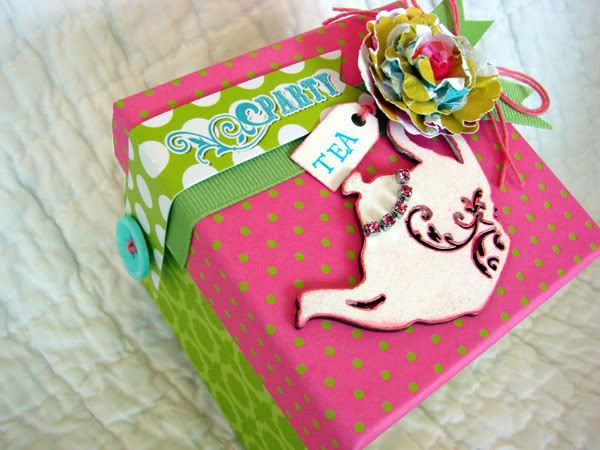 Just say it...adorable right?!
Designer Audrey Pettit has the cutest style and projects!
And we'd like to help you create some fun projects!
Simply post a comment here and we'll enter you to win the fun Pink Paislee Hometown Summer Collection
Along with a Glue Glider Pro
, a refill of your choice and our 3D Combo Pack? It's easy...just post a comment and let us know how you like today's project, or perhaps your favorite collection from Pink Paislee or even a hello will do!
We'll pick one random winner next Monday to enjoy these goodies! Be sure to stop by
Pink Paislee's blog
to see their newest CHA products releases, projects and inspiration!