It's official!
Summer
is here and the living is easy!
We'll help make your summer easier with
GlueArts Accent It All!
Our
Accent It All vinyl
is the perfect choice for you when looking to decorate for summer.
It's easy to work with, fun to use and dare we say...addictive.
(ahem...Jenny Chesnick!)
All week long we'll be sharing ideas for you to use our Accent It All vinyl for your summer parties, outdooor fun and much more!
Today
Designers Kristen Swain
and
Jenny Chesnick
show the versatility and fun our of Accent It All products! Jars with candy treats for kids and beer mugs with treats for adults!
GlueArts Designer: Kristen Swain

Supplies:
Glue Arts Accent it All Vinyl- Black Out, Going Green, Wild Blue Yonder, Daisy, Plus Crazy, Razzle Dazzle Red, Pumpkin Patch
Skewers
Glue Arts Adhesive Squares and UCutIt foam
Cricut Expression and Create A Critter Cartridge, Zooballoo ( waves)
Glass Jars
Curling Ribbon
white cardstock


Instructions:
1.Use Cricut Expression machine to cut out fish and sea creatures in layers in Accent it All. Cut waves with Wild Blue Yonder.




2. Cut out white cardstock in sun shape, two for each skewer.
3. Use Adhesive Squares to glue skewer to cut out sun shape.




4. Adhere waves to top of glass jars, then adhere fish to jars.




5. Use UCutIt foam to adhere sea creatures and sun to white cardstock medallions on skewers.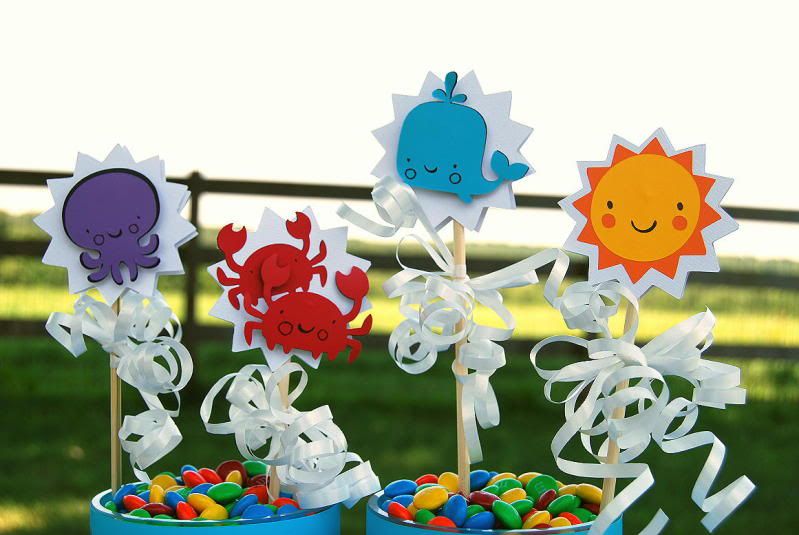 6. Fill jars with candy and decor wands with curling ribbon.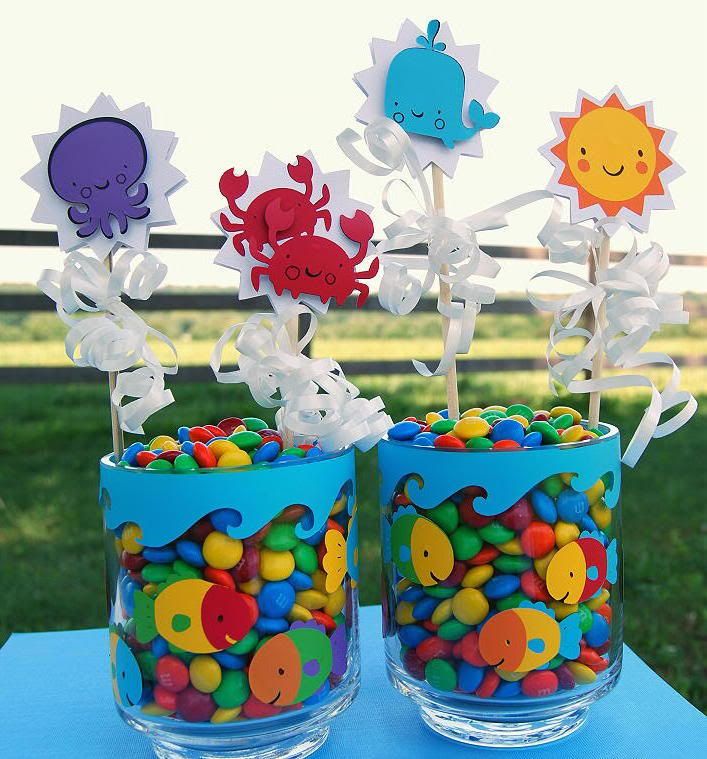 GlueArts Designer: Jenny Chesnick
Supplies:
Accent it All Vinyl
Armour Etch- Glass Etching Cream
If you aren't already addicted to our Accent it All Vinyl, then I am going to try and sway you to the dark side once more muahahah! With my Silhouette SD it allows you to import JPG/BMP files and trace your images so you can cut your own shapes! My husband's favorite beer company is National Bohemian (Natty Boh for us Maryland'ers) so I decided to create the logo using my Silhouette and Accent it All to make him his very own mugs!
Instructions:
1. To start you'll need some etching cream, mugs, brush and your vinyl
2. Cut your images using your die cutting machine. Be sure to kiss cut your vinyl so the backing stays in place.
3. Using the negative space of your image apply it to your mug/glass. Now you will notice I had to cut my piece. Because my mug has a slight curve in my iamge did not want to lay flat. So I cut it laid it in place then pieced it up with a extra piece of vinyl.
4. Apply a thick coat of etching cream (follow directions on bottle!)
5. Wait 5 mins tick tick tick tick. Rinse off and dry.
GlueArts Designer: Julia Sandvoss
Glue Arts Accent It All Vinyl
Cricut Expresssion
Cricut Forever Young Cartridge
Glass Jar
Circle Punches
Instructions:
1) I cut flowers out using my Cricut Expression selecting sizes ranging from 2 to 3 just depending on the flower. Once all the flowers were cut out, I built and layered the flowers to try out different combinations until I got it just right. (or how I liked it!)
2) Once I knew I liked the flower I removed the backing paper and adhered the vinyl layers together. After the flowers were complete I added them around the center of the glass jar layering them together as I worked around. The flowers encircle the jar so it's pretty from any angle.
We hope you enjoyed our week with Fiskars! Their quality tools are a standout and one you always be able to identify with the Fiskars orange!!
It's time to announce our winner of the Fiskars package and GlueArts adhesives and that winner is:
Katy Young said...
Love Fiskars! so glad you have them for a sponsor!
Congr
ats to you Katy!

Please email me at Gluegirl@gluearts.com with your info!!!
12 pack of all 11 colors, plus a bonus BlackOut! Accent It All by GlueArts® are temporary, removable adhesive-backed, vinyl decor sheets are perfect for any on-the-go designer. You will love showcasing your talents to the world when you display on your cars, trucks, boats, walls, etc.! Works perfectly with most die-cutting machines! Color shown may not reflect actual product color. 12-12"x12" un-cut vinyl sheets included Retail value $19.99
Be sure to leave us a comment to enter to win! Tune in tomorrow as we have more summer ideas and ways to use our Accent It All!!