We're excited this week to bring you a Brand New sponsor!!
All week long we'll be sharing projects highlighting their two new lines...
Pink Gelato and Velvet Ensemble!
And
Kaisercraft
is highlighting GlueArts adhesives all week long as well on their blog! Nonstop inspiration!!
Up first...we have a "Delightful" layout made with the Pink Gelato collection from
Designer Jenny Chesnick
! It's soft, feminine and very sweet!
Designer Ania Lexander
has made a special card using the new Velvet Ensemble collection. Little touches of embellishments finish it off perfectly!
Designed by: Jenny Chesnick
Supplies:

Glue Glider Pro with Perma Tac
U-Cut 3D Foam
Raisn's
Pink Gelato Paper, Card stock Stickers, Chipboard & Pearls by Kaisercraft
Alphabet stickers by Pink Paislee
Metal trinket by We R Memory Keepers
Silhouette SD

When I received Kaisercrafts Pink Gelato in the mail I was completely thrilled! The soft colors and the playful designs are simply beautiful. The colors matched a photo of my dear friend Heather I had taken while visiting her in Pittsburgh. Her favorite word is delightful and it was so fitting for this project and photo.




1. To start I used my Silhouette SD to cut out 2 doilies and the frame for my layout. Using U-Cut foam I backed my frame with a large square. I wanted my frame to be beefy and also it served as the adhesive for my doilies as well.




2. Using card stock border stickers I outlined the edge of my frame to give it that finished look




3. I placed my doilies where I wanted them on my page and using the adhesive from the u-cut foam I simply layered my frame on top!




4. On top of my frame I placed a card stock sticker and using raisn's I layered them to give the sticker dimension but not as much had I used U-Cut foam.




5. On the side of my frame I fussy cut out card stock stickers and left the backing on for my embellishments. This made them more weighty and less likly to bend. I placed some on with U-Cut foam and some on with Raisn's




6. On the other side of my frame is my title. I layered my alphabet stickers and the perfect kaiser pearls as a finishing touch.
Designed by: Ania Lexander

Glue Art supplies:
Glue Glider Pro - permatac
Ribbon Adhesive
Hot glue
Raisen's

Other:
Kaisercraft Velvet Ensemble Collection
Maya Road Gingham Poisies
Prima flowers
Hambly Screenprint transparency - birdcage
Glimmermist - white chalk
Doily



Start with cutting two squares for your basecard, the solid colored one slightly larger than the patterned one.
Spray the squares with glimmermist, and crumple the papers while still wet.
Distess the edges when dry, and assemble with Perma Tac. Attach it to the front of the card.



For the other embellishes, I wanted them to stand slightly out fromt he card, hence I attached them with raisen's, which gives a slight dimension, but not as much as the Ucutit-foam.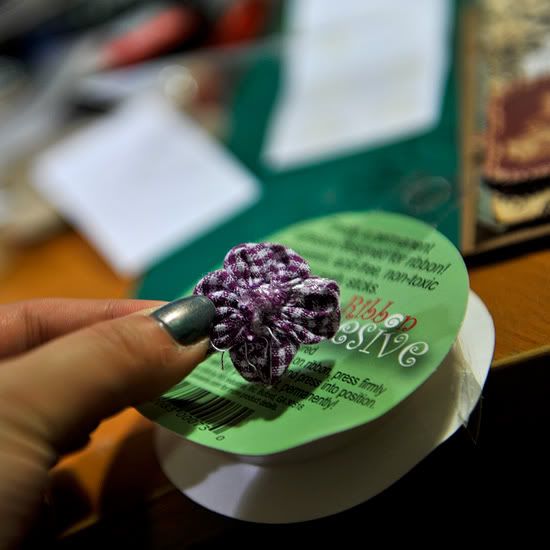 The fabric-flower was attached using ribbonadhesive.



And the paper-flowers using hot glue.
Beautiful projects don't you agree? Kaisercraft has more inventive ways to use our GlueArts adhesives alongside their amazing products. We invite you to visit
the Kaisercraft blog
and see what their equally talented designers have for you too!
And we'd like to offer you a chance to win one of these collections from
Kaisercraft!!
Simply leave us a comment and let us know which collection is your favorite! Next Monday we'll select one random winner to win the Pink Gelato collection and one random winner to win the Velvet Ensemble collection! And we'll include our must have
GlueArts Embellishment Kit!
(filled with our Extreme Adhesive Squares, U Cut It Foam, Raisen's That way you can create away!
Last week we highlighted the elegant Crate Paper Portrait collection. Our winner of that collection is:
Joan V said...
Love these projects, especially the banner. OOOh and those papers are gorgeous. Guess the two together make a great project. My husband and I will celebrate out 31st anniversary on Aug, 30th.