It's Fiskars week around here at GlueArts!!
Are you a Fiskars fan?
Did you know...
Fiskars
has been around since
1649
and today is one of the oldest businesses in the western world.
In 1977 Fiskars' expansion began with the founding of a scissors factory in the United States.
The color,
Fiskars Orange®
, was officially registered as a trademark in Finland in 2003 and in the US 2007.
So tell us...do you own any
Fiskars orange?
Today we have two fun projects to share with you!
Designer Jenny Chesnick
has a fun, quick and easy craft that any recipient would love to receive. Or have the kids help make these and fill with treats...bubblegum, taffy, life savers, little toys, bouncy balls... and use as a reward!
Designer Ania Lexander
has an incredible photo book that makes you want to run right out and take some fun photobook pictures with the ones you love!
GlueArts Designer: Jenny Chesnick
Supplies:
GlueArts Accent it All Vinyl
White Out, Goin Green, Wild Blue Yonder
Ball Jars
Lids by Shabby Green Door
Twine by Divine Twine
Punches by Fiskars
Crop-A-Dile by We R Memory Keepers
Alphabet stickers by Doodlebug
Buttons by American Crafts
Silhouette SD
Candy!-Yum
Doesn't always seem like we are searching for quick and easy thank you gifts or bridal shower gifts, teach gifts? This is a quick and simple way to dress up some inexpensive jars using some vinyl and your favorite Fiskars punches.


1. I started with my cloud punch (favorite!) to cut clouds from White Accent it All Vinyl. The punches easily squeeze right through this stuff.




2. Using my Silhouette I cut out grass and the sentiment.




3. Next peal off your vinyl and apply to your jar!




4. Once I finished up my vinyl I moved on to the tag. Using the postage stamp punch I cut out two tags.




5. Wrap twine around your lid and run your tags through the twine to hang. Using a button I ran my twine through and tied a bow to keep it all secure.




6. Add your candy or what not and enjoy!


GlueArts Designer: Ania Lexander

The idea of this was to do a "in the clouds" mini with these photobooth-photos from a recent together-forever-celebration I shot. It'll be given to the couple w/the CD with the photos from their day - hence there's still room for journaling.
GA Supplies:
Glue Glider Pro - Extreme Tac
Raisen's
Fiskars:
Scissors
Scoring board
Borderpunch - postage stamp border
Large cloud squeeze punch
Other:
Various leftover patterned papers
Elle's Studio calendar tag
Rubons - Fancy Pants Designs + Hambly Screenprints
Glimmermist - various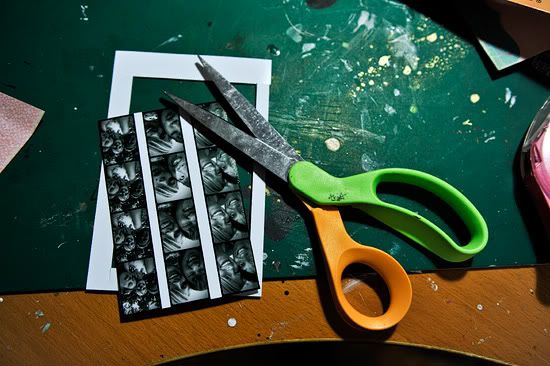 Start with printing and cutting out your photos. I ALWAYS use my Fiskateers-scissors for cutting out photos and smaller pieces of paper. Love it!



For my mini I cut out 5x7.5" rectangles, as well as 4x6" sheets of white cardstock which had splatches of glimmer mist on. My patterned papers were from lots of various manufacturers, but with the white cardstock on top of each page made the pages fairly uniform.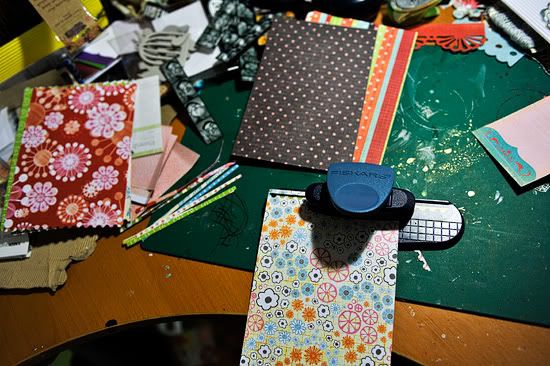 Use the borderpunch to create fun borders for the top and bottom section.




Squeeze out various clouds from the scraps for embellishments.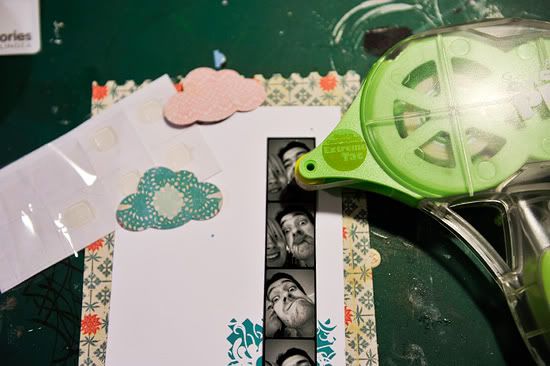 I stapled the photos onto the white cardstock, added rubons or stickers and adhered it to the page with extreme tac. Finally I added the clouds w/raisens - I have about 24 pages, which would make this an extremely thick mini if I used the regular U Cut it foam. With raisens I still got the slight dimension I wanted for the clouds without making it too thick.




For the frontpage I played with double clouds
'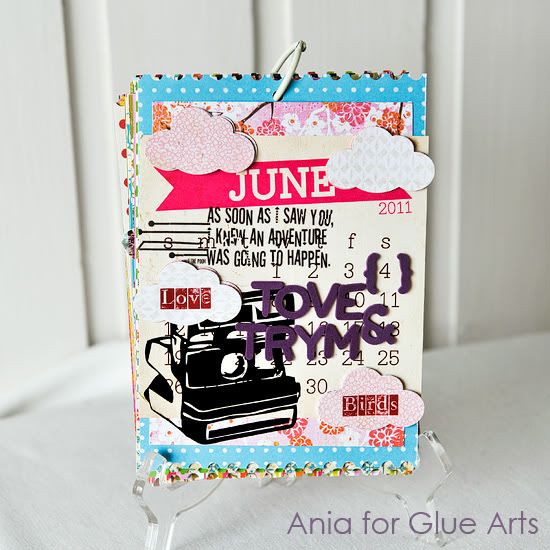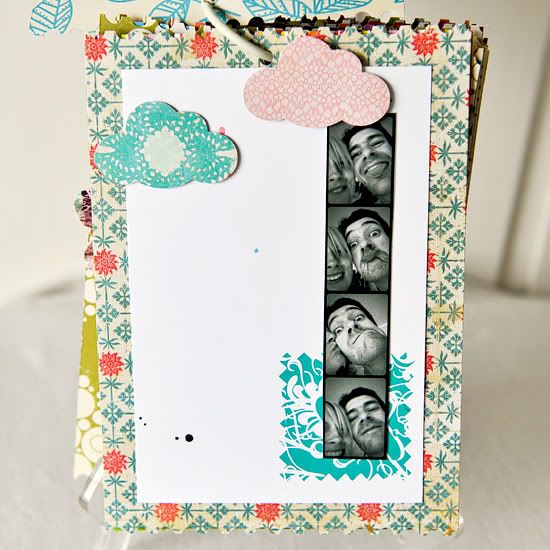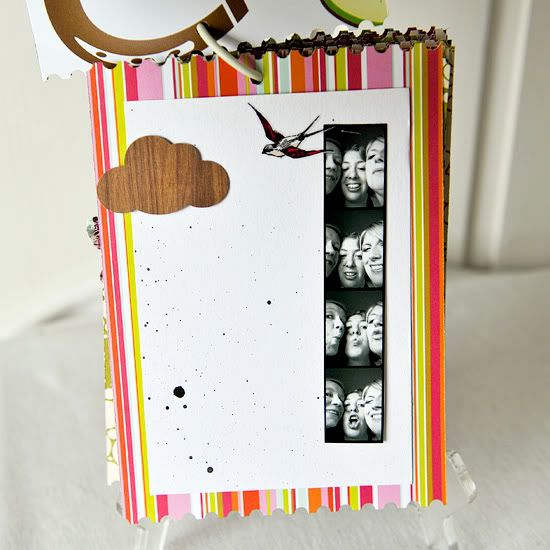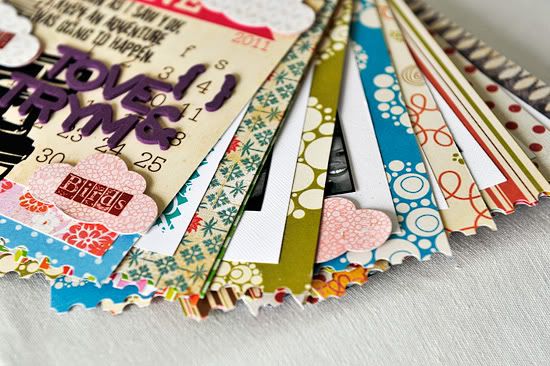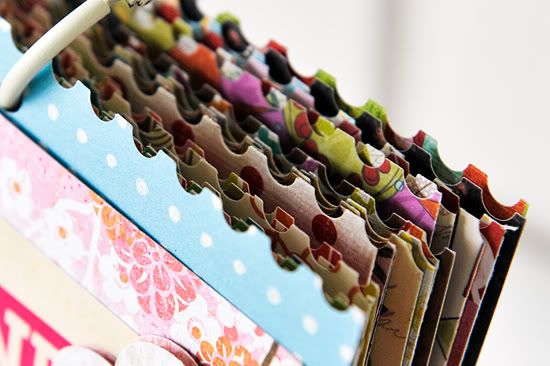 So tell us...are you a Fiskars fan? Wishing for some new tools? YOU can win some of their awesome products!
Fiskars
was incredibly generous and is allowing us to giveaway to one of you...
...
a Trimmer, Cloud Squeeze Punch, Stamp Border Punch, Postage Stamp punch, Acrylic Stamps and more! Simply leave us a comment and we'll enter you to win! Next Monday we'll select one winner to enjoy these goodies!!
And guess what....we need to include some GlueArts adhesives with this prize! So we'll ALSO include our Glue Glider Pro and a roll of our Adhesive Squares! Now you're definitely ready to craft!
Last but not least....you can see me, the Glue Girl, as the Guest Designer this month for Fiskars! Here's a peek of one of my projects I shared with them!
Just visit this link to see all the projects with the tutorials!
Be sure to check back in with us tomorrow for more Fiskars projects from our Glue Girls Design Team! We'll have another project from our fab Guest Designer Stephenie Hamen and don't forget to visit Fiskars Crafts for more creative ideas!!