"Laugh as much as you breathe and love as long as you live."
Often we need those reminders in our busy lives to take a moment to stop, reflect and reset.
Life is a journey. A journey of ups and downs, highs and lows, good and yes bad. Add some laughter to your days and those lows aren't so low, those "bad" days hopefully not so bad and those downs...start to rise back up again.
Today we have two beautiful projects using Kaisercraft's new
Pink Gelato
and
Velvet Ensemble
lines.
Designer Kristen Swain
has made a special piece...a clock! It's filled with beautiful details, GlueArts adhesives and yes...keeps time too!
Designer Leslie Ashe
has a gorgegous card for you today using our Glue Glider Pro and the Velvet Ensemble line. We loved the ribbon she chose along with the greeting...don't you?




Enjoy the Journey Desk Clock


GlueArts Designer: Kristen Swain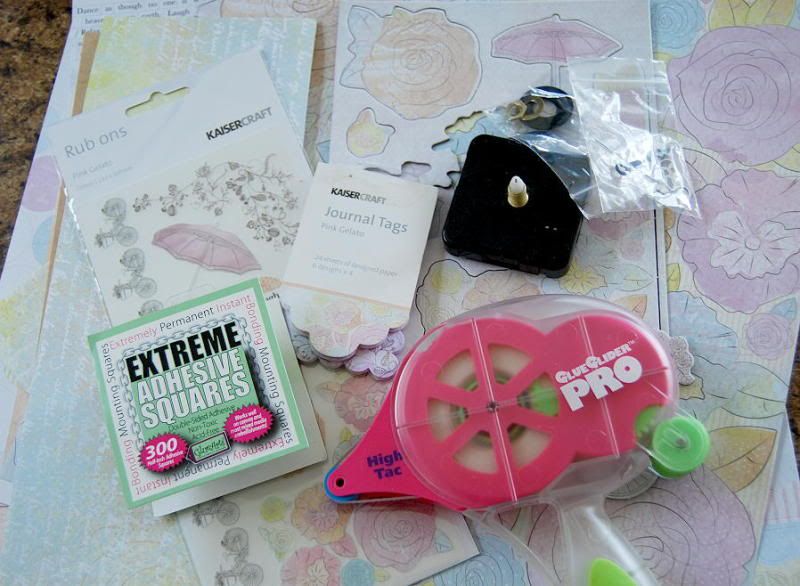 Supplies:
Adhesives- Glue Arts- High Tac, UCutIt foam and Extreme Adhesive Squares
Paper/chipboard/stickers- Kaisercraft
Clock - KaiserCraft
Pearls- KaiserCraft
Button/twine- craft supply
ribbon- www.etsy.com/shop/scrapinkris
ink- Adirondack

Instructions:

1. Cut paper to fit size of front of clock, adhere paper to clock with High Tac adhesive.




2. Adhere sticker strips and chipboard shapes to front of clock, using UCutIt Foam to pop them up. Use brown ink to distress edges.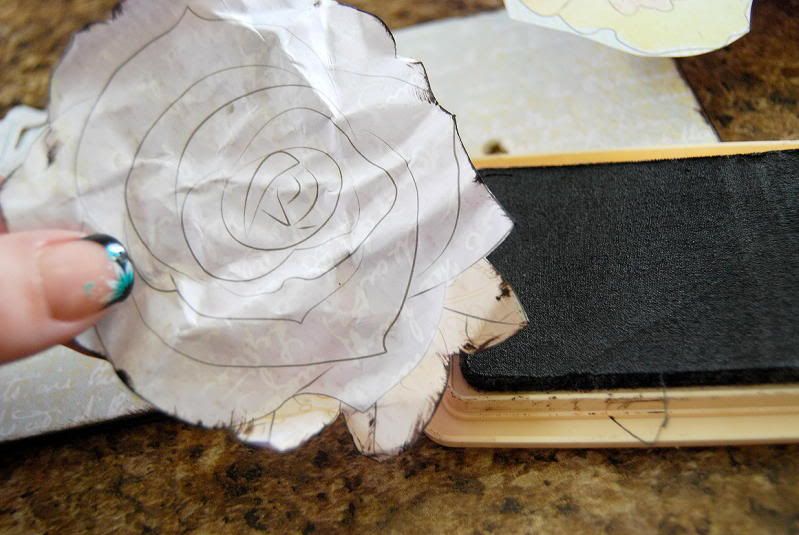 3. Distress edges of flowers cut from patterned paper using brown ink, crumple each flower gently and then smooth out again.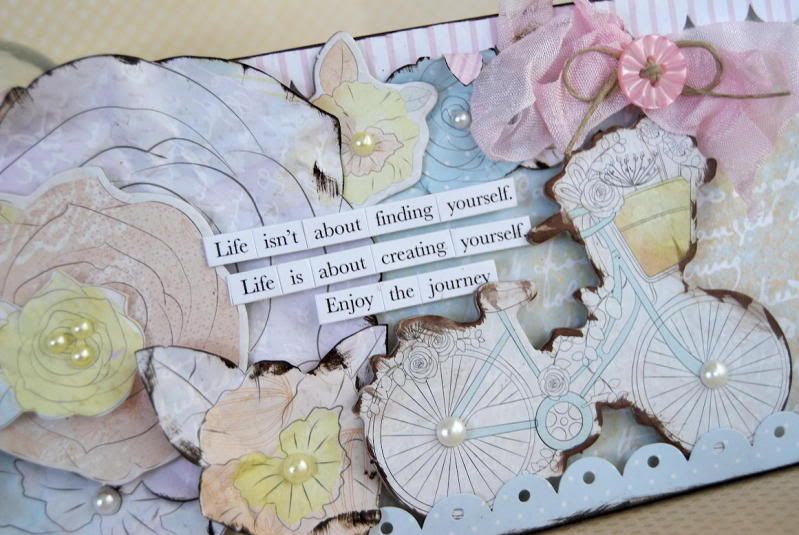 4. Adhere grouping of flowers on left side of clock using Extreme Adhesive Squares, layering with chipboard and second smaller flowers.

5. Adhere quote strips across flowers, using UCutIt foam to add dimension to quote strips.




6. Adhere pearls for clock and add clock mechanism to front.




7. Add details to clock with pearls and crinkled ribbon, topped with button.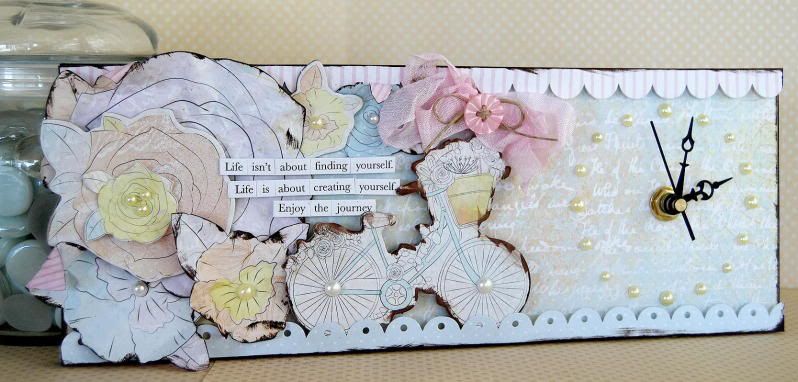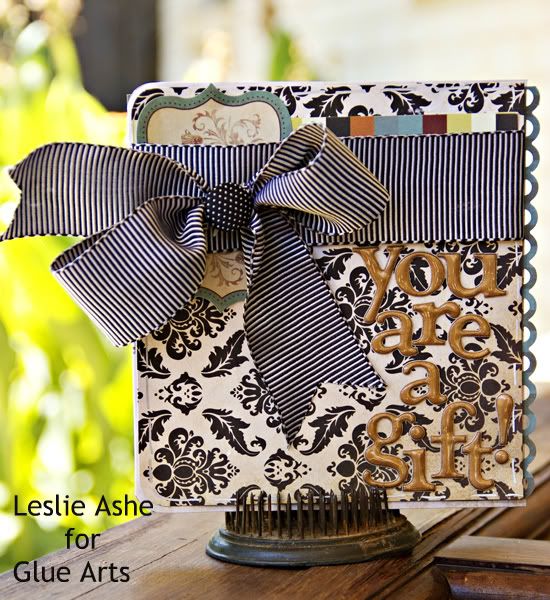 GlueArts Designer: Leslie Ashe
Glue Arts Supplies: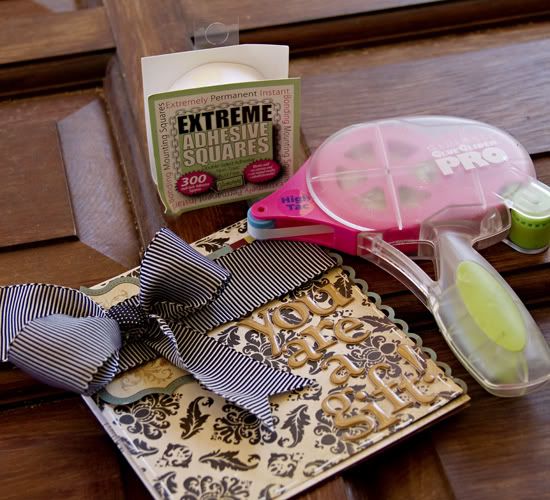 Glue Arts Glue Glider Pro with High Tac catridge, Extreme Adhesive Squares
Kaiser patterned paper & tags
Other supplies:
Ribbon: May Arts, Pen: Zig, Letters: American Crafts (Thickers)

Instructions:
-trim patterned paper 6" x 11", fold & score then round edges (this will be your card base)
-trim patterned paper 5 1/2" x 5 1/2", round edges on right side and adhere to base of card



-trim strip of patterned paper 1" x 6"
-using border punch, punch scallop border
-adhere strip to right side of card, just under the card base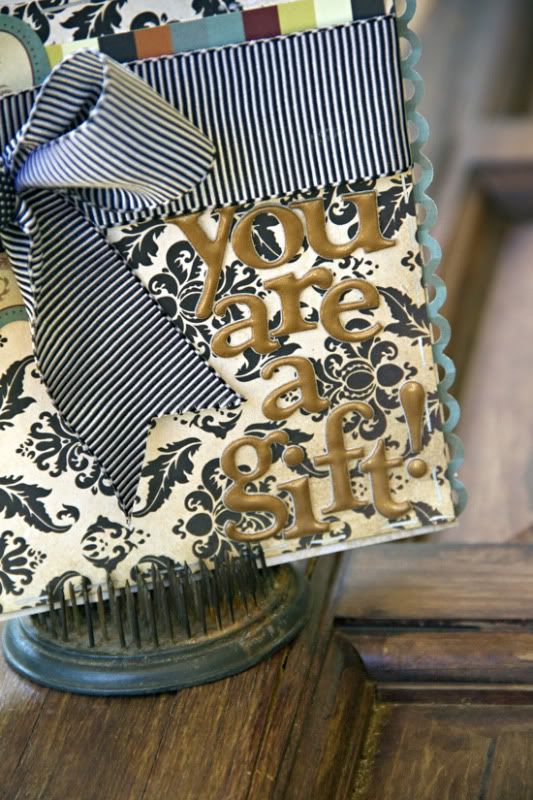 -adhere strip of ribbon across top of card
-tie a bow and adhere to left side (making your card look like a "gift"), then if desired, add a button or brad to center of bow
-cut a "border" strip from patterned paper and adhere just above ribbon, at top of card
-cut journal card in half and adhere one half under top half of ribbon.
-adhere the 2nd half under bottom of ribbon
-using letter stickers, spell out: "you are a gift!"
-using a silver pen, outline the entire edge of your card


So how would you like to win one of the two newest Kaisercraft new lines?
We're giving away

Pink Gelato
and the
Velvet Ensemble
to two random winners!!
Simply post a comment here and let us know what you love about today's projects. Or which collection has you counting the minutes until we announce the winners next Monday!!
We're also going to include our GlueArts Embellishment Kit
which is just what you need to create all these beautiful projects as seen!
Do be sure to stop by the Kaisercraft blog to see all the amazing projects their designers have made with our GlueArts adhesives and more ideas for how to use Kaisercraft in your projects!
Last before you leave today we'd like if you would go and visit the Kaisercraft Facebook Wall and let them know GlueArts sent you to them! Be sure to stop by so you can have another chance to win from Kaisercraft and GlueArts!!
Give them a BIG GlueArts HELLO!!!!!!!
See you back here tomorrow for more beautiful projects with Kaisercraft and GlueArts!