So you've seen our Accent It All Vinyl...it perfect for your walls, home, mirrors and glass. This week we're showing you new ways, outside the box ways to use our Accent It All vinyl.
Today Designer Kristen Swain shares two beautiful cards that will have your sweetheart swooning!!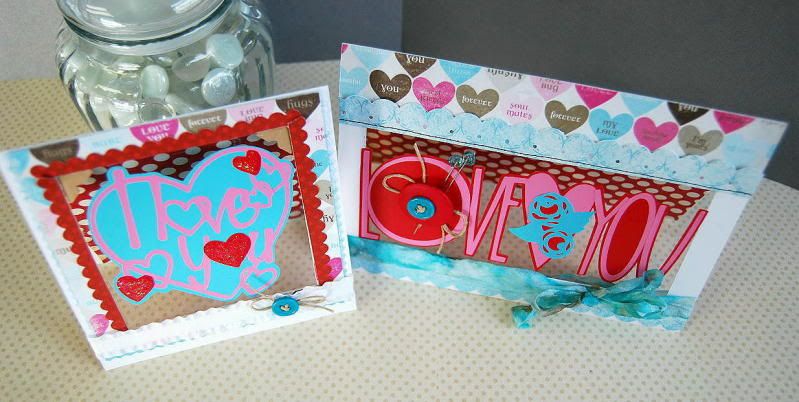 Supplies:
Glue Arts Accent it All- Tickle Me Pink, Wild Blue Yonder, and Razzle Dazzle Red
Glue Arts Glue Glider Pro- Perma Tac adhesive, and Glue Arts Adhesive Squares, Ribbon Adhesive, Mini Adhesive Squares
red dot paper- The Girl's Paperie
Blue and Heart paper- Around the Block
seam binding- www.etsy.com/shop/scrapinkris
gem/buttons/twine/pins- craft supply
ribbon- May Arts
deco scissors- provo mini scallop, zig zag fiskars
Cricut expression and Gypsy- Martha Stewart All Occasion Cake Art, and
Gypsy Wanderings
Acetate- Making Memories
photo corners
scallop punch- Martha Stewart
1. Cut card base into 5x5 square.
2. Trim patterned paper, and mount onto blue paper and trim with zigzag scissors, mount onto card using Perma tac adhesive.
3. Use Expression and Gypsy to create cut files for heart, cut out and adhere layers together.
4. Cut out window from card front, adhere acetate with Perma tac adhesive, and add to back of card. Turn card around and adhere Vinyl cutout to front of window.
5. Finish card by adding ribbon, button and twine with Adhesive Squares , and glitter glue to vinyl. Add polka dot paper to inside of card, and adhere trimmed mini scallop pieces around window using Ribbon Adhesive.
Instructions:
1. Cut card base to 5x7 inches.
2. Trim window from front of card, then adhere acetate to back of card front using Perma Tac adhesive.
3. Cut out vinyl using Cricut Expression/Gypsy and Martha Stewart Cake art cartridge. Adhere layers together then adhere to acetate window.
4. Adhere patterned paper strip to top of card.
5. Punch scallop border with punch, adhere to top and bottom of acetate window using Perma tac adhesive. Pen detail stitching along top border.
6. Tie ribbon around bottom of card, then adhere gem to center of bow with mini adhesive square.
7. Tie twine onto buttons, adhere to card using Adhesive Squares, adding two pins before adhering.
Please don't forget to leave us a comment!! W
e're giving away 2 sheets each of our Accent It All Vinyl in Dazzle Red, Tickle Me Pink, Sterling Silver, White Out, Wild Blue Yonder and Plum Crazy!! And to assist your crafting...we'll include our Adhesive Squares which are a must have for every crafter! Simply leave us a comment and we'll pick a random winner next Monday!